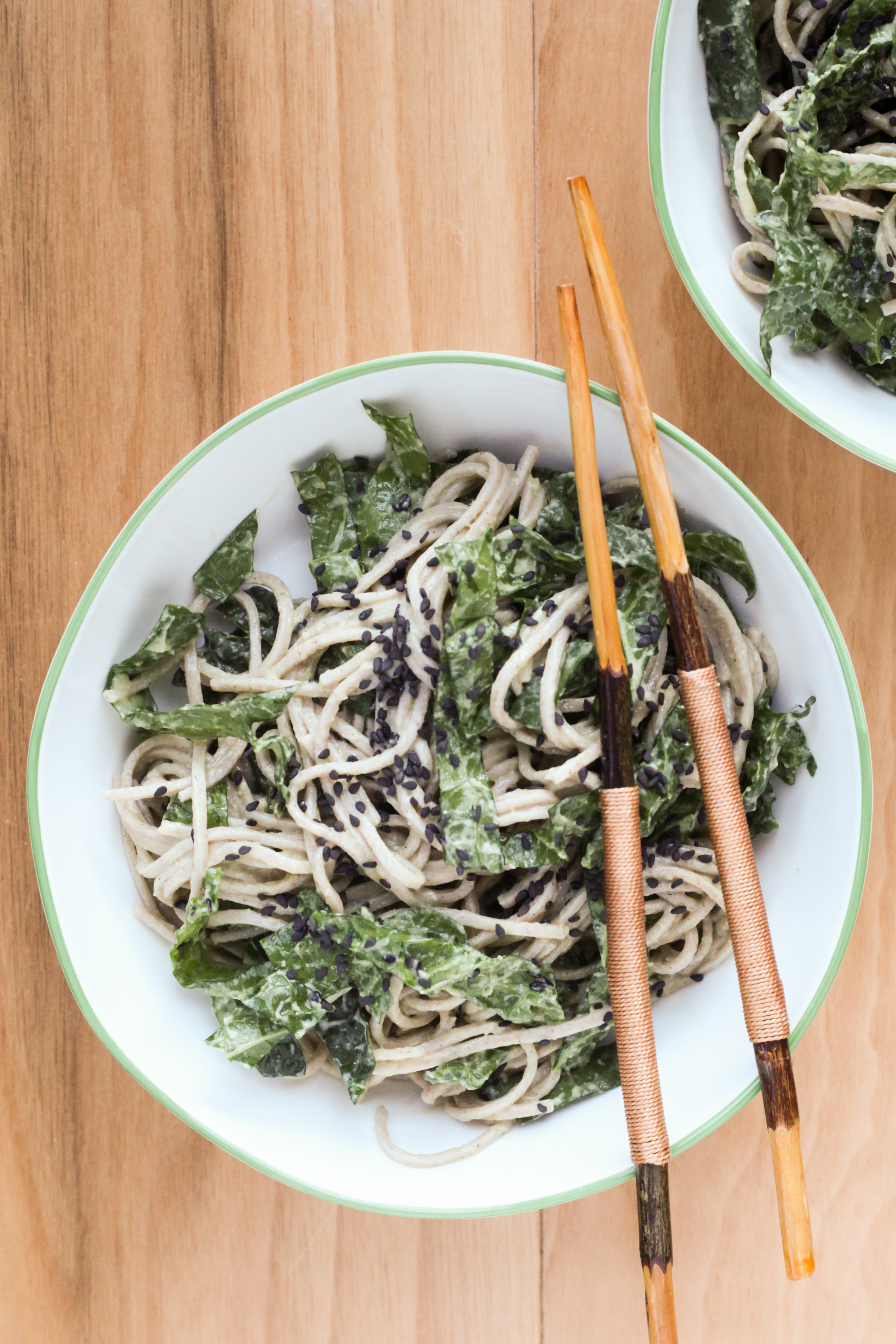 As much as I love creamy pasta dishes like bechamel-rich lasagna, macaroni and cheese, and baked pastas, that combination of ultra-rich dairy and pasta is a ticking tummy time bomb, so I try to avoid it unless it's really, truly worth it. Instead, I typically get my creamy noodle fix by tossing al dente strands with sauces made from non-dairy alternatives like cashew cream, almond butter, or, in this case avocado. It might sound a bit odd, but when blended up with miso, garlic, a touch of lime juice, and olive oil, avocado transforms into a rich vegan sauce. Paired with nutty soba noodles, ribbons of kale, and crunchy sesame seeds, it makes for a guilt-free, totally-craveable dinner option.

Worth noting: while this noodle dish is slightly tastier immediately after it's all tossed together, leftovers make for a way-more-than-decent brown bag lunch, especially when spiked with a bit of hot sauce (I'm particular to angry lady sauce — see the recipe notes).

Miso-Avocado Soba Noodles With Kale
Ingredients
Kosher salt
1 (8- or 9-ounce) package soba noodles
1 bunch of lacinato kale, stemmed and cut into ribbons
1 ripe avocado
1 medium clove of garlic
1 tablespoon toasted sesame oil
3 tablespoons white miso
1/2 tablespoon soy sauce
Juice of 1/2 lime
2 tablespoons toasted sesame seeds, for garnish
Instructions
Bring a large pot of salted water to a boil. Cook the soba noodles according to the package's instructions. Drain and cool to room temperature (to expedite this process, run under cool water or soak in a bowl of ice water for a few minutes).
Add the kale and a generous pinch of salt to a large mixing bowl. Massage (scrunch the kale leaves in your hands) until the kale has softened a bit; this will take a few minutes.
Pit and peel the avocado, cut it into large chunks and add to a food processor with the garlic, sesame oil, miso, soy sauce, and lime juice. Blend until smooth.
Add the noodles, sauce, and half of the sesame seeds to the kale. Toss together, then season to taste with additional soy sauce, if needed.
Divide between two bowls and garnish with the remaining sesame seeds.
Notes
To make gluten-free, use
100-percent buckwheat soba noodles
and
chickpea miso
. Sometimes I perk up leftovers with a dollop of chile crisp sauce (aka
angry lady sauce
). If you don't have a food processor, a blender can be used to make the avocado sauce, with the caveat that it's a bit harder to get all of the sauce out of the jug, as it's pretty thick.