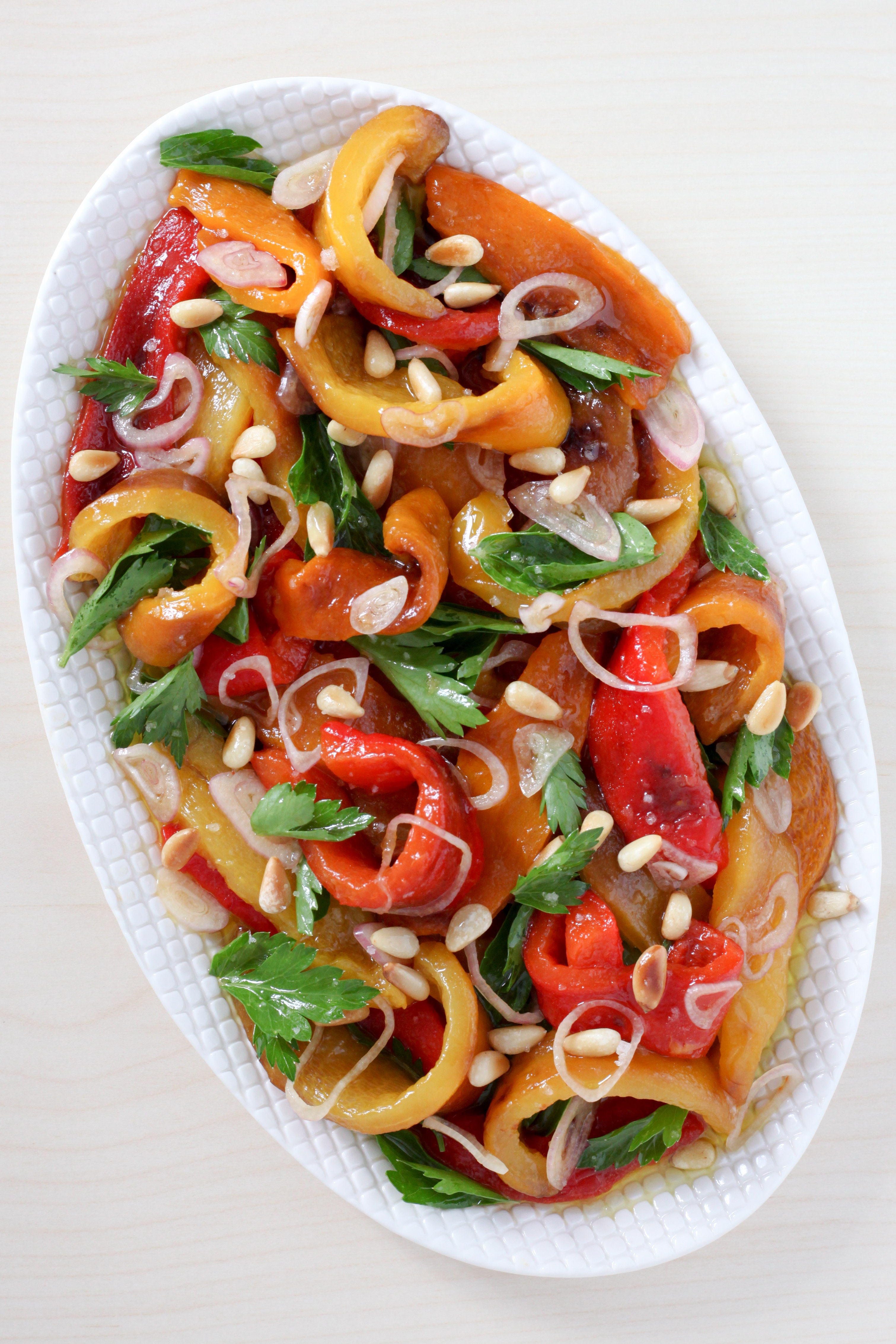 Strategic cooking is never a bad idea, but it's particularly useful during these summer months, when the days are long and hot, park picnics and beaches are beckoning, and social calendars are full. In other words, now is the time to maximize your efforts in the kitchen by embracing make-ahead recipes, like these super-versatile marinated bell peppers. Flavor-packed and tender, they're an excellent addition to sandwiches (try pairing them with pesto, prosciutto, mozzarella, and focaccia), antipasti platters, or as a stand-alone side for some grilled steak or chicken. They also make for a vegetable-packed, Whole30-friendly breakfast, when topped with a couple fried or poached eggs.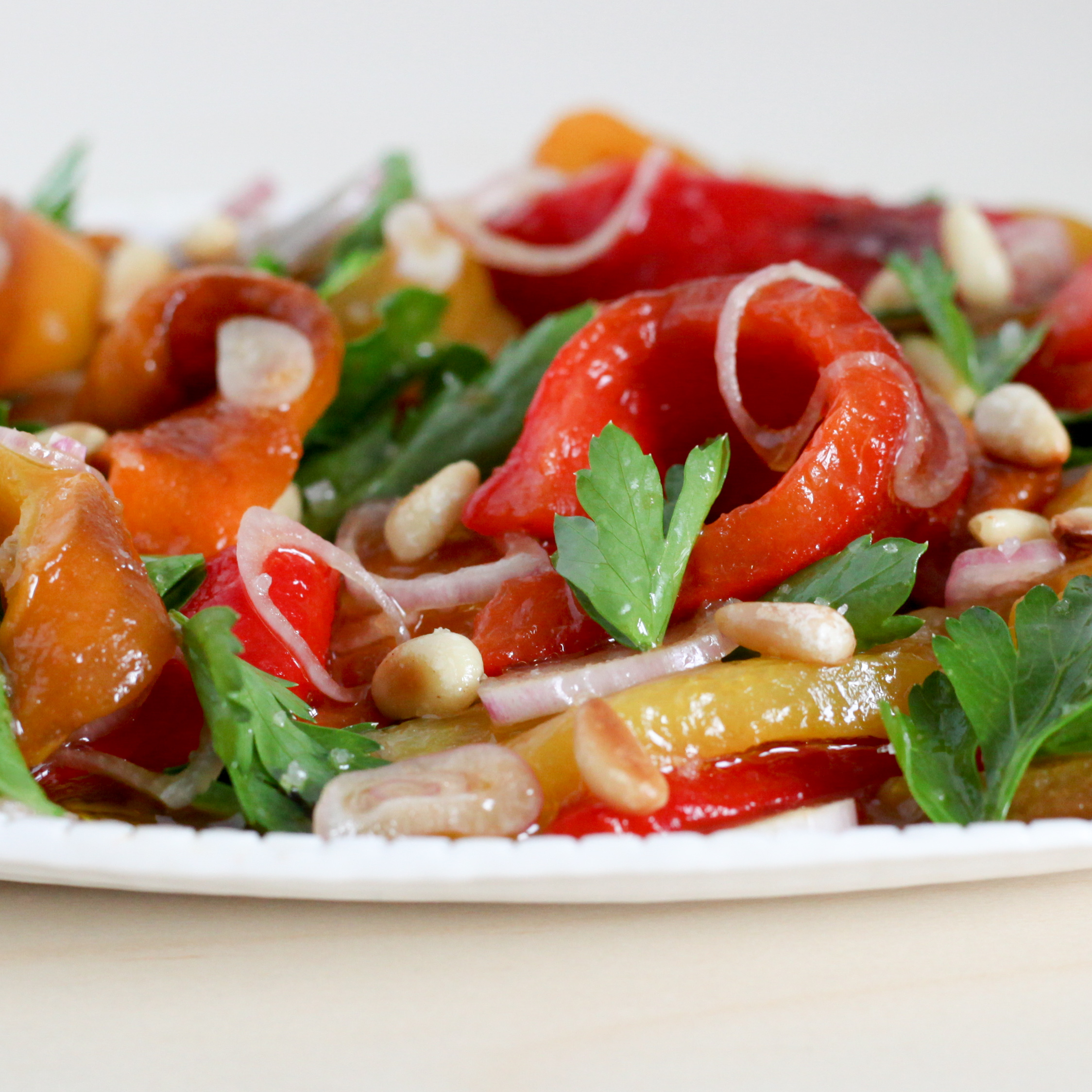 The latter of my suggestions are perhaps most in line with the cookbook that this recipe comes from, a book that I'd argue is one of the most useful, exciting titles to have been published in the past couple of years: Bon Appetit: The Food Lover's Cleanse by Sara Dickerman. True to its promise, the pages offer up ample inspiration for meals that are healthful and nutrient-packed, and also completely craveable. Not bound to any particular diet, the principles outlined in it are sensical, simple, and not-too restrictive: essentially the idea is that by limiting (but not wholly eliminating) alcohol, sugars, and dairy, and amping up your consumption of fruits, vegetables, good fats, and whole grains you will feel and look better, feel refreshed, and energetic.
It is the sort of food I strive to cook in my day-to-day, and to share with you here, and I highly recommend picking up a copy, especially if you feel like your eating habits could use a little reboot amidst all the summer revelry. If you'd like a little bit more of a preview, here are a few more recipes I'm eager to try: salmon with the greenest tahini sauce, shaved radishes, and cucumbers; roasted eggplant and green peppers with nuoc cham; black-eyed peas with roasted tomatoes and chives; and pork skewers with thyme and paprika.
Marinated Bell Peppers With Pine Nuts and Herbs
Yield:
2 1/4 cups peppers
Ingredients
4 large bell peppers (red, orange, or yellow)
2 tablespoons pine nuts
1 shallot, thinly-sliced
1 small garlic clove, grated on a microplane
1 tablespoon sherry vinegar
3 tablespoons extra-virgin olive oil
Kosher salt
1/4 cup torn fresh basil or flat-leaf parsley leaves, for garnish
Instructions
Set an oven rack in the top third of the oven and preheat the broiler.
Arrange the bell peppers on a baking sheet and broil, turning occasionally, until the skin has blistered and blackened all over, 18-20 minutes.
Transfer the peppers to a medium bowl, cover, and let steam until cool enough to handle, about 15 minutes (this will help loosen the skins).
Meanwhile, in a small dry skillet, toast the pine nuts over medium-low heat, stirring often, until golden-brown, 2-4 minutes. If not serving the peppers right away, store in an airtight container for later.
Add the shallot, garlic, and vinegar to a large mixing bowl.
When the peppers are cool enough to handle, remove the skins, stems, and seeds. Cut them into 1 1/2-inch wide strips. Add the peppers and olive oil to the mixing bowl with the vinegar and alliums; toss to coat. Season to taste with salt. If time permits, let marinade for an hour at room temperature or up to 3 days refrigerated. (If refrigerated, bring to room temperature before serving.)
When ready to serve, garnish with the toasted pine nuts and herbs.
Notes
These bell peppers are great shortly after preparation, but deepen in flavor with a prolonged marinade. For the best texture, keep the pine nuts and herbs separate from the marinated peppers until you're ready to eat them. Some crumbled feta or bocconcini are nice additions, if you want to enrich things further (and eat dairy).