Last October, Andrew and I embarked on a semi-spontaneous roadtrip from San Francisco to Brooklyn. With little planned besides deciding on a timeframe (a little less than two weeks), and a couple spots we wanted to see (namely Monument Valley and Sedona), we set off in a southerly direction. Our first stop was an overnight in Palm Springs at the kooky-chic Parker Palm Springs, where we wandered the lushly-green grounds, played a game of tennis, and ate a lovely breakfast.



Along the way, we tried our first date shakes, caught up with dear friends and family, ate some epic pizza, were awed by our country's stunning natural beauty, laughed off some car troubles, fell in love with Waffle House — for the record, I take my hashbrowns scattered, smothered, covered, and peppered — and listened to a whole lot of Willie Nelson, but it's that first breakfast that I keep coming back to. While my order of bruléed oatmeal wasn't a major divergence from the everyday, it was just decadent enough to feel special, and, better yet, was the sort of thing I knew I could recreate at home. And so, more or less, I did.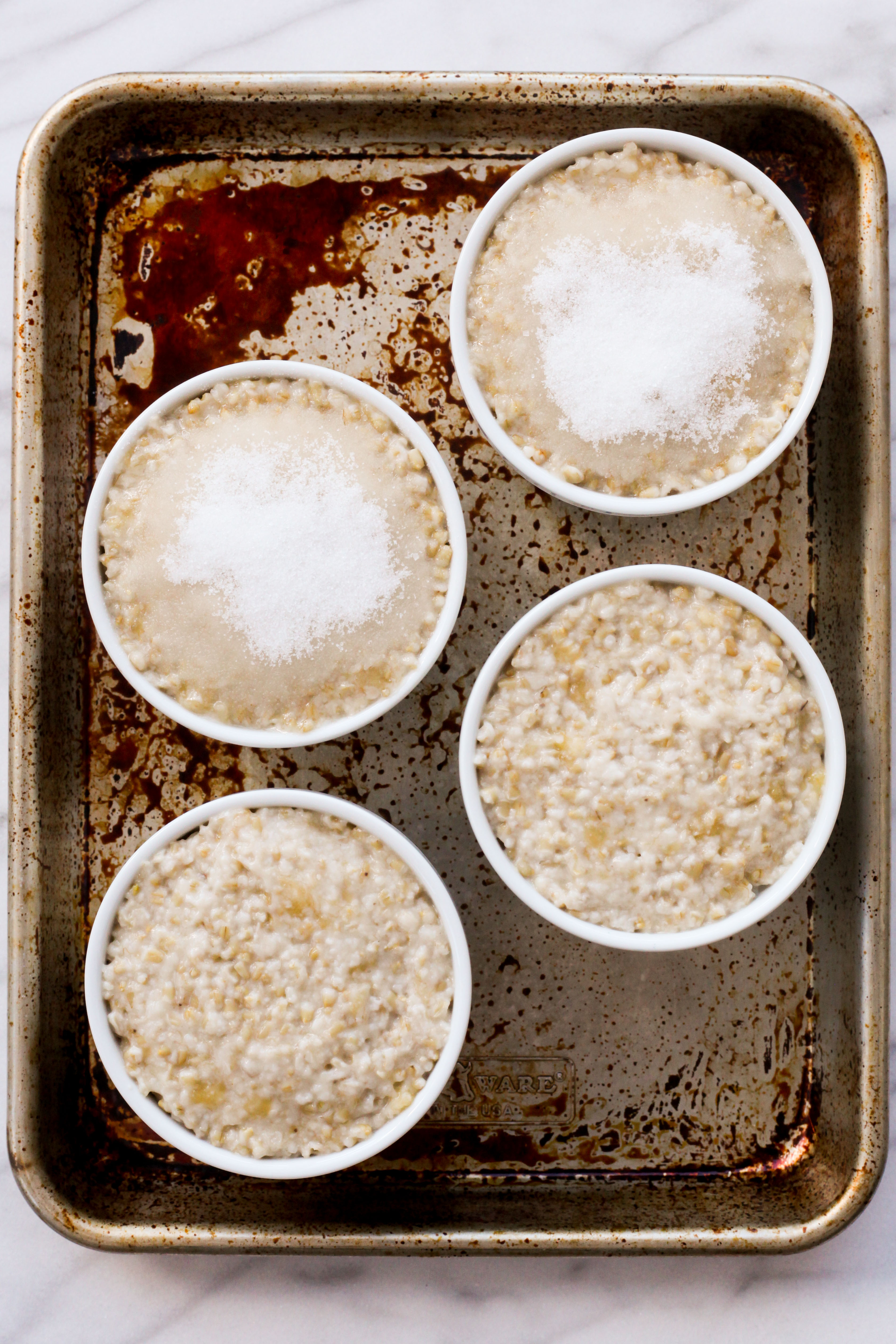 The version at Norma's (the Parker Palm Spring's restaurant) was creamy, sweet, and topped with sliced pear and apple chips. My take on it scales down the portion size, swaps mashed banana for all of the sugar — save the bruléed lid, of course — and adds a handful of chopped toasted walnuts for a more balanced, but still completely Sunday brunch-worthy recipe. It is one of those ideal breakfast treats that both satiates and satisfies your soul.
Related Recipes:
Banana Bread Baked Oatmeal
Pear-Ginger Oatmeal With Chia Seeds
Pumpkin Chai Baked Oatmeal
Banana-Walnut Bruléed Oatmeal
Ingredients
1 1/3 cups steel-cut oats (gluten-free, if needed)
2 cups unsweetened almond milk or whole milk
2 cups water
1/2 teaspoon kosher salt
4 very-ripe bananas, mashed
1/4 cup granulated sugar
1/3 cup walnuts, toasted and coarsely chopped
Instructions
Add the oats, almond milk, and water to a saucepan and bring to a boil over medium-high heat. Reduce the heat to low, cover, and simmer for 20-25 minutes, or until thick and creamy. Mix in the salt and mashed banana.
Adjust an oven rack to sit 4-6 inches below the broiler. Preheat the broiler to high.
Divide the oatmeal between four 10-inch oven-safe ramekins; wipe down the rims if there's any oatmeal on them. Arrange the ramekins on a quarter sheet pan or other pan, so they're easy to pull out of the oven. Top the oatmeal with granulated sugar, using 1 tablespoon per ramekin. Concentrate on sprinkling over the center (leave about 1/8-inch border, as it'll burn there first). Broil, checking frequently (once a minute, then once every 30 seconds), and rotating the pan, for 4-5 minutes, or until bubbling and caramelized in spots.
Top the bruléed oatmeal with the walnuts and serve hot.
Notes
To make ahead: prepare the oatmeal up to the point of sprinkling it with sugar; refrigerate. (You can divvy it up into the ramekins or store in an air-tight container.) When ready to make, proceed with the recipe as usual — it may take an extra minute or so to get the sugar browned and bubbling.

If you have a crème brulée blow-torch, feel free to use it here to caramelize the sugar; it'll give you more control.
As for what to put your perfectly-poached eggs on, really, the sky's the limit. Some personal favorites include avocado toast (as pictured); a
bed of garlic yogurt, roasted tomatoes and onions, Turkish-style
;
Lyonnaise salad
; and
cauliflower fried rice with kale and kimchi
. Poached eggs are also my go-to topper for turning whatever leftover roasted or sautéed vegetables I have kicking around my fridge into breakfast.