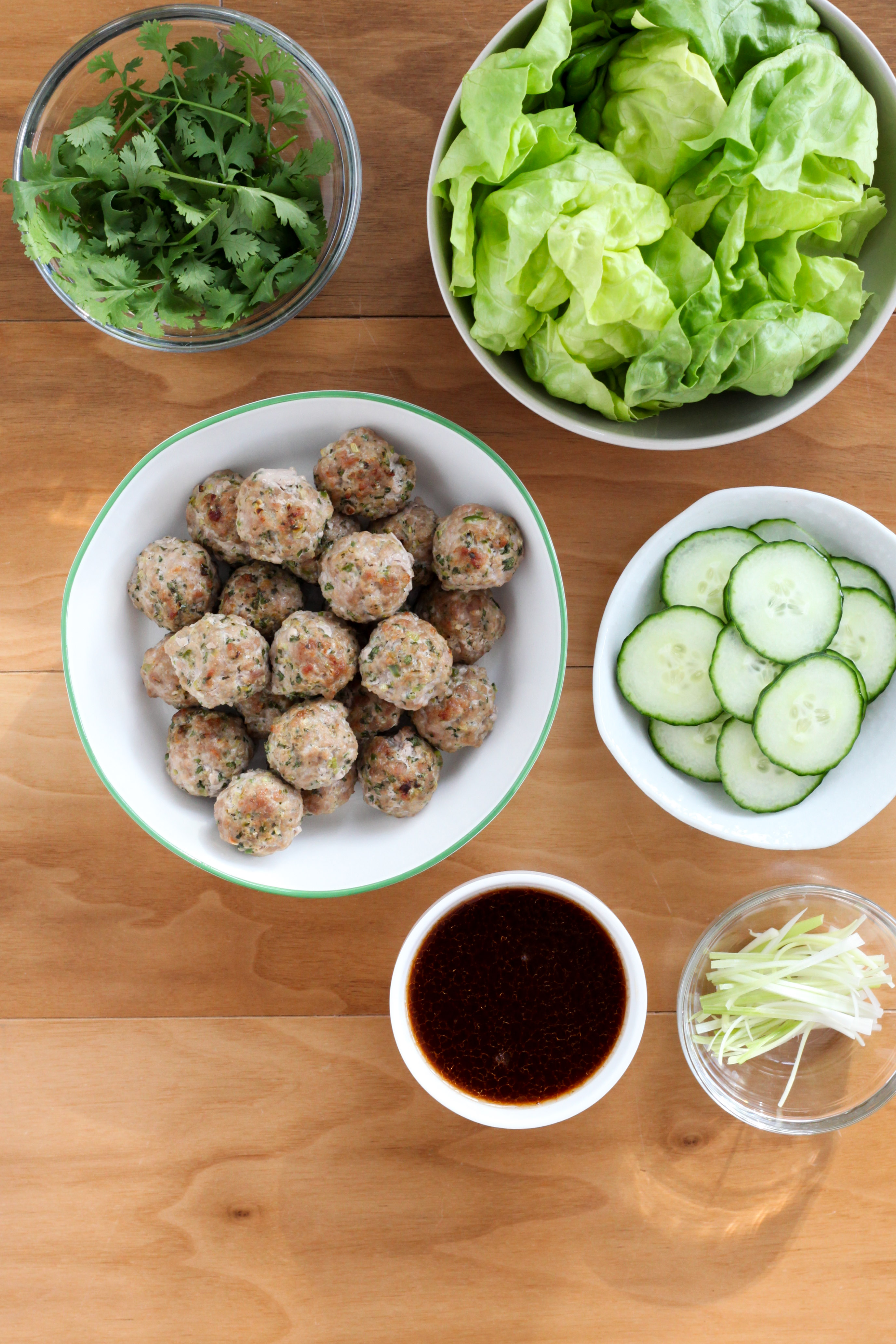 Dumplings rank high up there amongst my favorite foods: gyoza, potstickers, har gow, mandu, bao, wontons, siu mai, I love them all. And yet it's highly unlikely that you'll see a dumpling recipe here any time soon. Sure, it can be a fun project filling and pleating those tasty packages — especially if it's a group effort — but it's fussier than the type of cooking I tend to gravitate towards, and in my mind, something better left to the experts, to those whose muscle memory carries them through this task with ease. These Asian-inflected meatball lettuce wraps are a great compromise; reminiscent of the filling of Chinese ginger pork dumplings, they're super-flavorful, lighter, and much less time-consuming to make.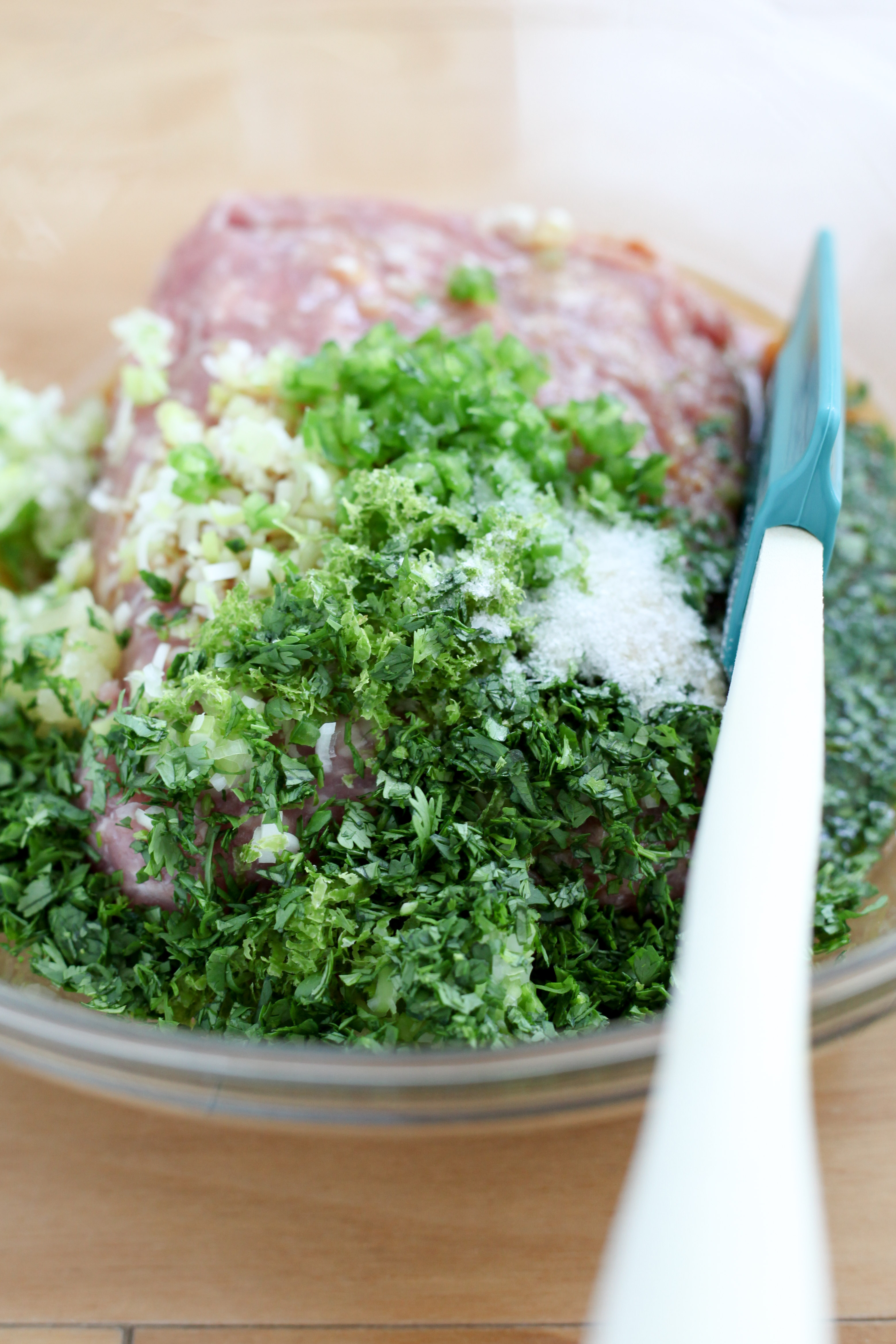 Adapted from Melissa Clark's Dinner: Changing the Game, which came out this spring, they are an excellent representation of the sort of recipes you can expect to find between its pages. Typical of Clark's other cookbooks, Dinner is filled with creative, but doable dishes. Some other ones I've tried (and quite liked) include Vietnamese ginger chicken thighs, asparagus carbonara — no, that doesn't mean adding asparagus to pasta carbonara, but rather swapping asparagus for the noodles — roasted tofu with broccoli rabe and garlic, and sweet garlic roast chicken with wilted chard. (In other words, this book has been in heavy rotation since I first got my copy.) The thread that ties everything together is the use of bold flavors and clever techniques to elevate weeknight dinnertime without too much effort; something I can certainly get behind.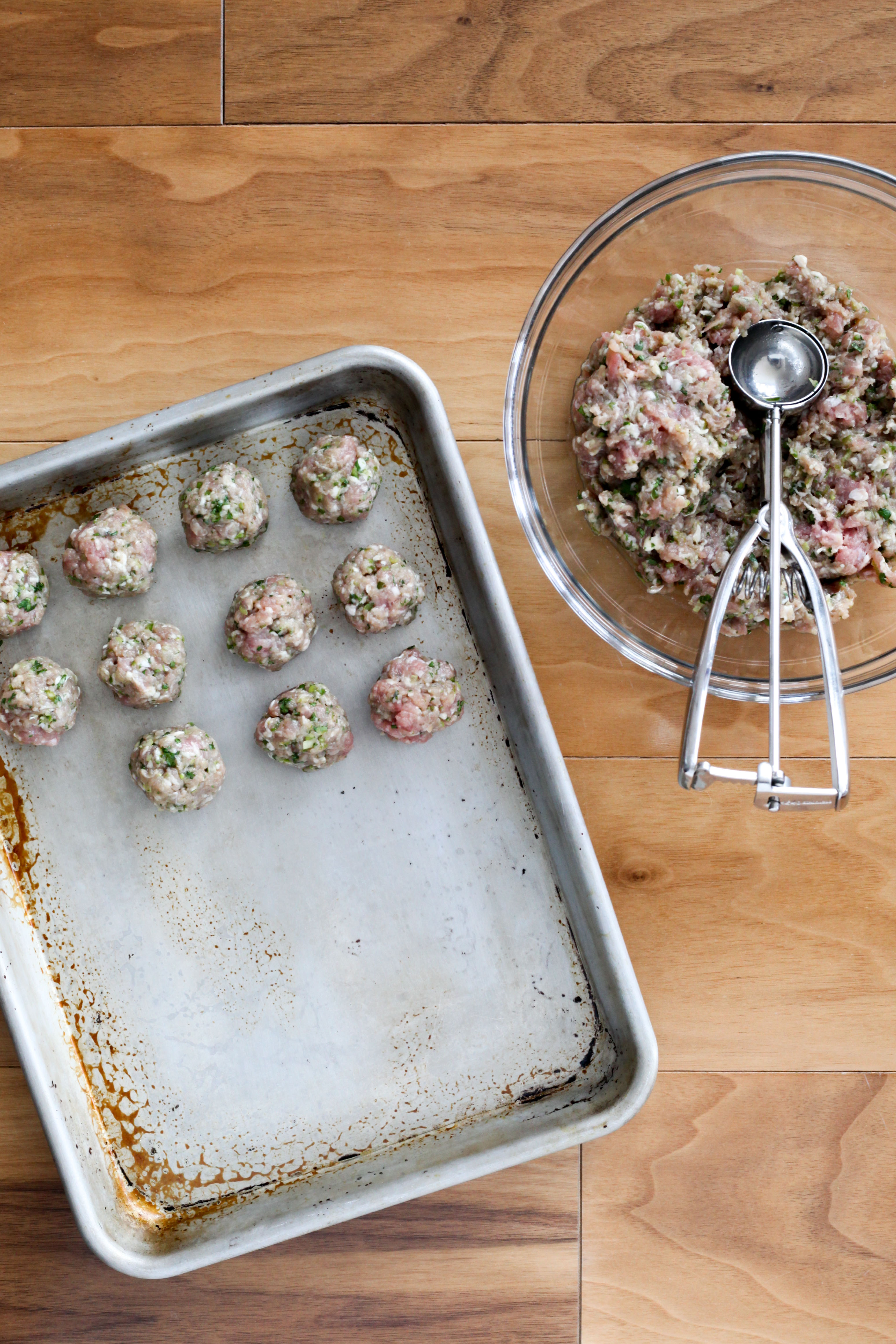 A quick note: in Dinner, these aren't presented as lettuce wraps; rather, Clark suggests serving them with rice noodles dressed with a bit of sesame oil for a textural experience more akin to dumpling wrappers, or with coconut rice and a smashed Sichuan cucumber salad. Both are great ideas, but I prefer the lettuce wrap route as it's low-carb and fun to eat — there's something distinctly pleasurable about assembling each bite, tucking the sliced cucumber, cilantro, meatballs, and scallions into a lettuce leaf before sprinkling it all with a splash of the sauce. Other times I've made them, I've skipped the lettuce and accoutrements, instead pairing the meatballs with wilted garlicky mustard greens. Whatever route you go, this recipe is special-seeming but totally doable on a weeknight.
Related recipes:
Larb gai (Thai chicken lettuce wraps)
Grilled skirt steak with soy-garlic marinade
Guacamole chicken salad lettuce wraps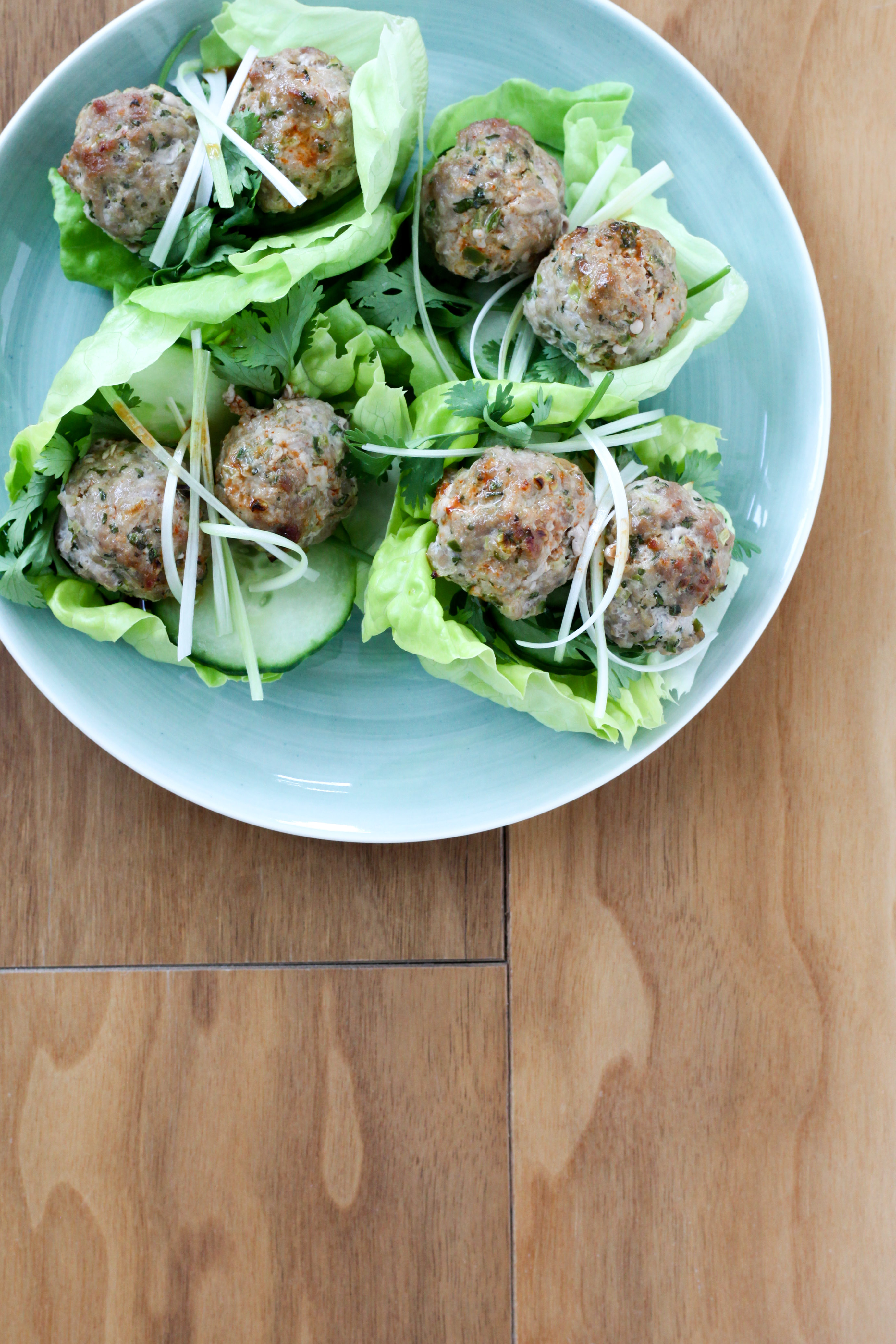 Ginger Pork Meatball Lettuce Wraps With Cilantro
Author:
Adapted from Dinner: Changing the Game. Copyright © 2017 by Melissa Clark. Published by Clarkson Potter/Publishers, an imprint of Penguin Random House, LLC.
Ingredients
For the meatballs:
1 pound ground pork
1/3 cup finely-chopped fresh cilantro leaves
1/4 cup finely-chopped scallions (white and green parts)
1 serrano chile, seeded and chopped
1 tablespoon finely-chopped peeled fresh ginger or ginger juice
3 garlic cloves, grated on a Microplane or minced
Finely-grated zest of 1 lime
2 teaspoons freshly-squeezed lime juice
2 teaspoons soy sauce or tamari
1 teaspoon fish sauce
1/2 teaspoon kosher salt


For the dipping sauce:
3 tablespoons rice wine vinegar
2 tablespoons soy sauce or tamari
1 tablespoon Sriracha or other hot sauce
2 teaspoons toasted sesame oil
1 teaspoon dark brown sugar


For serving:
1 head Boston or bibb lettuce, separated into leaves
1/4 English cucumber, thinly-sliced
2-3 scallions, white and light green parts, julienned
A large handful of cilantro sprigs
Instructions
Prepare the meatballs: In a large bowl, gently combine the pork, cilantro, scallions, chile, ginger, garlic, lime zest and juice, soy sauce, fish sauce, and salt. Roll the mixture into 1-inch balls. (At this point you can wrap the meatballs well and refrigerate overnight before cooking.)
Heat the broiler. Set the rack at least 4 inches from the heat source.
Arrange the meatballs in a single layer, not touching, on one or two rimmed sheet pans.
Broil the meatballs, turning the pan halfway through, until they are golden all over and just cooked through, 8 to 10 minutes.
Meanwhile, prepare the dipping sauce: In a small bowl, whisk together the vinegar, soy sauce, Sriracha, sesame oil, and brown sugar.
Serve with lettuce leaves, sliced cucumber, scallions, cilantro, and dipping sauce.
Notes
For consistency of size and even cooking, use a spring-loaded scoop to portion out the meatballs; I used the
middle-sized scoop in this set
(#50), which is 1 1/2 tablespoons. To make gluten-free, use tamari instead of soy sauce.