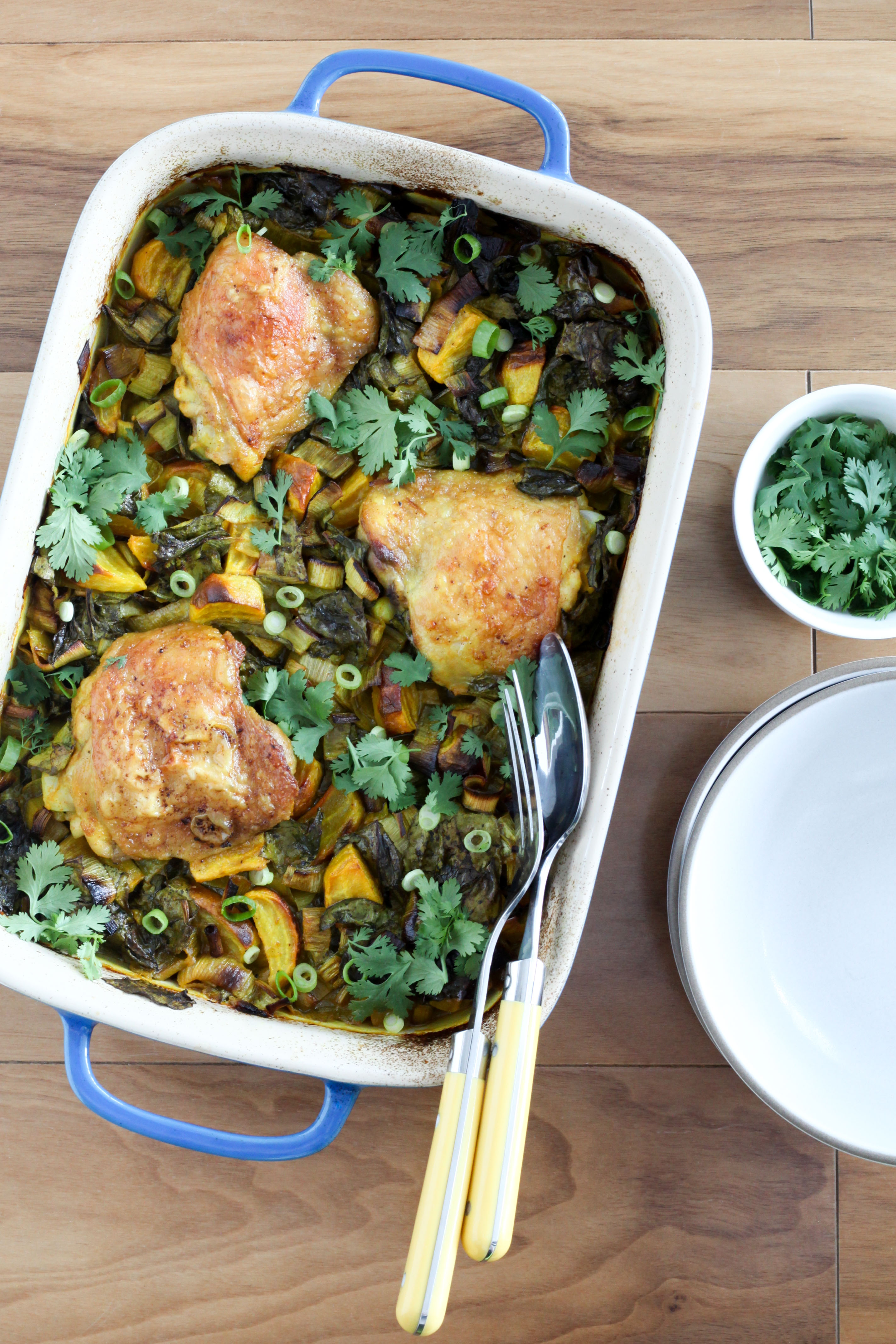 Phoebe Lapine's The Wellness Project is not your average cookbook. In fact, it's not really a cookbook at all. There are no glossy photographs and only 22 recipes within it's 384 pages. And yet, it is one of my favorite collections of recipes from 2017; a title that I've found myself recommending to others often and wholeheartedly. Written by the blogger behind Feed Me Phoebe, this memoir follows Lapine through a year of experimenting with lifestyle changes, devoting a month each to topics like green beauty, gut health, fitness, stress, and hormonal regulation, all along reporting on what works for her and what doesn't. Healthy recipes are (not-surprisingly) interwoven throughout its pages, and the ones included are of the appealing and easy-to-make sort, like this one-pan turmeric chicken and beet situation.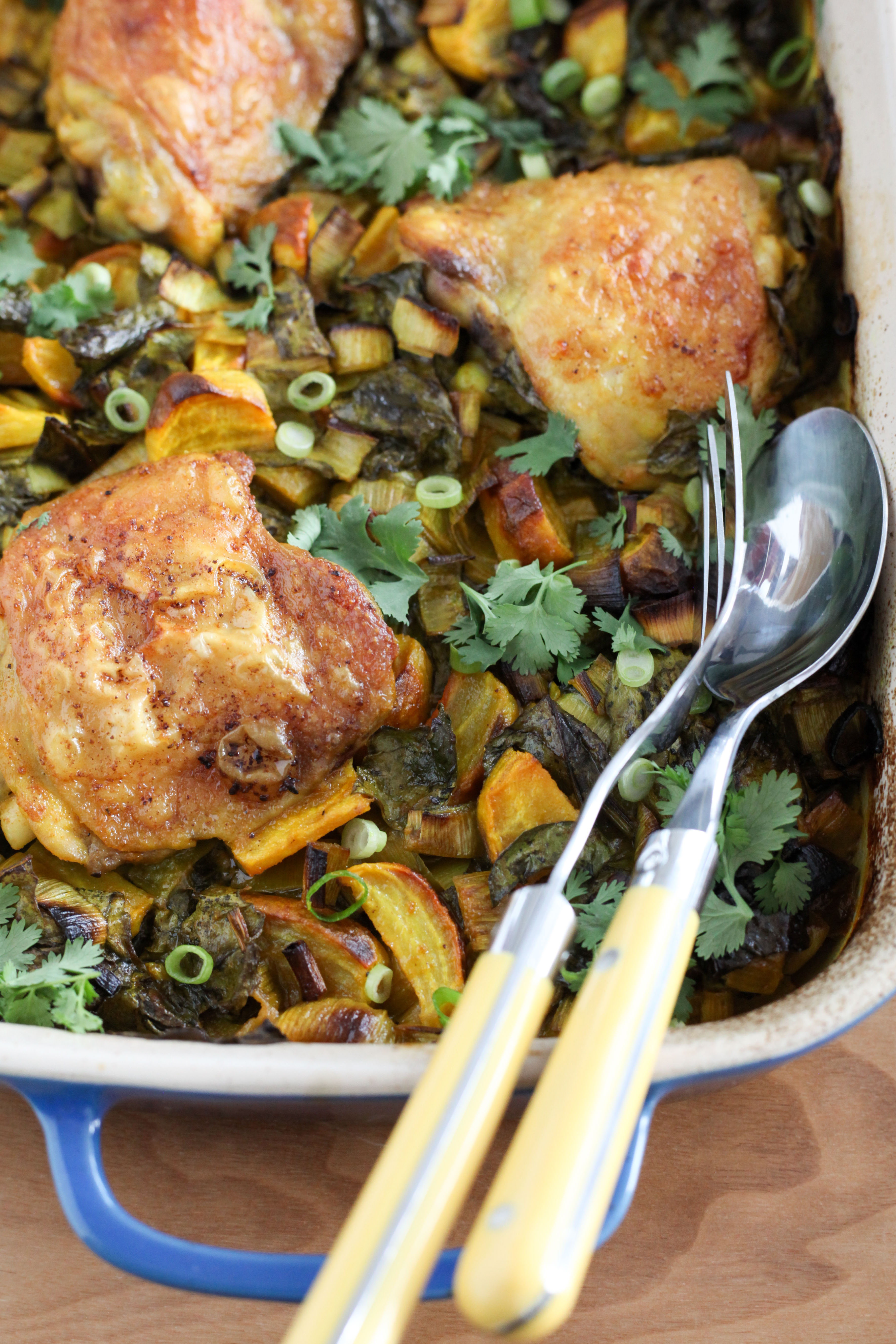 With so many strong recipes, deciding which one to share here was a tough choice; some other favorites were a spicy chicken pho bone broth made in a slow cooker and gingerbread-spiced "beauty balls." Ultimately, I chose to highlight this recipe as it won myself (and Andrew) over for a handful of reasons.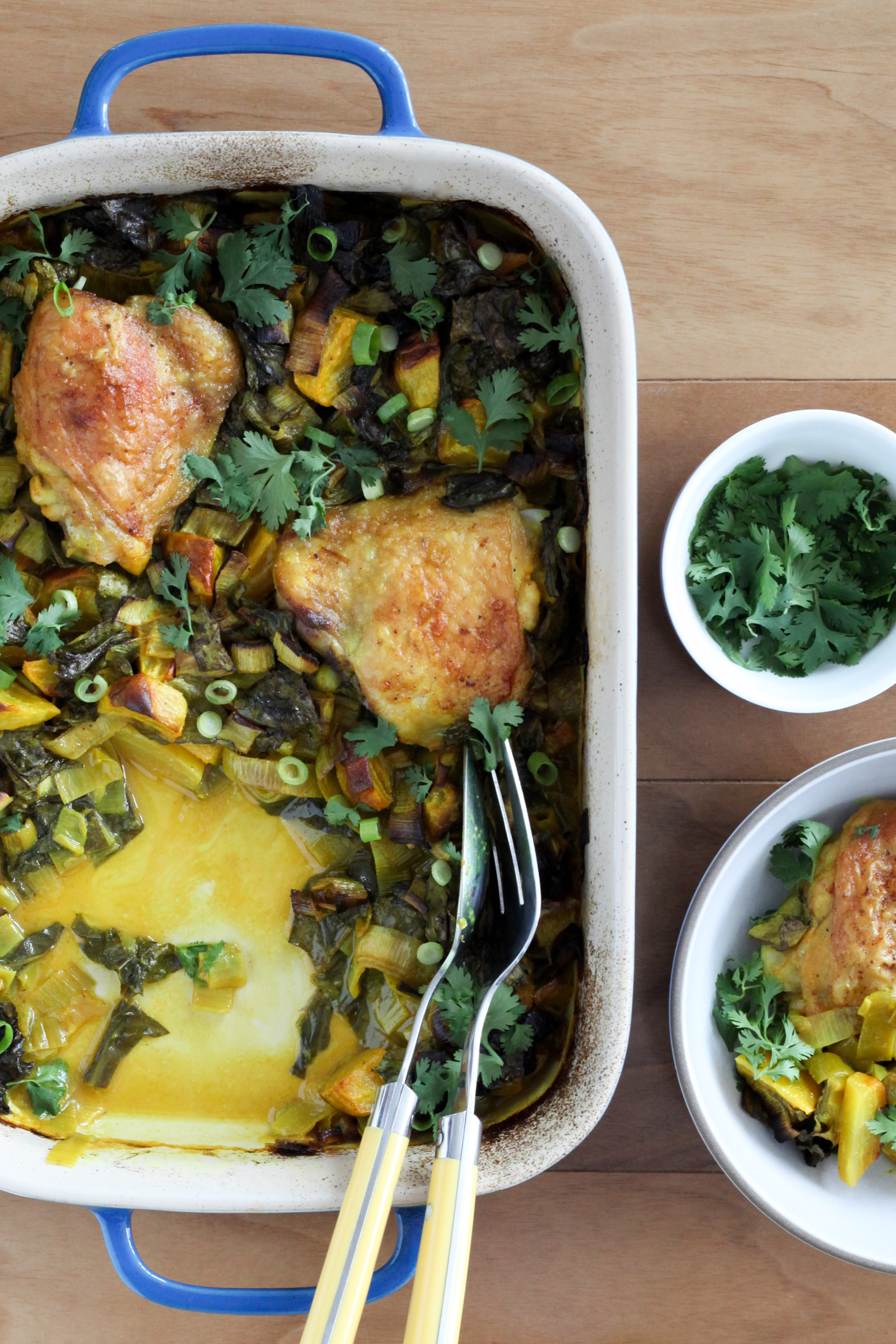 A simple braise with anything-but-simple flavors, this vegetable-heavy dinner comes together without needing to factor in marinade time, and is even excellent as leftovers. (And this, coming from someone who is typically pretty fussy when it comes to leftover chicken — that warmed-over-flavor can be so off-putting.) In the oven the earthy spices, white wine, and chicken juices meld together into a ridiculously-good sauce, the chicken skin browns, the leeks slump into silky ribbons, and the top layer of beet greens crisp up like kale chips. All in all, it's quite magical.

Turmeric Braised Chicken Thighs With Golden Beets and Leeks
Author:
Adapted from The Wellness Project by arrangement with Pam Krauss Books/Avery, a member of Penguin Group (USA) LLC, A Penguin Random House Company. Copyright © 2017, Phoebe Lapine.
Ingredients
2 leeks, white and light green parts
1 bunch of golden beets with their greens, scrubbed
2 medium garlic cloves, grated on a microplane
2 teaspoons ground turmeric
1 teaspoon ground ginger
1 1/2 teaspoons kosher salt
1/4 cup freshly-squeezed lemon juice
1/4 cup extra-virgin olive oil
3 bone-in skin-on chicken thighs (about 1 pound)
1/2 cup dry white wine
Instructions
Preheat the oven to 425°F.
Cut the leeks in half lengthwise, then slice into thin half-moons. Clean the leeks by adding to a large bowl of tepid water, swishing the leeks around, letting the dirt settle then skimming off the leeks, leaving the dirty water behind.
Remove the greens from the beets. Rinse them and coarsely chop. Halve the beets and cut each section into four wedges.
In a large mixing bowl, toss the leeks, beets, and beet greens together with the garlic, turmeric, ginger, salt, lemon juice, and olive oil until thoroughly combined. Spoon the mixture into a 9-by-13-inch baking dish or casserole pan and arrange in an even layer.
Add the chicken to the mixing bowl and toss to coat in the remaining turmeric mixture. Transfer the chicken legs to the baking dish and nestle in the beet mixture. Drizzle any of the remaining marinade over the top of the chicken and pour the wine around the sides of the dish.
Roast, uncovered, until the internal temperature of the thigh is 170°F and the beets are soft, about 1 hour.
Notes
If you can't find golden beets with healthy-looking greens still attached, a small bunch of swiss chard is a good substitute. (Remove the thick ribs from the leaves before chopping.) Alternatively, red beets, radishes, or turnips can be used (preferably with their greens). The original recipe calls for whole chicken legs rather than thighs, both are great choices.