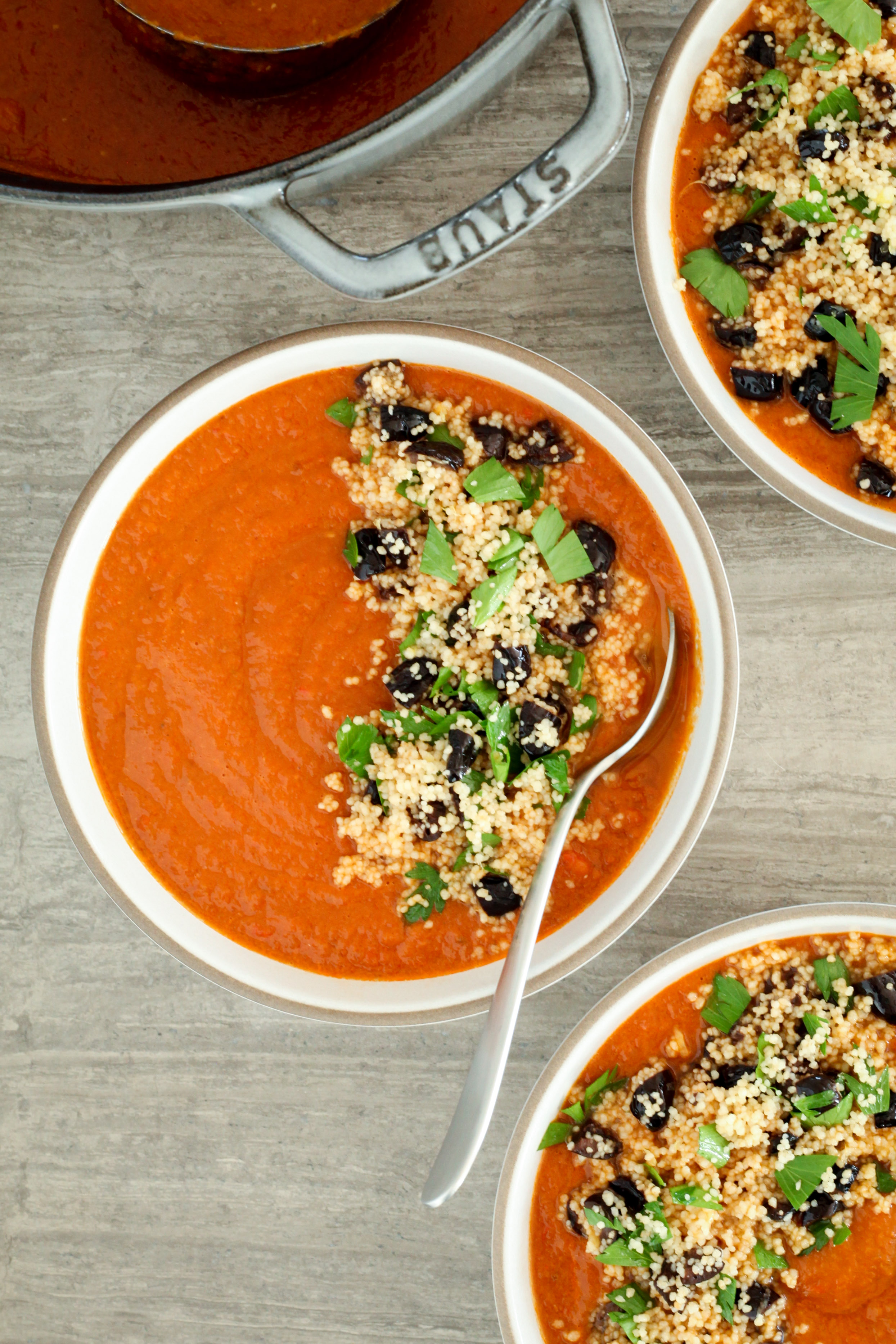 When the frosty wind nips at your nose and you wake up to dark skies, it can be easy to get down on autumn. (But wait, can't we have one more month of long, mild nights and bushels of heirloom tomatoes?) Mostly though, I look at this time of year with a lot of love. I'm more than ready to be done with hot, humid, sticky days, where a walk outside practically mandates clutching (and gulping down) an Olsen-twins-sized iced tea for its internal cooling properties. Equally exciting are the endless mountains of squash, apples, pears, beets, and other goodies flooding the markets right now. But if I had to pick one thing I like most about fall, it'd have to be the return to soup season. My love for this coziest-of-cozy foods knows no bounds, and recently I had a particularly-good excuse to try out a handful of recipes: at 29, I had my wisdom teeth taken out.

Smoothies, yogurt, soup, and soondubu (thanks for the suggestion, Susannah!), pretty much entirely made up my diet for a few days, and honestly, I was pretty OK with it. Partially because I discovered this striking soup during those tender-jawed days, a recipe so good that I've made it a few times since. Warmly-spiced and spicy (of the capsaicin sort), it has everything I want in a bowl — strong savory flavors, plenty of acid to balance things out (from the tomatoes and lemony couscous), textural contrast, and plenty of satiating fiber and protein. It is one of those recipes I really wish I could claim as my own creation; instead, I urge you to pick up a copy of the book it comes from: Naturally Nourished, by Sarah Britton (of My New Roots).
North African Sundried Tomato Soup With Couscous and Olives
Author:
Adapted from Naturally Nourished. Copyright © 2017 by Sarah Britton. Published by Clarkson Potter/Publishers, an imprint of Penguin Random House LLC.
Ingredients
For the soup:
1 tablespoon refined coconut oil, or other neutral oil
3 medium yellow onions, chopped
2 large pinches of kosher salt
3 garlic cloves, grated on a microplane
2 teaspoons ground cumin
2 teaspoons ground coriander
1 teaspoon ground cinnamon
1 tablespoon harissa paste
1 tablespoon minced fresh ginger or ginger juice
2 large red bell peppers seeded and chopped
5-6 cups vegetable stock, preferably homemade
1 (14 1/2-ounce) can whole tomatoes
1 cup / 100g chopped sun-dried tomatoes
1 1/2 cups (1 15-ounce can) cooked chickpeas, drained and rinsed


For the couscous topping:
1/2 teaspoon kosher salt
1/2 cup whole wheat couscous
1 tablespoon extra-virgin olive oil
Zest of 1 lemon
1 1/2 teaspoons freshly-squeezed lemon juice
1/2 cup chopped black olives
1/2 cup chopped fresh flat-leaf parsley
Instructions
In a 6-quart dutch oven or small stockpot, heat the oil over medium-high heat. Once shimmering, add the onions and salt. Cook, stirring occasionally until the onions have softened and are beginning to brown, about 10 minutes. Turn the heat down to medium, then add the garlic, cumin, coriander, cinnamon, harissa, and ginger (if using ginger juice, wait to add with the stock); cook until fragrant, about 2 minutes. Add the bell peppers, and cook, stirring occasionally, until beginning to soften, about 5 minutes; if the mixture becomes dry, add a bit of the broth. Add 5 cups of the broth, the canned tomatoes, and sundried tomatoes. Bring to a boil, then reduce the heat to maintain a simmer. Simmer for 15 minutes.
Meanwhile, bring 1/2 cup water and 1/2 teaspoon salt to a boil in a small saucepan. Once boiling, turn off the heat, add the couscous, cover with a lid, and let sit for 10 minutes. If the couscous hasn't absorbed all of the water at this point, or isn't completely cooked through, cover and let steam for a couple more minutes.
Once the couscous is cooked through, fluff with a fork, and transfer it to a small mixing bowl. Stir in the olive oil, lemon zest and juice, olives, and parsley.
Carefully transfer the soup to a blender, or use an immersion blender to blend until smooth. Thin with the extra stock, if desired.
Return the soup to the pot, add the chickpeas, and warm through. Season to taste with salt (if needed).
Ladle soup into bowls and top with the couscous.
Notes
When it comes to black olives, I strongly-prefer the soft, prune-like,
oil-cured variety
to the more-common brined type, which tend to be bland and spongy. The Whole Foods I shop at stocks them in its olive bar. If you can't find them, I'd recommend kalamata olives over brined black olives.
Stored separately, leftover soup and couscous keep well in the fridge for a few days in an airtight container (the parsley will wilt slightly, but not too much). While I don't recommend freezing leftover couscous, once completely cooled, leftover soup
can be portioned out and frozen
for up to 6 months.