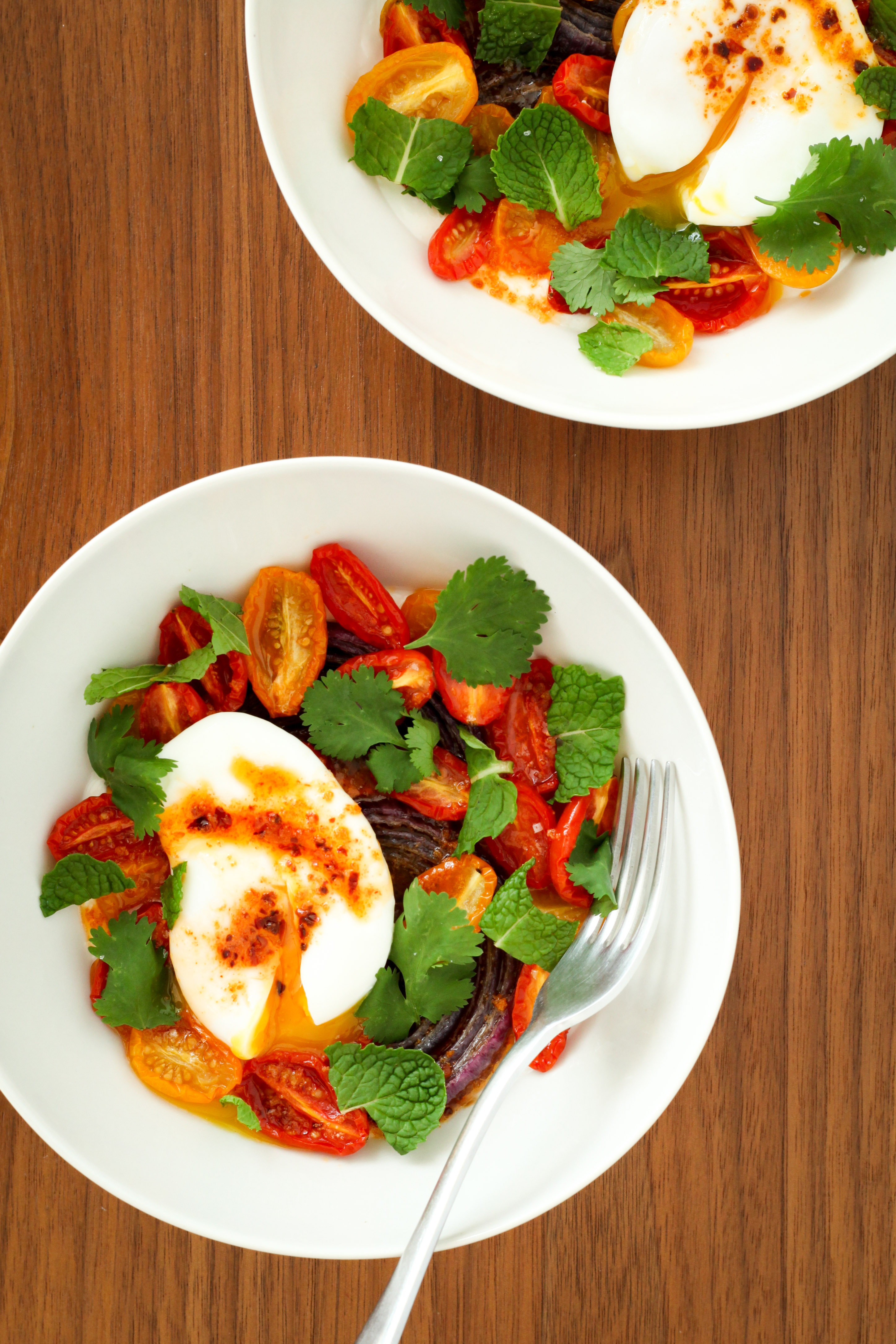 Smokiness tends to take over, dominating everything it touches, and so it is a flavor I tend to avoid. But every once in a while, I taste something that helps me understand why people swoon for that licked-by-fire quality. This recipe is a prime example; here, smoked paprika and aleppo pepper flakes infuse melted butter with warmth, depth, and a brilliant sunset color. Drizzled on top of poached eggs, slow-roasted cherry tomatoes, and a swoosh of lemon-garlic yogurt, the softly-smoky butter ties everything together, rather than clobbering your tastebuds.

Combined, these elements make for a killer breakfast, all of which can be made ahead of time (yes, even the poached eggs, though I usually make those fresh, since it doesn't take long). Which brings me to another reason why I'm sharing this recipe, each of the components can be repurposed: a dollop of the garlicky yogurt is just the thing to enliven a grain bowl or some lentils, the tomatoes and onions can be tossed with pasta or served as a stand-alone side, and the butter is great drizzled over roast chicken, steak, or a variety of vegetables. In short, there's a lot to love here.
It might not be super-obvious, but this recipe is based on a classic Turkish breakfast, cilbir. Here, I've switched things up a bit, omitting the traditional pita, and instead adding in a mound of roasted tomatoes and onions for extra fiber and flavor. Either way it's great, so you do you. If you'd like more eggy inspiration, I'd recommend checking out the recipe's source, Posh Eggs, a compact and cheery volume full of things I'd like to make; some other favorite ideas include: green shakshuka, parmesan custards with crispy bacon, and an insanely-amazing-looking monte cristo sandwich.
P.S. To honor tomato season (🙌🏻), I joined up with more than 70 talented bloggers to highlight this summer farmers market star. If you're looking for a bounty of ways to highlight Green Zebra, Brandywine, Sun Gold, and other tomatoes, check out the hashtag #wesaytomatoes on Instagram, or scroll past the recipe for links to everyone's stunning recipes.
And, in case you missed it, this is the third time I've collaborated with this group; see #strawberriesarethejam and #24carrotgoals for more inspiration.

Turkish Eggs With Garlic Yogurt and Tomatoes
Author:
Adapted from Posh Eggs by Quadrille Publishing
Ingredients
2 pints cherry tomatoes, sliced in half
1 large onion, sliced into 3/-4-inch-thick half moons
2 tablespoons extra-virgin olive oil
Kosher salt
About 1 1/2 cups (14 ounces/400 grams) Greek yogurt, at room temperature
Zest and juice of 1 lemon
2 garlic cloves, grated on a microplane
2 teaspoons tahini
2 ounces (55 grams) unsalted butter
1/4 teaspoon smoked paprika
1/4 teaspoon Aleppo chile flakes
4 large eggs, poached
Flaky sea salt, for garnish
Mint and cilantro leaves, for garnish
Instructions
Preheat the oven to 325°F. Line a half-sheet pan with parchment paper.
Toss together the tomatoes, onions, olive oil, and 1 1/2 teaspoons of salt on the prepped half-sheet pan. Roast for 1 hour and 15 minutes, or until the tomatoes are somewhat shrunken, and the onion is soft and beginning to brown.
Meanwhile, mix together the yogurt, lemon zest and juice, garlic, and tahini. Season to taste with salt.
Melt the butter in a small pan, add the paprika and chile flakes, cook until fragrant, then season to taste with salt.
To serve, divide the yogurt between four bowls, top each with some of the vegetables, and 1 poached egg. Sprinkle the egg with flaky sea salt (kosher is fine here too), drizzle with the spiced butter, and sprinkle with mint and cilantro.
Notes
All of the elements can be made ahead of time and reheated, making this a great make ahead breakfast.
---
GET READY FOR ALL THE WONDERFUL
#WESAYTOMATOES
RECIPES:
What Annie's Eating's
Pizza With Sun Gold Tomatoes, Burrata, and Calabrian Chiles
Square Meal Round Table's
Heirloom Tomato, Shallot, and Thyme Focaccia
Well-Fed Soul's
Heirloom Tomato Galette With Basil-Honey Ricotta
Wood and Spoon's
Roasted Summer Vegetable Quiche
Mangia With Michele's
Pesto Trapanese
Fufu's Kitchen's
Tomato and Beef Skillet
Bee and the Baker's
Heirloom Tomato Spice Cake With Ginger-Orange Cream Cheese Frosting
Flours in Your Hair's
Tomato and Roasted Garlic Mini Galettes
A Forkful of Yum's
Fried Green Tomato Caprese Salad
The Cooking of Joy's
Tomato and Eggs Over Rice
Moody Loon Bakehouse's
Tomato Juice Spheres
Jessie Sheehan Bakes'
Everything Cream Cheese Biscuits With Roasted Tomatoes
Sift and Simmer's
Margherita Pizza With Fresh Tomatoes, Pepperoni, and Basil
Wildflour's
Heirloom Tomato Ricotta Tart
Always Eat Dessert's
Heirloom Tomato Salad With Burrata and Grilled Bread
The Herb and Spoon's
Za'atar Heirloom Tomato Tart
Retro Lillies'
Heirloom Tomatoes With Chili Oil, Pesto, and Mozzarella
Worthy Pause's
Tomato-Basil Cauliflower Rice
Pies Are Awesome's
Cheesy Tomato-Basil Quiche Queens
More Icing Than Cake's
Roasted Tomato and Malt Vinegar Slaw
Kevlette's
Beefsteak Tomato Tart With Caramelized Onions
Short Girl, Tall Order's
Roasted Heirloom Tomato and Vegan Pumpkin Seed Pesto Toasts
Champagne and Cookie's
Heirloom Cherry Tomato and Red Potato Italian Salad With Gorgonzola and Basil
What Should I Make For. . .'s
Tomato Shortcake With Whipped Ricotta
Hola Jalapeño's
Worm Salt Bagels With Rajas Cream Cheese and Tomatoes
Smart in the Kitchen's
Indian-Spiced Marinated Tomatoes
Le Petit Eats'
Vegan Tomato Tart With Herbed Walnut and Pine Nut Crust
Six Snippets'
Heirloom Tomato and Egg Salad
Rumbly in My Tumbly's
Whipped Feta Dip
Rezel Kealoha'a
Late Summer Tomato Pesto Pasta Salad
Salt 'n' Pepper Here's
Poached Shrimp and Tomato Salad
Well Seasoned's
Sunday Supper Sugo (Slow-Roasted Pork Shoulder)
That Passionate Foodie's
Cold Curried Tomato Soup With Heirloom Tomato Tart
Cooking Again's
Rigatoni With Homemade Tomato Sauce
Kate Aliberti's
Tomato-Ricotta Galette in Herbed Crust
Marianne Cooks'
Eggplant Bruschetta
Baking the Goods'
Heirloom Tomato Pimento Cheese Tart
The Cookbook Nerd's
BLT Salad
Maren Ellingboe's
Tomato Toast With Homemade Mayonnaise
Crumb Top Baking's
Tomato, Arugula, and Mozzarella Quiche
Katiebird Bakes'
Heirloom Tomato Tart With Burrata
The Healthy Sins'
Roasted Tomato and Feta Quiche
Lemon Thyme and Ginger's
Creamy Tomato Salad With Mozzarella
What's Karen Cooking?'s
Puttanesca Slab Pie
Farm and Coast Cookery's
Heirloom Gazpacho
Bappy Girl's
Tomatoes With Beef and Egg
Menzi Mhlanga's
Feta With Roasted Tomatoes and Olives
The Buttery Whisk's
Mini Heirloom Tomato Galettes
Sugar Salted
Summer Tomato Salad With Balsamic Red Onion
Battered 'n' Baked
Blistered Tomato Galette With Ricotta and Pesto
Simple and Sweet Food's
Pan Con Tomate
Easy and Delish's
Tomato-Basil Caipirinha
Amanda Skrip's
Tomato Toast
Everything But the Kitchen Sink's
Heirloom Tomato and Lemon Mascarpone Tart
Pie Girl Bakes'
Tomato Ricotta Galette
Just Date Syrup's
Tomato and Stone Fruit Cheese Board With Burrata and Date Syrup
Dukkah Queen's
Spicy Tomato Chutney With Curry Leaves
Clean Plate Club's
Slow-Roasted Tomatoes With Calabrian Chili Oil and Ricotta
Knead. Bake. Cook.'s
Roasted Tomato Sauce With Mini Meatballs
Rituals of the Kitchen's
Tomato Fattoush Salad
Chef Daniela Gerson's
Cherry Tomato Confit
Millie Lottie's
Tomato Crostata With Honey-Thyme Glaze
It's a Veg World After All's
Roasted Cherry Tomato Sauce With Herbs
Made From Scratch's
Tomato-Ricotta Pizza
Arlene Lott's
Heirloom Tomato, Basil, and Asparagus Quiche
Appetite For Humanity's
Classic Tomato Sandwich on Homemade Focaccia
Millie Lottie Totes'
Roasted Cherry Tomatoes