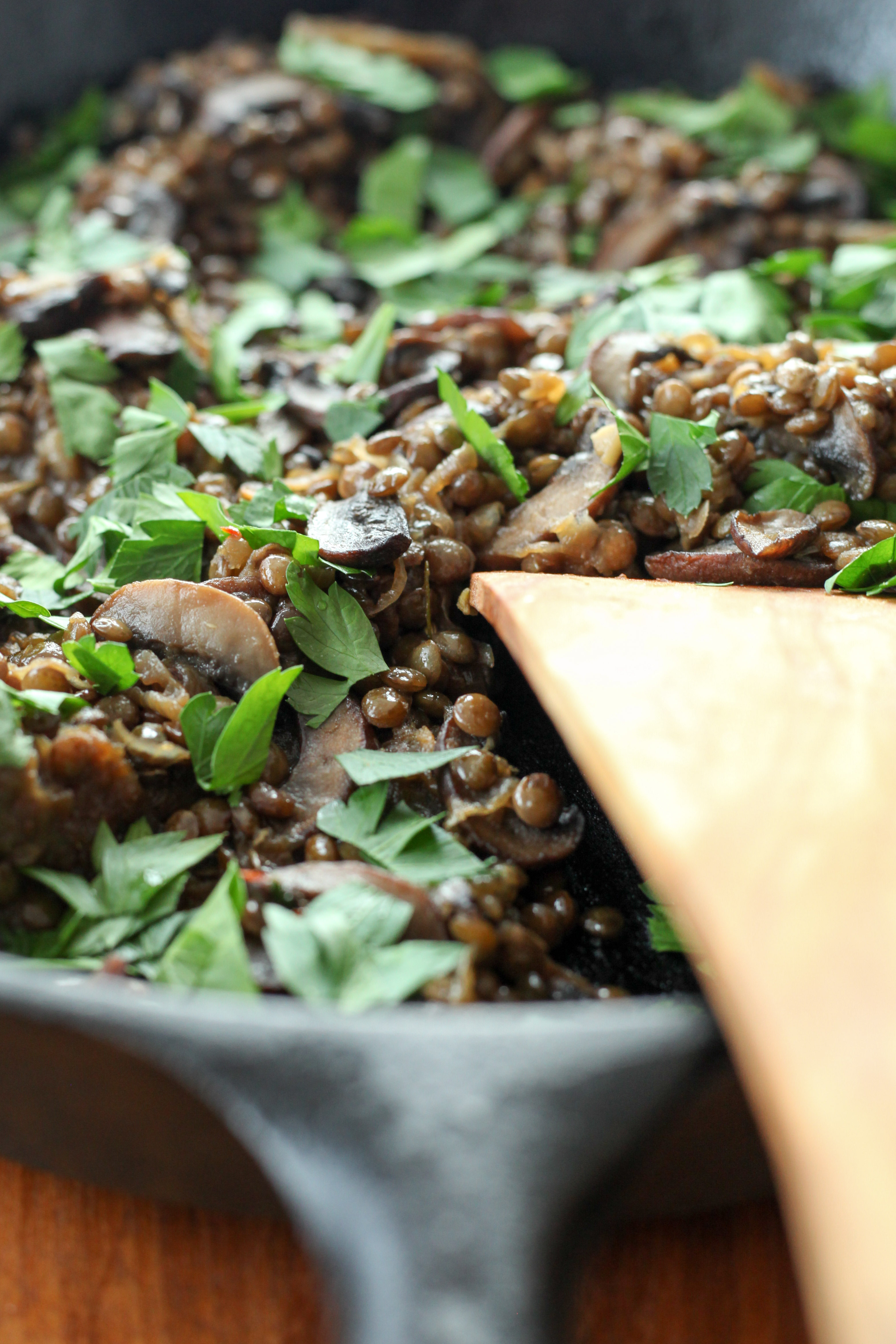 It used to get to me when someone would describe the recipes I share here as simple or easy, like somehow that was a critique on my culinary skills and creativity, or it was a subtle, passive-aggressive jab at my worth as a cook and recipe developer. I'd wonder if years of working in online media had served as blinders, limiting my focus to the Pinterest-friendly realm of one-pan, slow-cooker, and weeknight-friendly meals. Or, maybe I was *gasp*, in 2014 terms, "basic." But then something funny happened: I realized that sharing doable, realistic recipes was my goal all along. That by keeping things (for the most part) beginner-cook-friendly, I was creating content that could reach, and hopefully inspire, a wider swath of readers to go to the grocery store (or better yet, farmers market), fill their bags with delicious things, and get in the kitchen.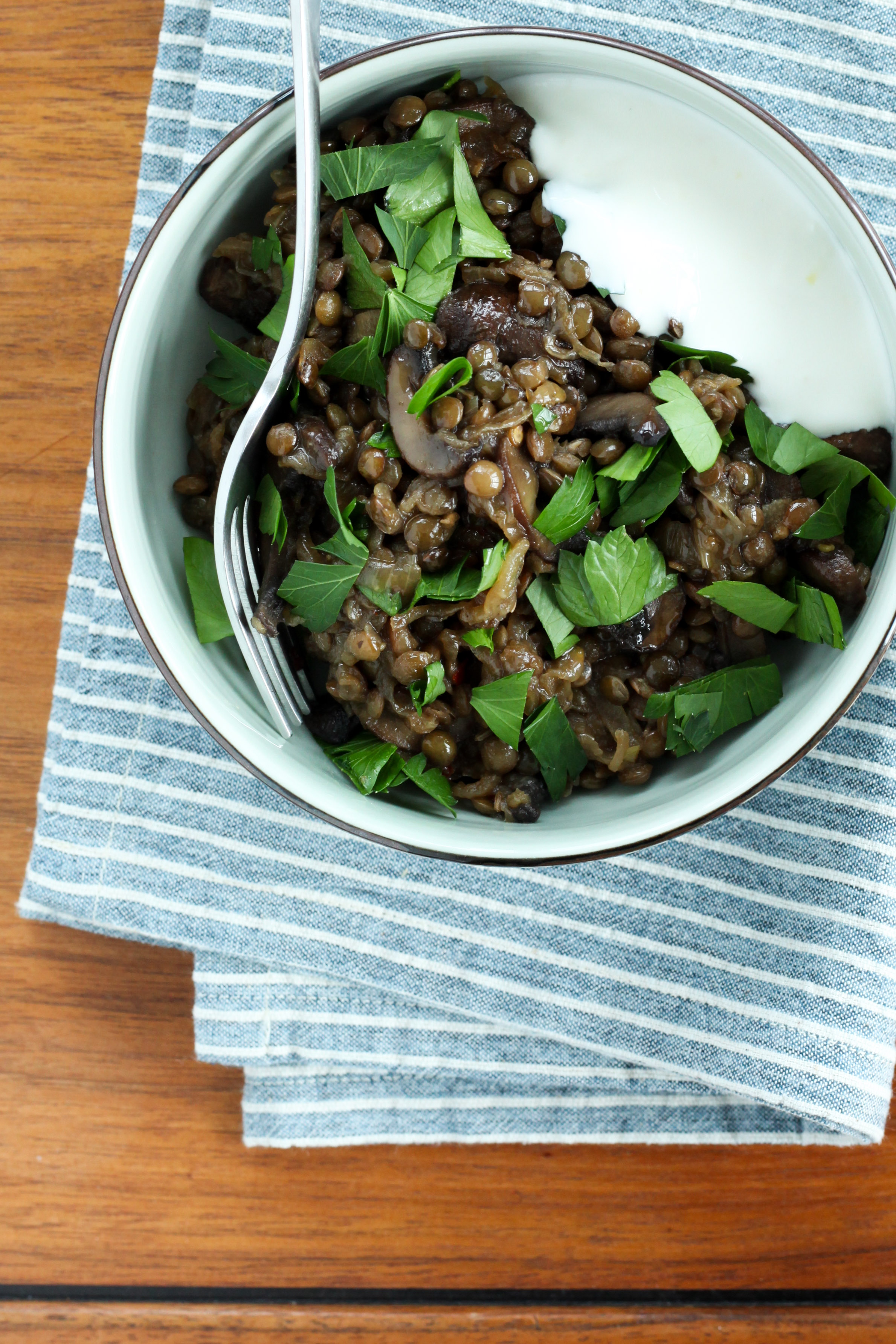 I am not a chef, and I'm not pretending to be. The recipes I write about here prioritize flavor first, but not at the expense of practicality. I'm not trying to reinvent the wheel or employ fussy techniques or ingredients for the sake of it. Instead, I aim to create and highlight recipes that are ridiculously-tasty, considerate of one's time, wellness-promoting (and yes, my version of "wellness" includes the occasional marshmallow), and to share tips and discoveries along the way.
This humble bowl of winey lentils, caramelized onions, and mushrooms fits well within this objective. The ingredient list is everyday (fennel seeds are about as crazy as it gets, and those are optional), the technique simple, and leftovers can be eaten at room temperature like a salad (hi, brown bag lunch). It is an everyday, adaptable sort of recipe, made mainly from pantry and fridge staples. For all of these reasons, I make it often, and hope you'll feel inspired to do the same.
Related:
One-Pan Wild Mushrooms, Chickpeas, and Kale
Slow-Cooker Black Beans With Quinoa and Sweet Potatoes
Lentils With Caramelized Onions, Mushrooms, and Yogurt
Ingredients
For the onions and mushrooms:
4 tablespoons extra-virgin olive oil, divided
4 medium onions (about 2 pounds), thinly sliced
2 teaspoons kosher salt, plus more to taste
2 garlic cloves, thinly sliced
1 teaspoon fennel seeds, optional
1/4 teaspoon red pepper flakes
1 pound cremini mushrooms, thinly sliced


For the lentils:
1 cup (6 ounces) dry French green lentils, picked over and rinsed
3 1/2 cups water
2 garlic cloves, smashed
1 sprig rosemary
1 1/2 teaspoons kosher salt
3/4 cup of rosé, light red, or white wine, plus more to taste
1/2 cup roughly-chopped parsley


For the lemon yogurt:
1/2 cup greek yogurt or skyr
Zest of 1/2 lemon, plus 1/2 tablespoon juice
Pinch of kosher salt
Instructions
In a large skillet, heat 2 tablespoons olive oil over medium-high heat until shimmering, but not smoking. Add the onions and 1 teaspoon kosher salt. Cook, stirring occasionally, until the onions are golden brown and slumped — nearly but not quite caramelized — about 30-40 minutes. Then add the remaining 2 tablespoons of olive oil, the garlic, fennel seeds, red pepper flakes, mushrooms, and 1 teaspoon salt, and cook, stirring occasionally, until both the onions and the mushrooms are deeply browned, 10-15 minutes. Season to taste with salt
Meanwhile, add the lentils to a medium saucepan, along with water, garlic cloves, and rosemary. Bring to a boil, then reduce the heat to maintain a simmer and cook until almost tender, 20-25 minutes. Season to taste with 1 1/2 teaspoons salt, then keep cooking until tender.
While the onions and lentils cook, whisk together the yogurt, lemon zest and juice, and salt in a small bowl. Adjust to taste with more lemon juice and salt, if needed.
Drain the lentils, pick out and discard the garlic and rosemary, then add the lentils to the mushrooms and onions. Add the wine, and cook until the liquid has absorbed, 3-4 minutes. Season to taste with additional wine and salt, if needed; add the parsley.
Serve hot or at room temperature with a dollop of lemon yogurt.
Notes
When I remember to do so, I like to soak the lentils overnight, as they then cook up more evenly, with fewer split lentils. (It also increases their digestibility.) Soaked lentils typically cook up a bit more quickly, so check early for doneness.
I prefer French green or de Puy lentils here, as they keep their shape well. For a more budget-friendly option, green or brown lentils are a great alternative.
The lentils are also great (without the yogurt) topped with a fried or
poached egg
.