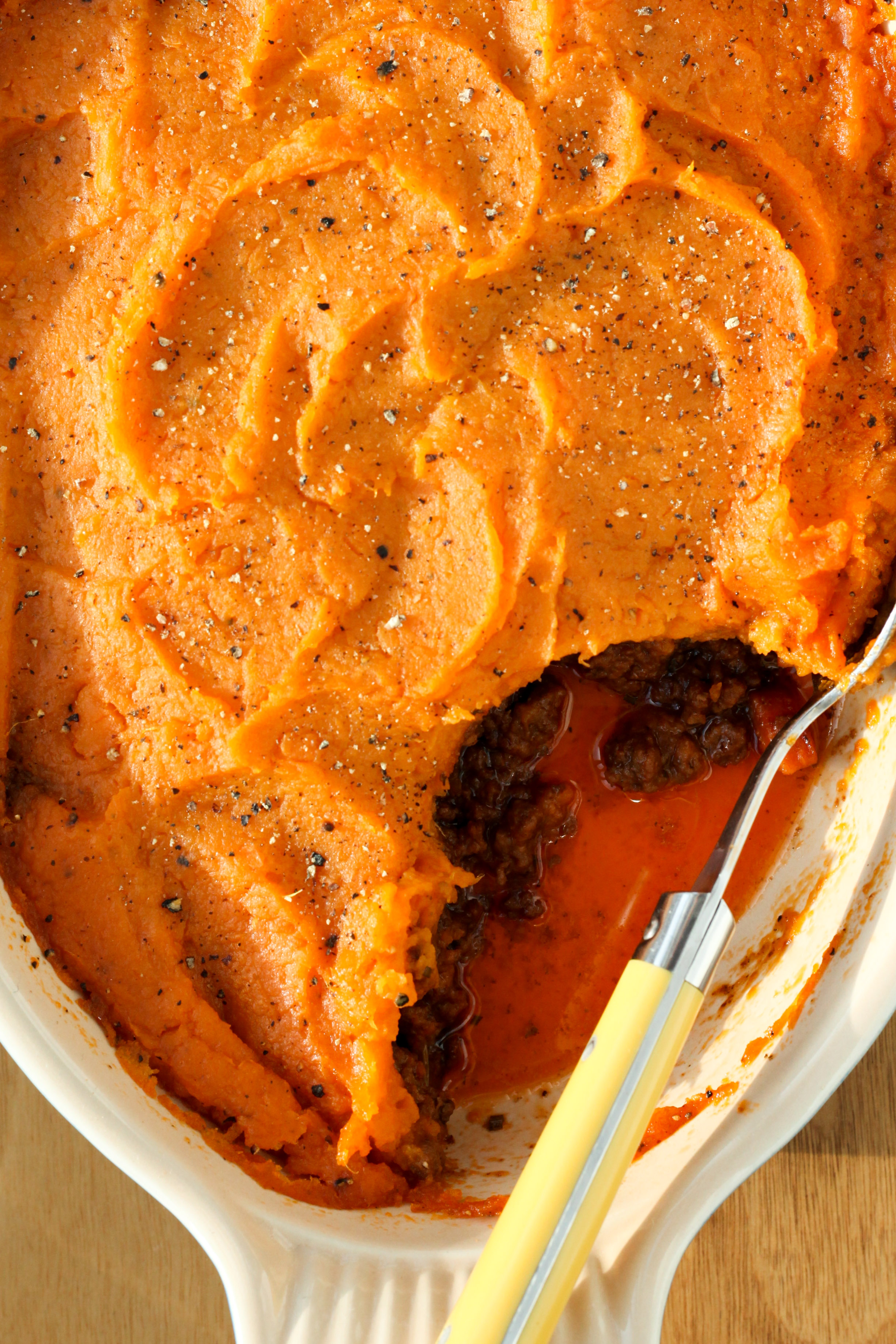 Power to those of you that feel otherwise, but I'm not a big reality TV fan*. So, when the publicist for Marissa Hermer's An American Girl in London reached out offering to send a copy of her book for review, I was a bit skeptical. (For those of you who aren't familiar with Bravo's Ladies of London, Hermer is one of the stars.) Still, some things from the pitch captured my attention: the book focuses on British fare through an American's eye (some recipes are lightened up a bit), and in addition to being a reality TV star, Hermer is the owner of three London restaurants. So, I said yes, flipped through its pages, and tried out a recipe or two.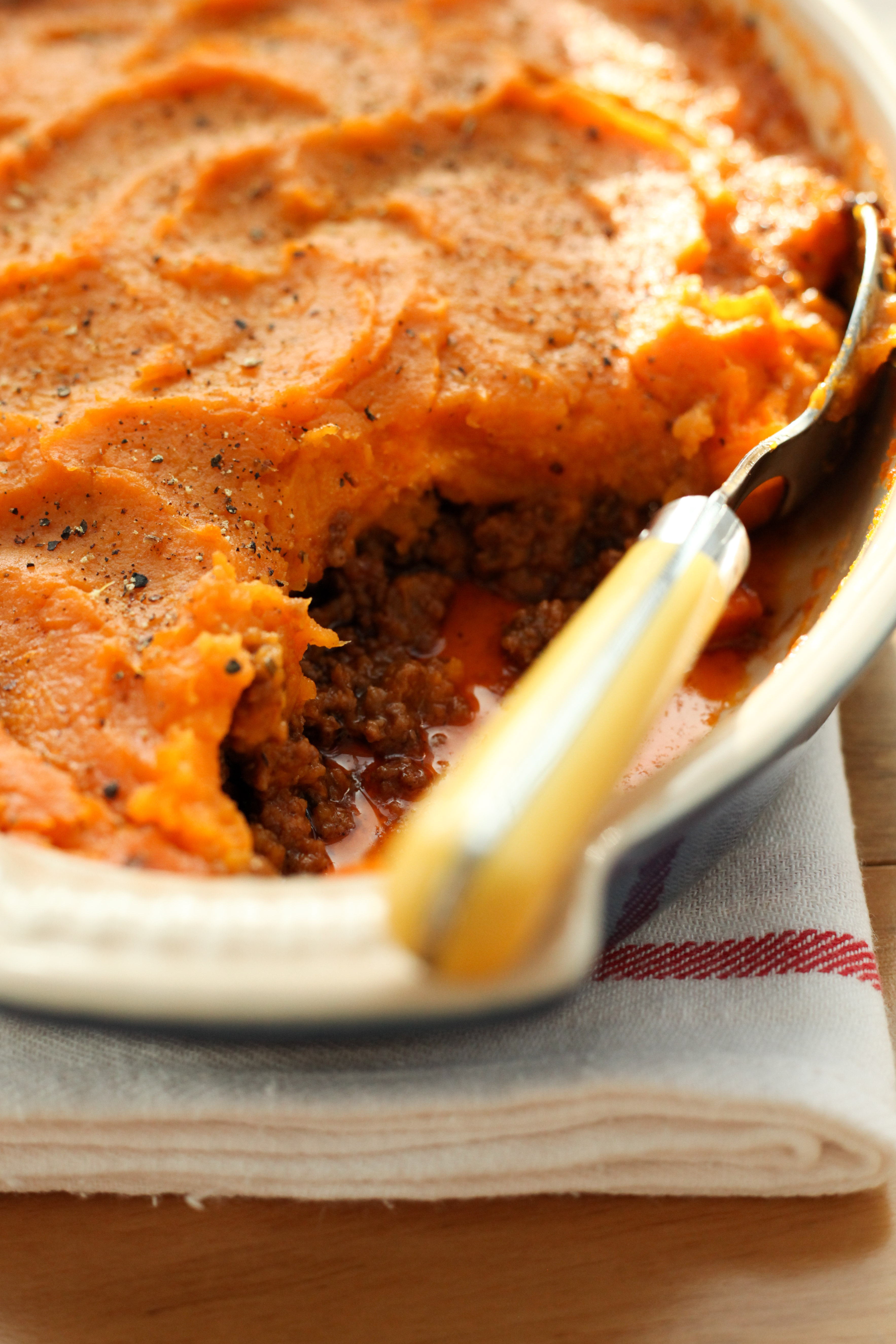 Suffice to say, I was impressed, and retroactively, I'd like to apologize to Hermer over my initial skepticism. The recipes are solid, straddling the line between homey and inventive, making for the type of food most of us like to make at home. My favorite of which was this cozy spin on shepherd's pie, which, killer flavor aside, is somehow not a gut bomb, and is an excellent stand-alone main. I've made it a couple times now, and especially appreciate how good the leftovers are — they even stood up well to being portioned out and frozen. Practical, comforting, and just plain tasty, it's joined by other tempting dishes in the book, including a healthier take on full English breakfast, Eton mess with strawberry meringues, braised Savoy cabbage, and roasted butternut squash soup with crispy sage and cashew cream.
*One notable exception is Alone, which Andrew and I recently became obsessed with. The premise: 10 survival experts are left in the wilderness to see who can survive the longest. As the title suggests, they're completely alone, without camera crew (the contestants film themselves). Unlike many competition-style reality TV shows, there are no challenges, games, or other ways of eliminating contestants, they're eliminated by their own foibles, bad luck, or desire to go back home. Think Naked and Afraid without the nudity or companion, and with a much longer potential time frame.

Sweet Potato Shepherd's Pie
Ingredients
2 pounds sweet potatoes, peeled and cut into large chunks
3 tablespoons butter, divided
Kosher salt, to taste
Freshly-ground black pepper, to taste
Whole nutmeg, freshly grated on a microplane
1 tablespoon extra-virgin olive oil
1 large yellow onion, chopped
1 large clove of garlic, minced
2 large or 3 small carrots, peeled and chopped
2 celery stalks, chopped
1 tablespoon tomato paste
3/4 pound ground lamb
3/4 pound ground beef
1 teaspoon ground cinnamon
Leaves from 3 sprigs of thyme, finely chopped
Leaves from 1 sprig of rosemary, finely chopped
1 tablespoon all-purpose flour
1 1/4 cups chicken stock
Instructions
Add the sweet potatoes to a medium pot, cover with water, and bring to a boil over high heat. Reduce the heat to maintain a simmer, and cook until tender, about 20 minutes. Drain and mash either using a potato ricer, potato masher, or with the paddle attachment on a stand mixer. If using one of the first two methods, do this in the pot that was used to cook the potatoes, for the latter, transfer the potatoes to the bowl of stand mixer. Either way, add 2 tablespoons of the butter, and once mashed, season to taste with salt, black pepper, and nutmeg.
Meanwhile, preheat the oven to 350°F.
Add the remaining tablespoon of butter and the olive oil to a large skillet set over medium heat. Once the butter is melted, add the onion and a large pinch of salt, cook until softened and beginning to brown, about 15 minutes. Add the garlic, carrots, celery, and another large pinch of salt, then cook until tender, about 8 minutes. Stir through the tomato paste and cook for 1 minute. Season to taste with additional salt, if needed, then, transfer all of the vegetables to a bowl.
Wipe out the skillet and increase the heat to medium-high. Pat dry the surface of the ground lam and beef, then add to the skillet. Cook, undisturbed for about 2 minutes or until browned on the bottom, flip and cook undisturbed until browned on that surface. Then, using a stiff metal or wooden spatula, chop up the meat and spread it around the pan, so that the interior will cook through and brown. Sprinkle generously with salt, then cook, stirring occasionally until deeply-browned all over. Add the vegetables back to the pan as well as the cinnamon, and chopped herbs. Stir to combine, then add the flour, stir, and cook for 1 minute. Add the stock and bring to a boil. Then reduce the heat to maintain a simmer, and cook until thickened, about 20 minutes. Season to taste with additional salt, as needed.
Transfer the shepherd's pie filling to a 10-by-7-inch oval baking dish. Top with the sweet potato mash, spreading it evenly over everything.
Bake for 30 minutes, or until the filling is hot and bubbling up, and the sweet potato is just beginning to brown on its peaks.
Notes
Because I tend to find lamb to be a bit gamey, I cut it with equal parts ground beef; if you love lamb, omit the beef and use 1 1/2 pounds lamb instead (this is what the original recipe calls for). If you don't want to buy both rosemary and thyme, choose one and use more of it to make up the difference.

Like most casseroles, this recipe is great as leftovers (the leftovers even fare well frozen).

To make it ahead, freeze the entire assembled casserole dish (tightly-wrapped in tinfoil), then, the night before you'd like to eat it, defrost overnight in the fridge before baking as normal.