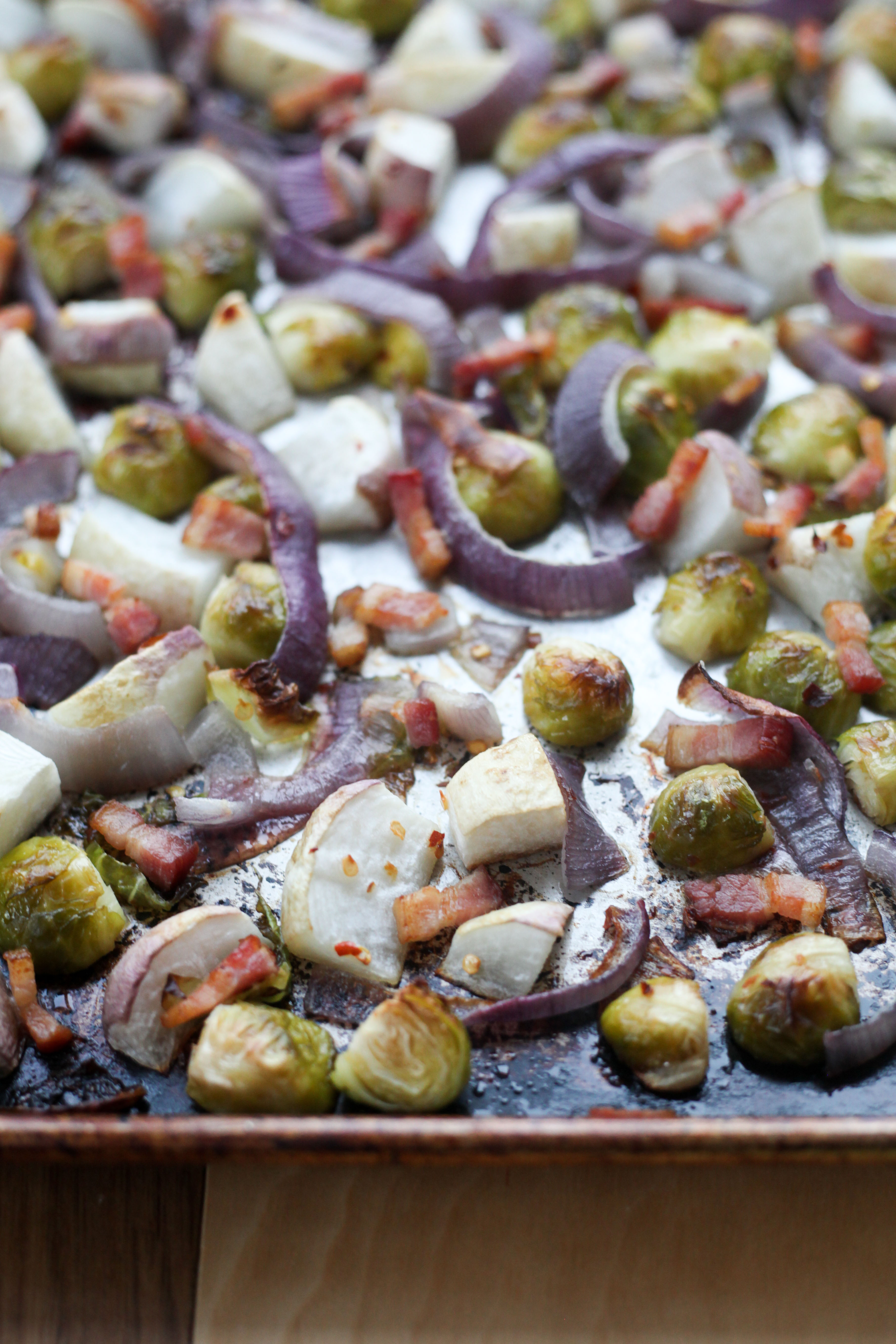 Try as I do to resist my urges, I tend to be a bit of a backseat driver when Andrew is cooking. While a desire (or really, an impulse) to tweak and refine are useful qualities to have when testing or developing recipes, it's hard, verging on impossible to shut off, and is perhaps less of an endearing quality when directed towards one's significant other. (Sorry, Andrew!) Still, every once in a while, when he hasn't banished me from our kitchen, our minds and palates come together to create something quite wonderful, like this spicy brussels sprouts, turnip, bacon, and onion situation.

The idea, ingredients, and proportions here are all Andrew; my small tweak was to give the veg some space to breathe, crisp up, and caramelize by spreading it out on a half-sheet pan and cranking up the oven's temperature. (Originally, Andrew would toss everything together in an eight-inch-square baking dish, which, while rather tasty, didn't bring the brown, crispy bits to quite the same degree.) At once earthy, peppery (from the turnips), salty, sweet, and spicy, it's a winter side that's comforting, but keeps your tastebuds at attention.
P.S. For another of Andrew's creations, check out these prosciutto-wrapped, feta-stuffed dates.


Spicy Roasted Brussels Sprouts and Turnips With Bacon
Ingredients
1 pound brussels sprouts, trimmed and halved
1 pound turnips, trimmed and cut into chunks
1 large red onion, thickly sliced into half-moons
3 ounces thick-cut bacon, cut into 1/4-inch strips
2 tablespoons melted coconut oil
3/4 teaspoon red pepper flakes
1/2 tablespoon kosher salt
Instructions
Heat the oven to 450°F.
In a large mixing bowl, use your hands to toss together all of the ingredients, so that everything is evenly coated in coconut oil and salt.
Transfer to a half-sheet pan, spread out in one even layer. Roast for 30-35 minutes, rotating the pan halfway through, or until the vegetables are deeply-browned and tender.
Notes
Cut the turnips into pieces that are similar in size to the halved brussels sprouts (if the chunks are a bit bigger, that's not a problem as very crispy, almost burnt brussels sprouts are extra-tasty).
The bacon is easier to cut when very cold (if it's too soft, pop it in the freezer for a few minutes to firm up). A sharp knife will do the trick, but I usually use
kitchen scissors
for ease.
If you're sensitive to spicy flavors, you may want to halve the amount of red pepper flakes used.