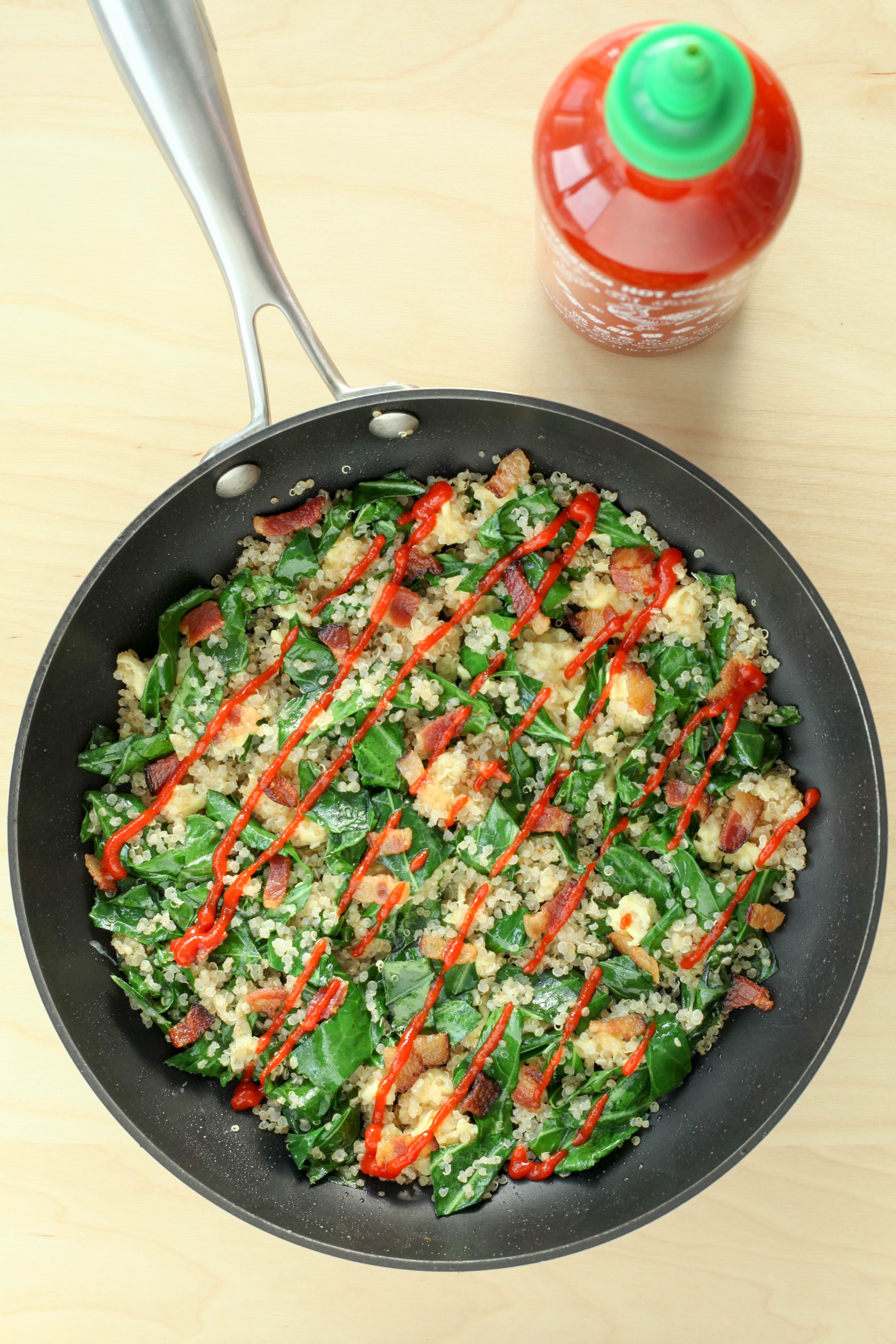 Greens, grains, eggs, bacon, and sriracha, these are the building blocks of a breakfast that perfectly straddles the line between healthy and indulgent. It's the sort of thing that I crave after a night out that maybe, just maybe, involved a bit more wine than what is probably wise. Don't get me wrong, some hangovers call for a diner-style grilled cheese with bacon or something similarly carby, cheesy, and decadent, but on days where I wake up feeling just a bit off, a breakfast like this feels like smarter move.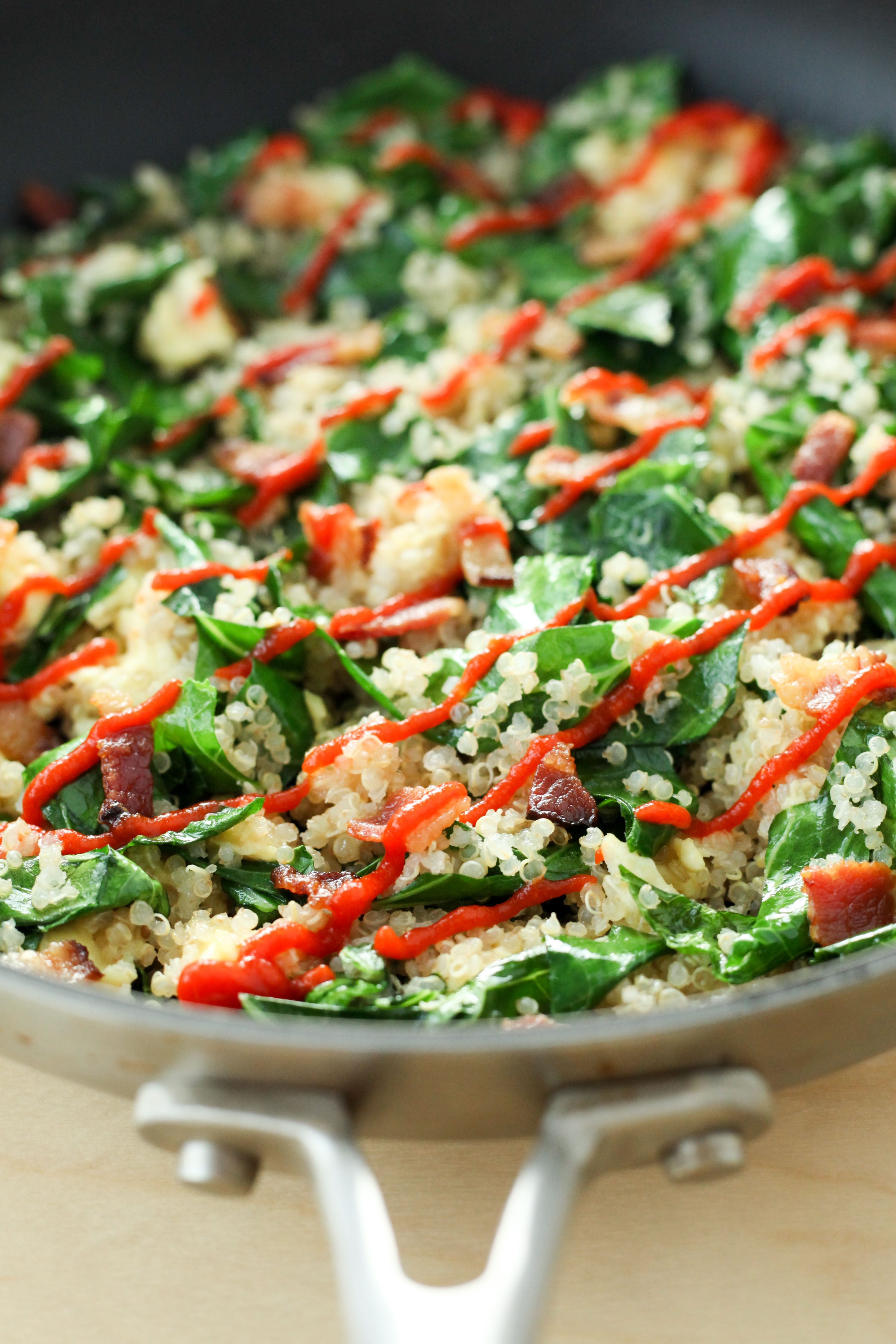 This morning-ready take on fried rice quinoa is hearty enough to ward off that bottomless pit feeling that overindulgence tends to leave in its wake, and is also sensible enough to feel like a reset. And, provided you have some leftover quinoa hanging out in your fridge (never a bad idea), it's pretty darn quick to cook up. It's also worth noting that it's pretty flexible: other cooked grains could be swapped for the quinoa, and a variety of sturdy greens (like kale or swiss chard) can be substituted for the collards.
If you're keen on discovering and cooking up other healthyish grain bowls, I'd absolutely recommend picking up a copy of the cookbook that I found this recipe in: Carolynn Carreño's Bowls of Plenty. It's one of my favorite wellness-centric cookbooks that came out this past year, and includes recipes like shaved brussels sprouts with spelt, walnuts, and pecorino; spicy tuna tartare with brown sushi rice and avocado; and something wonderful called the "Sunday night detox bowl."
Related:
Cauliflower Fried Rice With Kale and Kimchi
Breakfast Fried Quinoa With Sriracha and Greens
Ingredients
1 thick slice of bacon
4 large collard green leaves (about 1/4 bunch), stemmed and cut into thick ribbons
Kosher salt
3/4 cup leftover cooked quinoa (from 1/4 cup uncooked)
1 large egg, lightly beaten with a large pinch of salt
Sriracha, to taste
Instructions
Slice the bacon into 1/2-inch-thick pieces (a pair of clean kitchen shears makes this easy, as does doing this while the bacon is still very cold).
Add the bacon to a large nonstick skillet, and cook over medium-low heat until the fat has rendered and the bacon is crisp and golden-brown. Remove the bacon to a small bowl, leaving behind the bacon fat.
Increase the heat to medium and add the collards to the pan plus a large pinch of salt; cook, stirring frequently, until the collards are bright green and slightly-softened. Add the quinoa and another pinch of salt and cook, stirring to evenly distribute it through the collards. Push the quinoa and collards to one side of the pan, then add the egg and cook, stirring frequently, until just set. Take off the heat. Break up the scrambled egg into small chunks and stir the egg through the fried quinoa.
Top the fried quinoa with the bacon, generously drizzle with sriracha, and serve hot with more sriracha on the side.
Notes
This recipe can easily be doubled, just be sure to use a large nonstick skillet in order to accommodate everything.

Other sturdy greens like kale or swiss chard can be substituted for the collard greens.