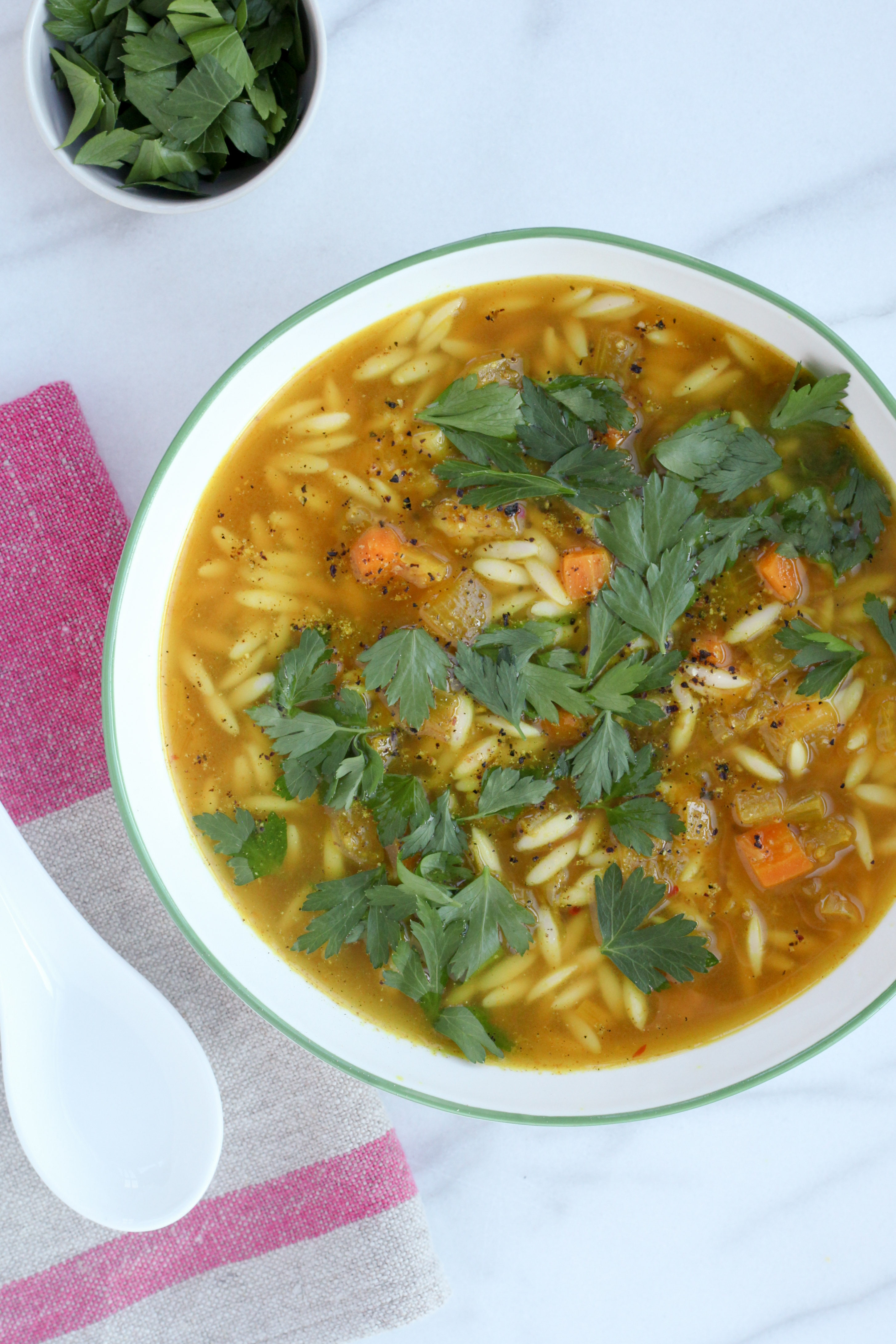 Every once in a while, the stars align and a recipe comes to me just when I need it most. In this case, I was flipping through Laura Wright's The First Mess Cookbook, tabbing recipes to try, on the same day that Andrew came down with a nasty head cold. Boosted with a generous dose of ginger, turmeric, black pepper, and chili flakes, this golden broth would have caught my eye, sick patient or no, but under these circumstances it quickly jumped to the top of my to-try list. Steamy, spicy, and sinus-clearing, it does it's advertised job well, and since the solid ingredients are classic noodle soup additions (orzo and the tried and true trio of onion, carrot, and celery) it's also quite comforting.

As luck would have it (#joke), I came down with the same cold a few days later. The first batch of soup was long gone, but I had extra of all of the ingredients on hand. Normally, I'm not one for much cooking when I'm sick — Shin Ramyun, yes please! — but my memories of both its excellence and its ease of preparation were quite fresh, so I simmered up another pot. I can't for sure say whether I got lucky or if it really is magical soup, but my cold was near-entirely gone 48 hours later, so there's that!

Deep Immune Soup With Turmeric-Ginger Broth
Author:
Adapted from The First Mess Cookbook by arrangement with Avery Books, a member of Penguin Group (USA) LLC, A Penguin Random House Company. Copyright © 2017, Laura Wright
Ingredients
1 tablespoon extra-virgin olive oil
1 small yellow onion, diced
1 medium carrot, peeled and diced
1 stalk of celery, diced
Kosher salt
3 cloves of garlic, minced
2-inch piece of fresh ginger, peeled and minced (about 2 tablespoons)
2 teaspoons turmeric
1/2 teaspoon dried chili flakes
4 cups vegetable stock
2/3 cup orzo (or other small pasta)
1-3 tablespoons white miso
1 tablespoon apple cider vinegar, or more to taste
1/3 cup chopped flat-leaf parsley
Lots of freshly-cracked black pepper
Instructions
Heat the olive oil in a large pot over medium heat; add the onion, carrot, celery, and a large pinch of salt. Cook, stirring occasionally, until the vegetables are nearly tender, 5-8 minutes. Add the garlic, ginger, turmeric, and chili flakes; cook for 30 seconds, or until fragrant, then add the vegetable stock. Bring to a boil, reduce the heat to maintain a simmer, then cook until the vegetables are completely tender.
Meanwhile, cook the orzo in a small pot of generously-salted water until al dente. Drain, then add to the soup.
In a small bowl, mix together the miso and apple cider vinegar with a fork. Ladle in enough of the broth to fully dissolve the miso, using the fork to mix. Add this to the soup, stir to evenly distribute, then season to taste with additional miso or apple cider vinegar, as needed (repeat the same steps with dissolving the miso in the small bowl before adding, to make it easier to evenly distribute it in the soup).
Ladle the soup into bowls and garnish with parsley and lots of black pepper.
Notes
Instead of mincing the garlic and ginger on a cutting board with a knife, I like to use a microplane to grate them. A
standard microplane
works, but for efficiency, I usually use
this coarser one
as it moves through the ginger much more quickly. Or,
ginger juice
can be used 1:1 for the minced ginger — add it when you add the stock.
Between the ginger, chili flakes, and pepper, this broth is pretty fiery; if you're sensitive to spicy food, start with half the amount of chili flakes.
I like to cook the orzo separately, in very-salty water, so that it is properly seasoned (the broth is barely salty before you add the miso). I also prefer to cook it in its own pot, because I can then store the leftover soup base and cooked orzo in separate containers. (The orzo will bloat and get a bit soggy if stored in the broth.) That said, if you plan to eat all of the soup at once, and don't want to dirty an extra pot, you can add the orzo to the soup to cook.
The right amount of miso to use depends largely on your stock. I used unsalted stock (
this recipe, omitting the soy sauce
), and 3 tablespoons of miso was just right. Chicken stock is also a great swap for the vegetable, if you eat meat.
If you eat meat, a bit of shredded chicken is an excellent addition. In an ideal world,
poached is my preference
, but
leftover roast chicken
also works marvelously.