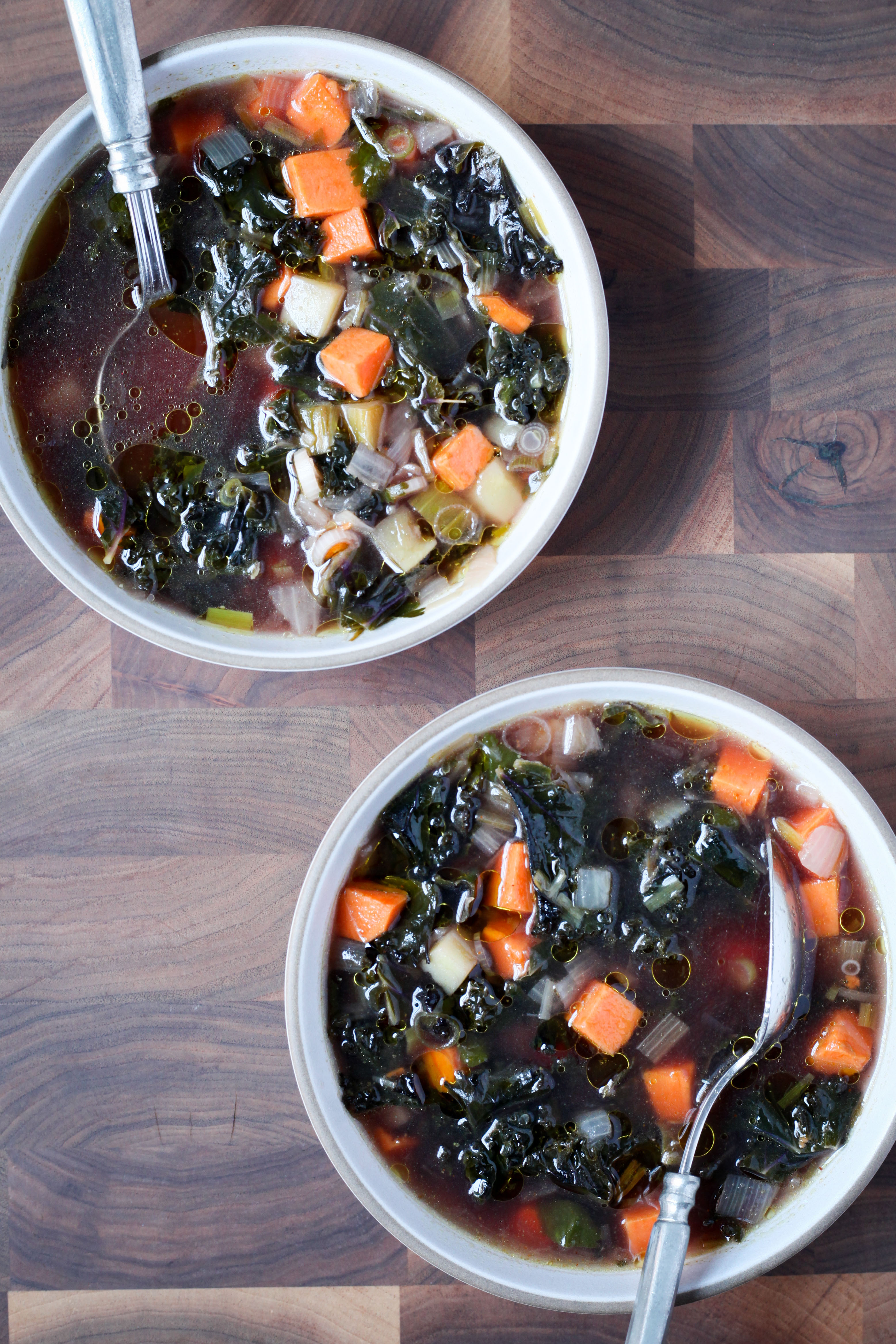 In our pantry, you'll pretty much always find a package or two of instant ramen stashed away. While it serves well as dinner in a pinch, especially when dressed up with a poached egg, sliced scallions, and sriracha, it's really there for when either Andrew or I are sick with a cold. (Some might crave chicken noodle soup, but I prefer the sinus-clearing heat of instant ramen and other spicy soups.) Andrew recently had the flu, so our stockpile of instant ramen was raided. I only wish I had discovered this kale and sweet potato soup recipe before then, as ramen — while tasty — isn't exactly the most nutritious option, and this would've been the perfect supplement to that.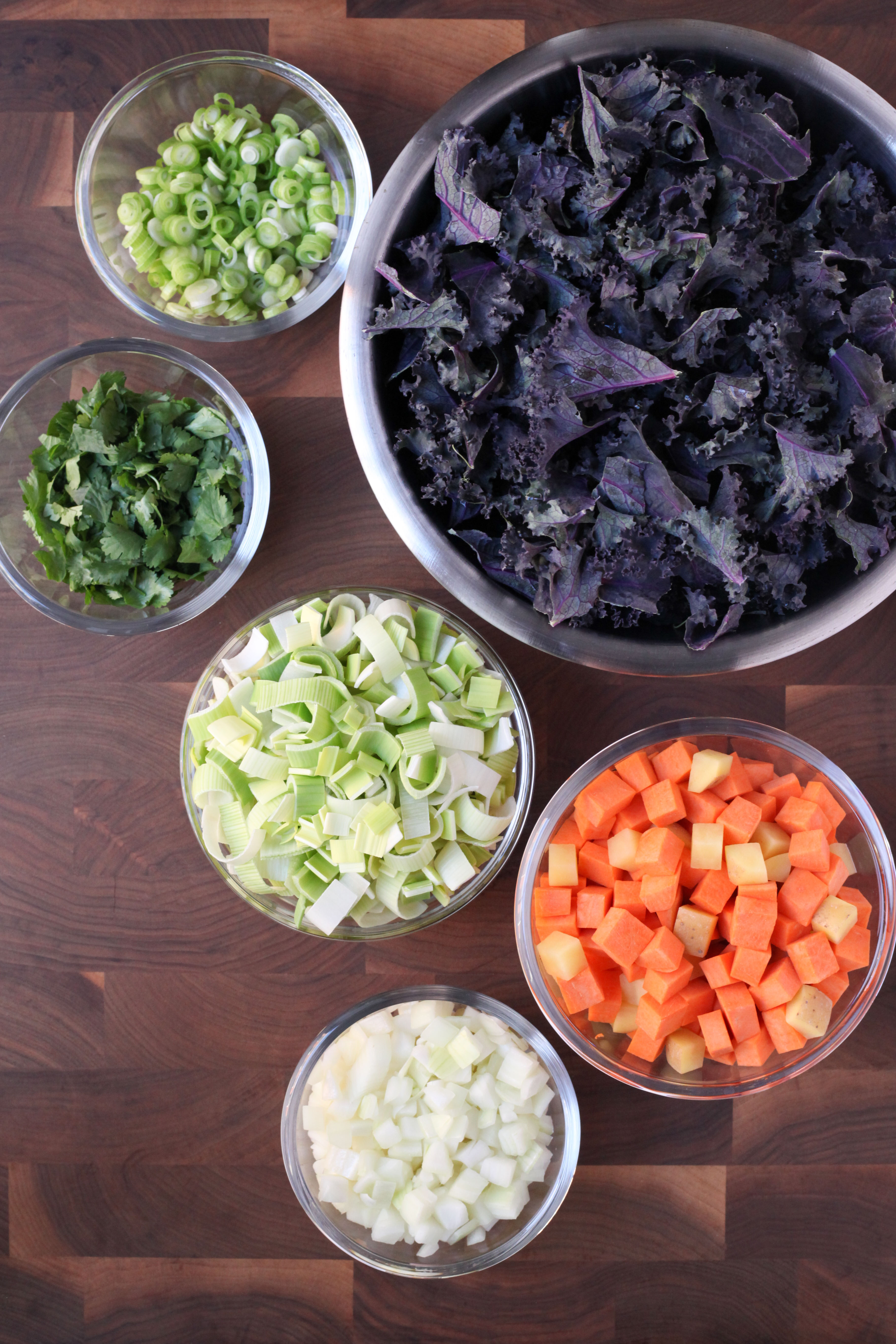 While on the surface, this recipe has little in common with ramen — it's not Asian in origin and there aren't any noodles in it — I suspect it'd be just the thing to slurp up while sick. Like ramen, it's spicy, brothy, and has a bold enough flavor to be appealing even with a muted sense of smell. Unlike ramen, it's made with lots of fresh produce and none of the sort-of-sketchy preservatives.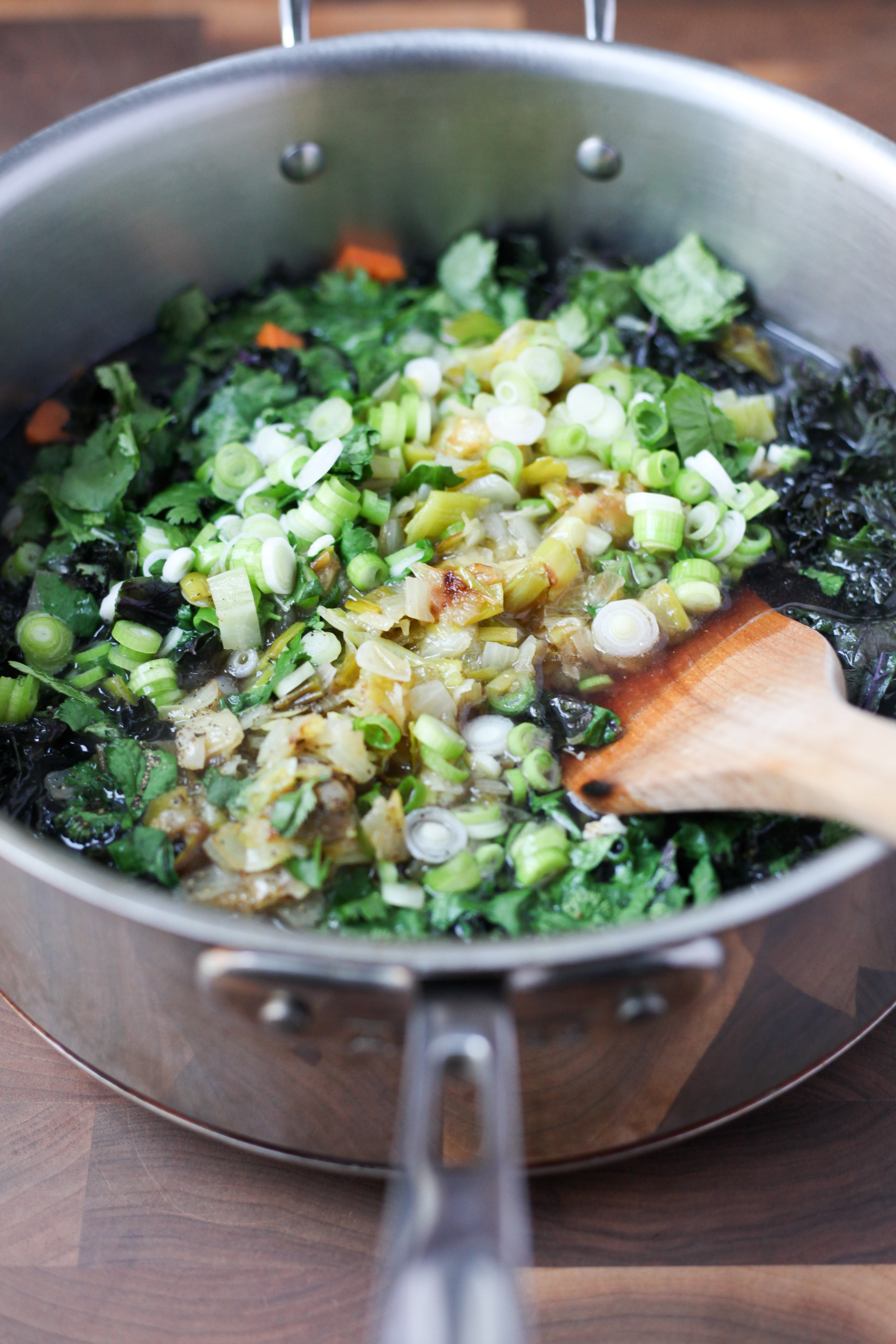 Sourced from Anna Thomas' Love Soup, it's a cousin to another favorite recipe of mine, her puréed chard and kale soup. I've already made this chunky green soup twice, and suspect it'll be in heavy rotation here, in sickness and in health.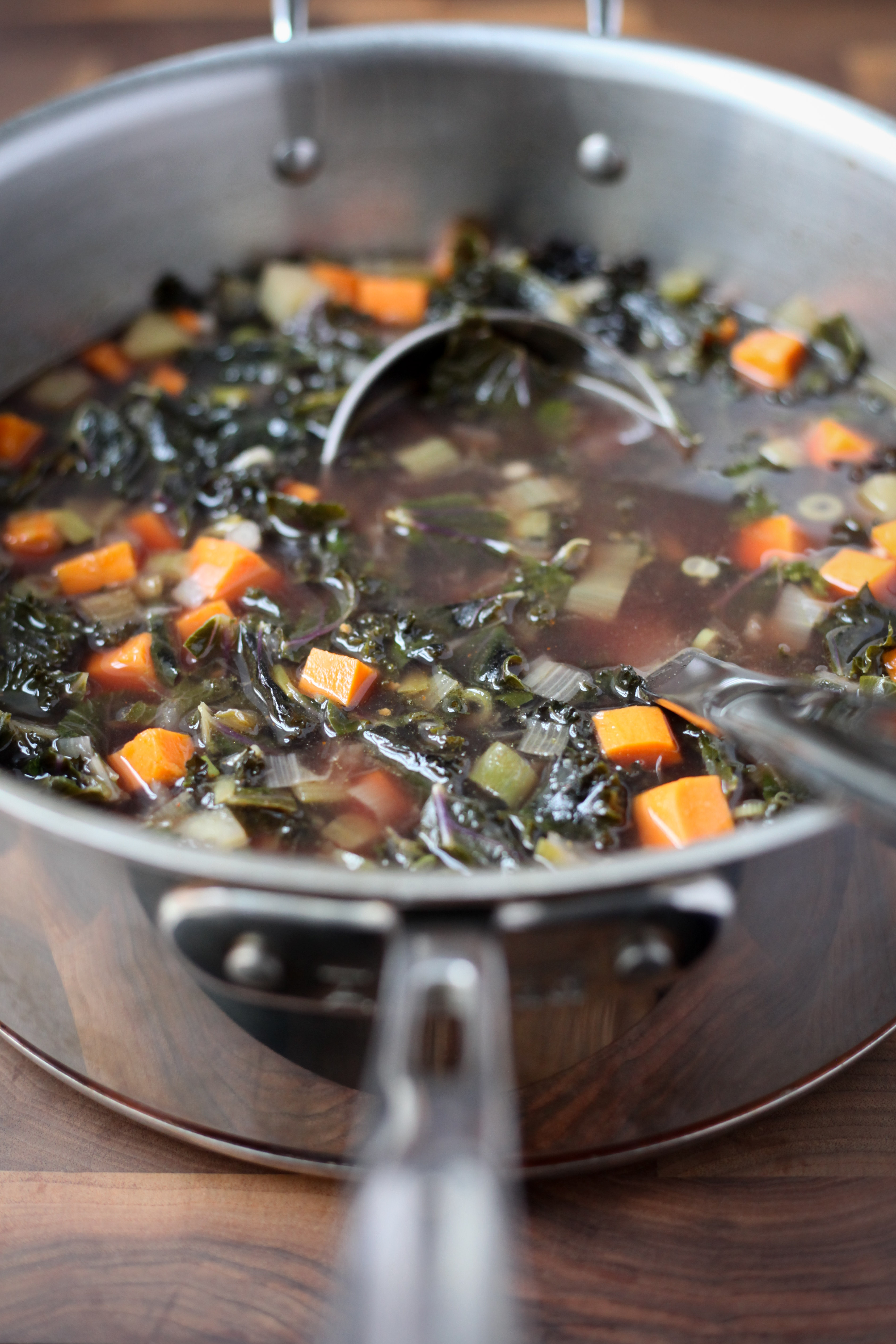 Kale and Sweet Potato Soup With Cumin
Ingredients
2 tablespoons extra-virgin olive oil, plus more for drizzling
1 large yellow onion, diced
Kosher salt
1 large leek (6 ounces), thinly sliced and cleaned
1 large sweet potato (12 ounces), peeled, cut into 1/2-inch dice
1 small Yukon Gold potato (4 ounces), cut into 1/2-inch dice
1 very-large bunch kale (12 ounces), stemmed and ripped into bite-size pieces
4 cups vegetable stock, preferably homemade
4 scallions, white and tender green parts, thinly sliced
2/3 cup chopped cilantro
Freshly-ground black pepper
1 tablespoon cumin seeds
1/2-1 teaspoon cayenne
2-3 tablespoons freshly-squeezed lemon juice
Instructions
In a large skillet, heat 2 tablespoons olive oil over medium heat. Add the onion and a pinch of salt and cook, stirring occasionally, until translucent and soft. Once translucent, add the leeks and another pinch of salt. Cook, stirring occasionally, until golden brown and caramelized in spots, about 20 minutes. (If necessary, occasionally deglaze the pan with a splash of water towards the end of cooking to avoid burning the onions.)
Meanwhile, after adding the leeks to the skillet, add the sweet potato, potato, kale, 1 teaspoon salt, vegetable stock, and 5 cups water to a dutch oven or stockpot. Bring to a boil, reduce the heat to maintain a simmer, and simmer for about 15 minutes.
Once the onions are done cooking, add the lightly-caramelized onions to the soup as well as the scallions, cilantro, and a generous amount of pepper; simmer for about 10 minutes, or until the sweet potato is tender.
Meanwhile, toast the cumin in a small skillet over low heat until fragrant. Grind using a spice grinder or mortar and pestle. Add the cumin, cayenne, and 2 tablespoons lemon juice to the soup. Adjust to taste with additional salt and lemon juice, as needed.
Serve drizzled with olive oil.
Notes
Use any kind of kale you like (lacinato, red, curly); I used red here. While I'll often use store-bought chicken stock (I like the Kitchen Basics brand), I strongly suggest using
homemade vegetable stock
as store-bought vegetable stock is bland. To keep vegetable stock on hand, make a big batch of vegetable stock every once in a while, and then freeze it in 1-cup and 4-cup portions. When needed for a recipe, defrost the amount needed.