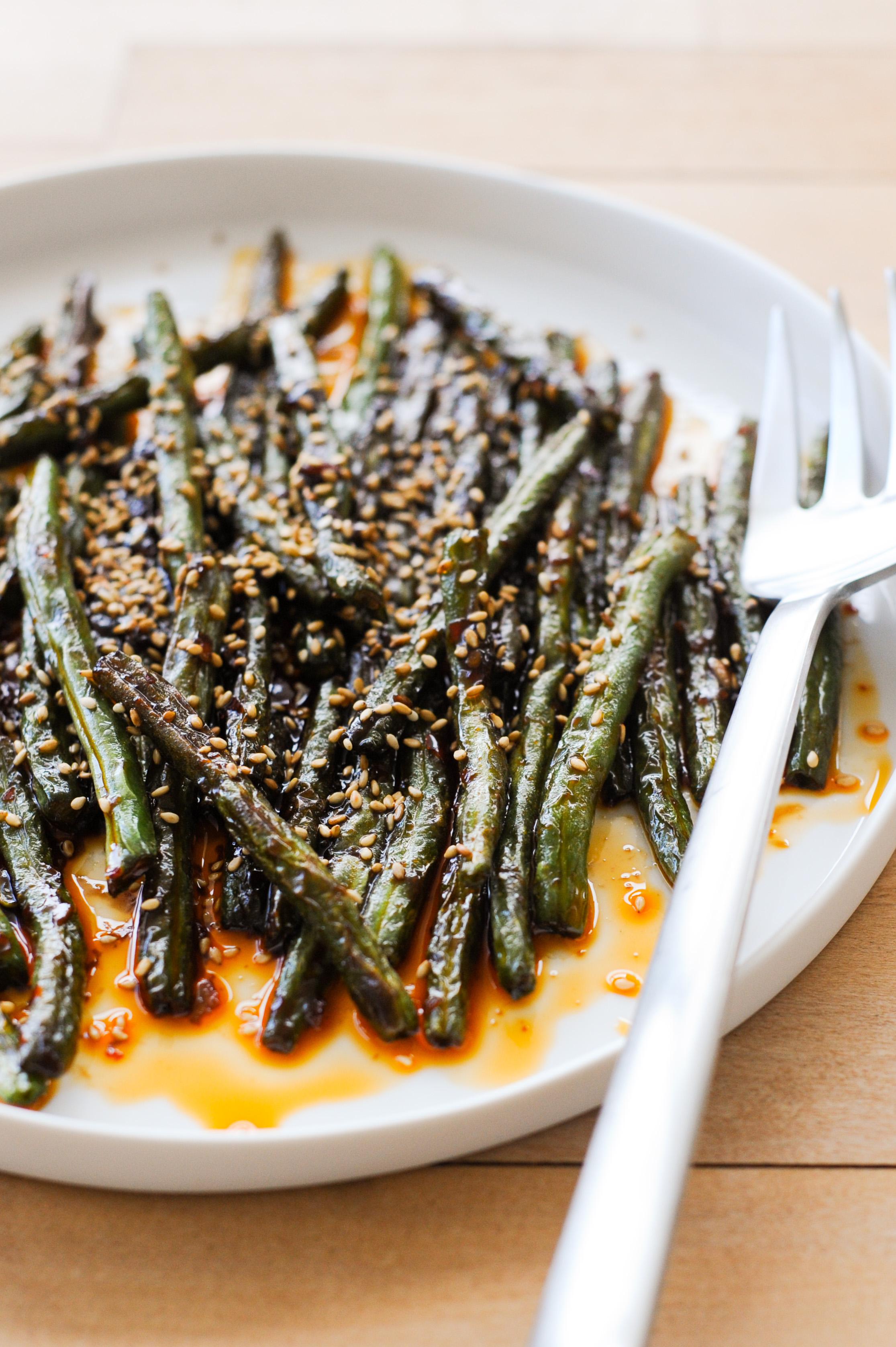 I've been wanting to share this recipe with you for weeks, but, as sometimes happens, life got in the way. Mostly, I've been putting in work on an exciting soon-to-be-launched project with Andrew. More on that soon(ish), and yes, it involves food. Additionally, after six months of squatting in Andrew's dad's SoHo apartment (thanks, Mark!), Andrew and I have decided to make our temporary move to NYC a little less temporary. The last month or so has been a whirlwind of apartment hunting — very excited about our new place in Williamsburg — figuring out how to move all of our worldly possessions cross-country, and getting our house in San Francisco ready to sell. Add to that my birthday, visits from a few close friends, plus two West-coast weddings, and it's safe to say we've been pretty busy.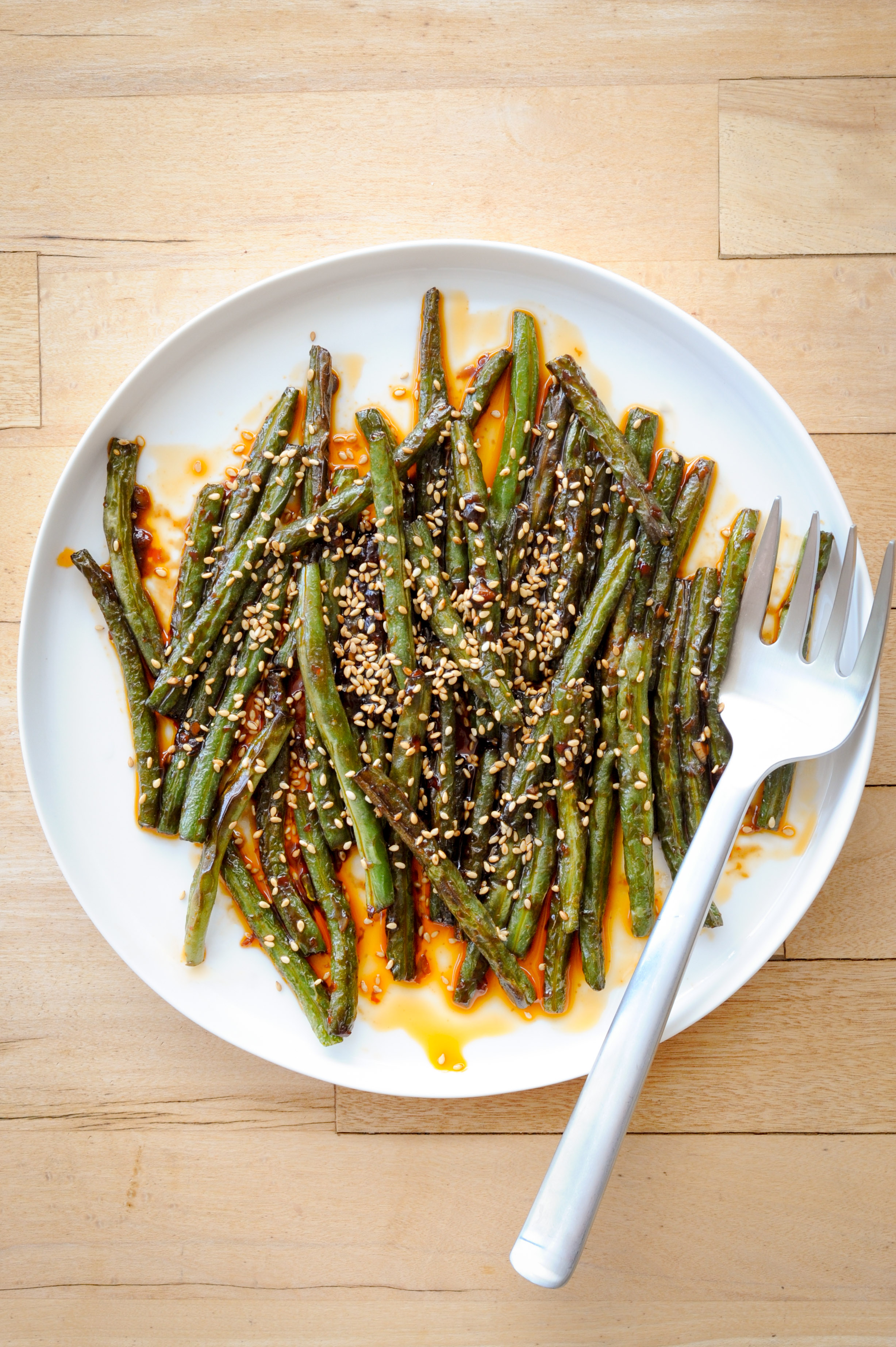 Now that the craziness has died down a little bit, I'm looking forward to getting back into the swing of things here. Lots of tasty recipes to come soon, starting with these green beans from Gwyneth Paltrow's new-ish cookbook It's All Easy: Delicious Weekday Recipes for the Super-Busy Home Cook. Fittingly, I've been cooking from it a lot lately, and while the ease is relative — no, Gwyneth hasn't transformed into a slow-cooker dinner and microwave mug breakfast booster — I've found it lives up to it's subtitle. These boldly-sauced blistered green beans have been a particular favorite, a dish both Andrew and I dig in to with glee. If you, like us, typically find yourself ordering whatever green beans are on a Chinese restaurant's menu, be they garlicky, spicy, or black-bean-sauced, I suspect you will also fall hard for this one.
Szechuan-Style Green Beans
Ingredients
Kosher salt
1 tablespoon sambal oelek
1 tablespoon tamari or soy sauce
2 teaspoons minced ginger or ginger juice
1 teaspoon toasted sesame oil
1 teaspoon maple syrup
1/2 pound green beans, ends trimmed
3 tablespoons high-smoke-point oil, such as rice bran or peanut
Toasted sesame seeds, for garnish
Instructions
Bring a large pot of salted water to a boil.
In a small bowl, whisk together the sambal oelek, tamari, ginger, sesame oil, and maple syrup.
Add the green beans to the boiling water and cook for 2-3 minutes, or until bright green. Drain well and spread out on a clean kitchen towel to dry.
Once the green beans are dry, heat the high-smoke-point oil in a large skillet until shimmering but not yet smoking. Add the green beans and cook, turning occasionally, until deeply blistered, 3-5 minutes. Turn off the heat and add the sauce, stirring to coat. Let sit for 2 minutes before serving.
Garnish with sesame seeds and eat hot.
Notes
If you have a very large skillet, this recipe can be doubled; do not triple it, as the green beans will crowd the skillet and cook unevenly.