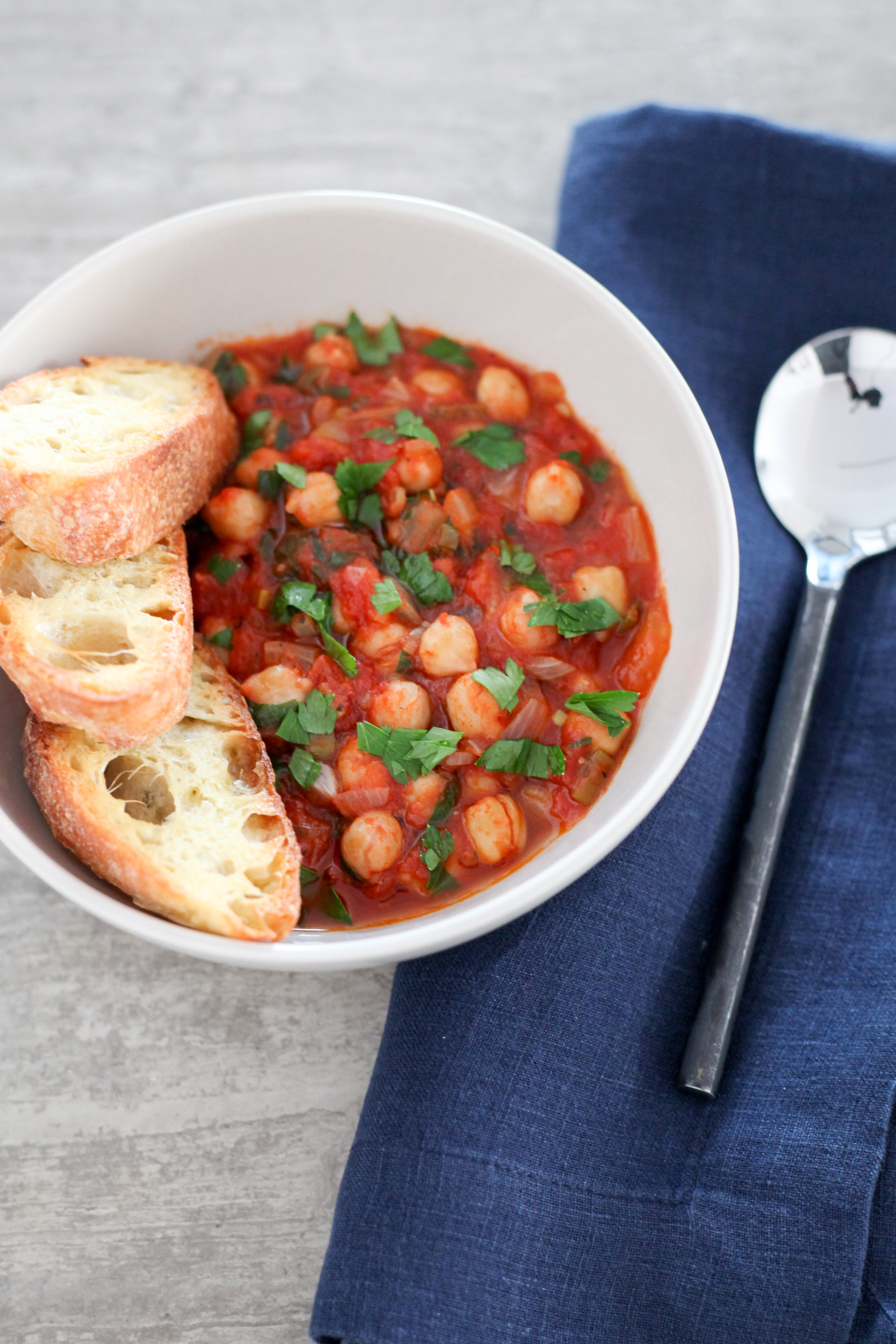 Why, in the middle of July, am I writing about a dish made with canned tomatoes, just as plump, juicy heirlooms have begun to flood the markets? Don't get me wrong, I adore a peak-season fresh tomato — this time of year I practically survive on simple tomato salads — but I also find immense value in a killer pantry-based recipe, like this speedy, spicy tomato and chickpea stew. Because, as much as I enjoy grocery shopping, at least grocery shopping of the leisurely sort, sometimes it can feel like a bit of a chore, the last thing I want to do after a busy day of work. (I may be in the business of proselytizing home cooking, but will admit that the work that goes into that — meal planning, grocery shopping, and the like — can occasionally be a bit of a drag.) So when I come up with or discover a new pantry-goods-based recipe, especially one that's as wholesome, versatile, and tasty as this one is, I tend to get ridiculously excited, giddy even.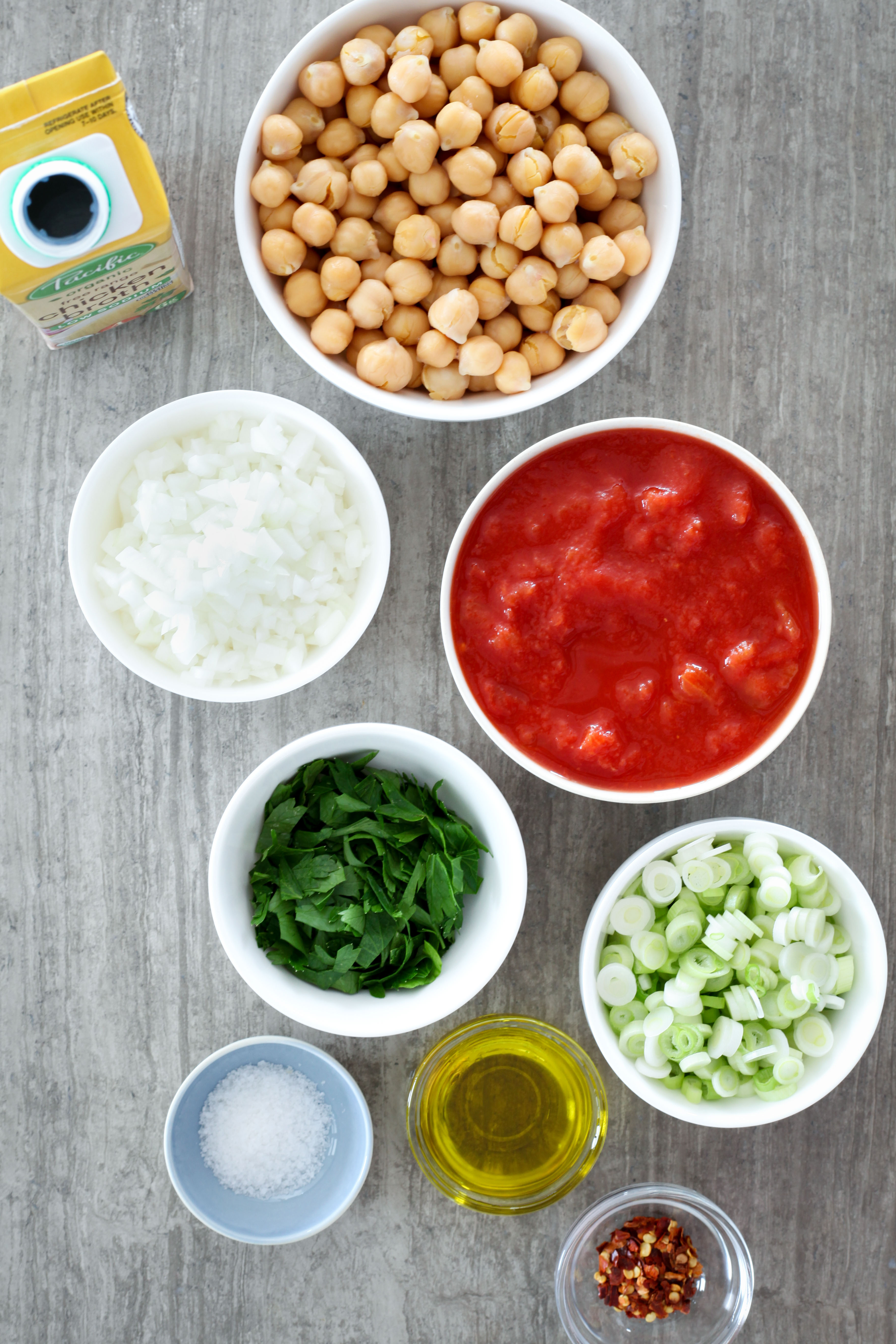 Sourced from an oldie but a goodie of a cookbook, Jaques Pépin's Fast Food My Way, it takes shape in about 30 minutes, and is made up of a relatively humble list of ingredients: canned tomatoes, canned chickpeas, some diced onion, olive oil, chicken stock, red pepper flakes, and a couple fridge staples (scallions and parsley). If I have some spinach or kale on hand, as I often do (they're a favorite addition to scrambled eggs, one of my go-to breakfasts), I'll add a few handfuls or whole (spinach) or torn (kale) leaves towards the end of cooking. And if I don't have scallions or parsley on hand, I don't stress it; an equal amount of diced onion can be swapped for the scallions, and the parsley can be omitted.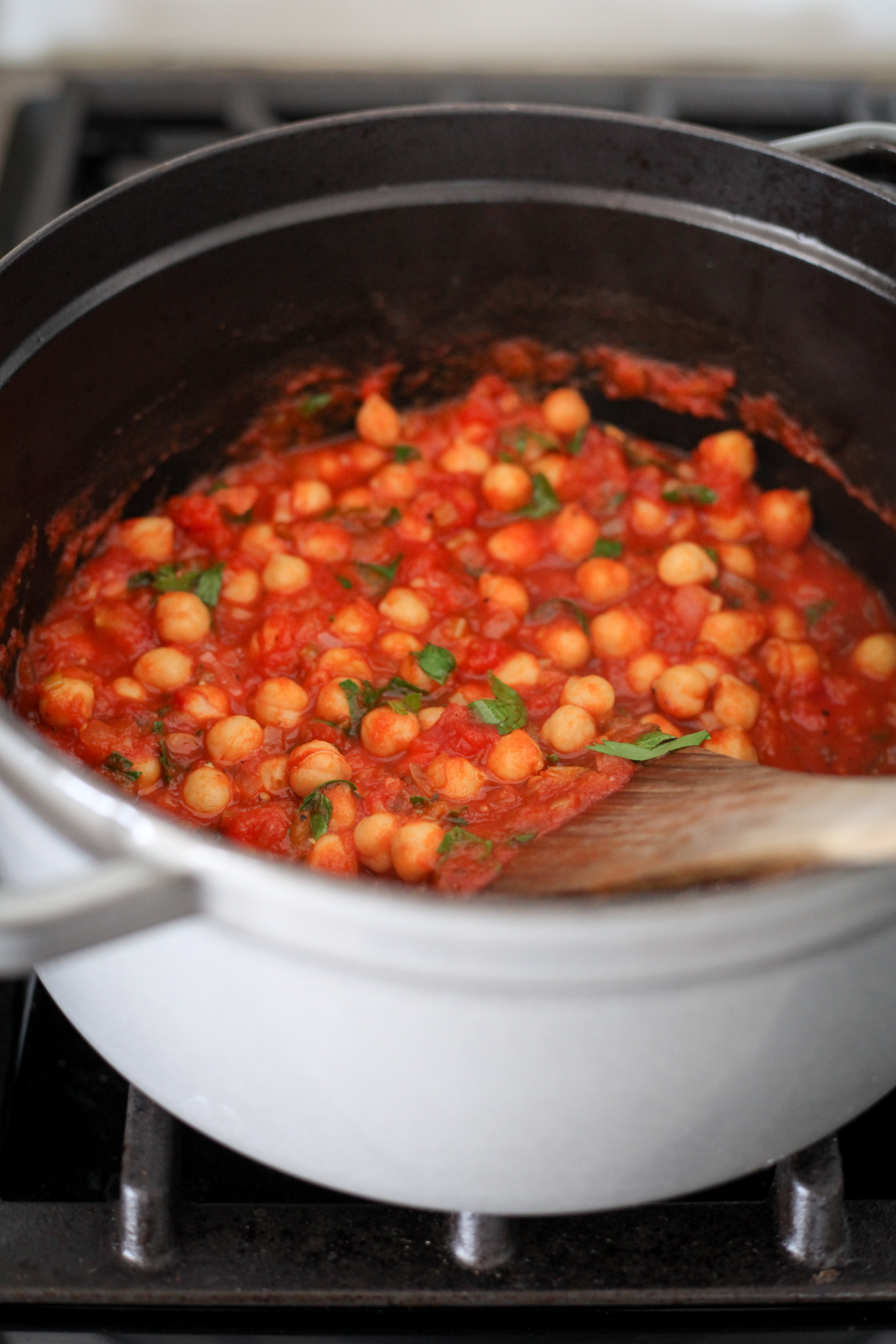 Adding to its virtues, this one-pot recipe is great as leftovers — I've been doubling the recipe and freezing a few portions for later — and can be bulked up with a variety of things (some crusty bread, a bit of cooked quinoa, a fried egg) or eaten as is. Really, it's a home run.
P.S. Don't have tomatoes on hand? This chickpea-rosemary soup is another beloved pantry-based recipe.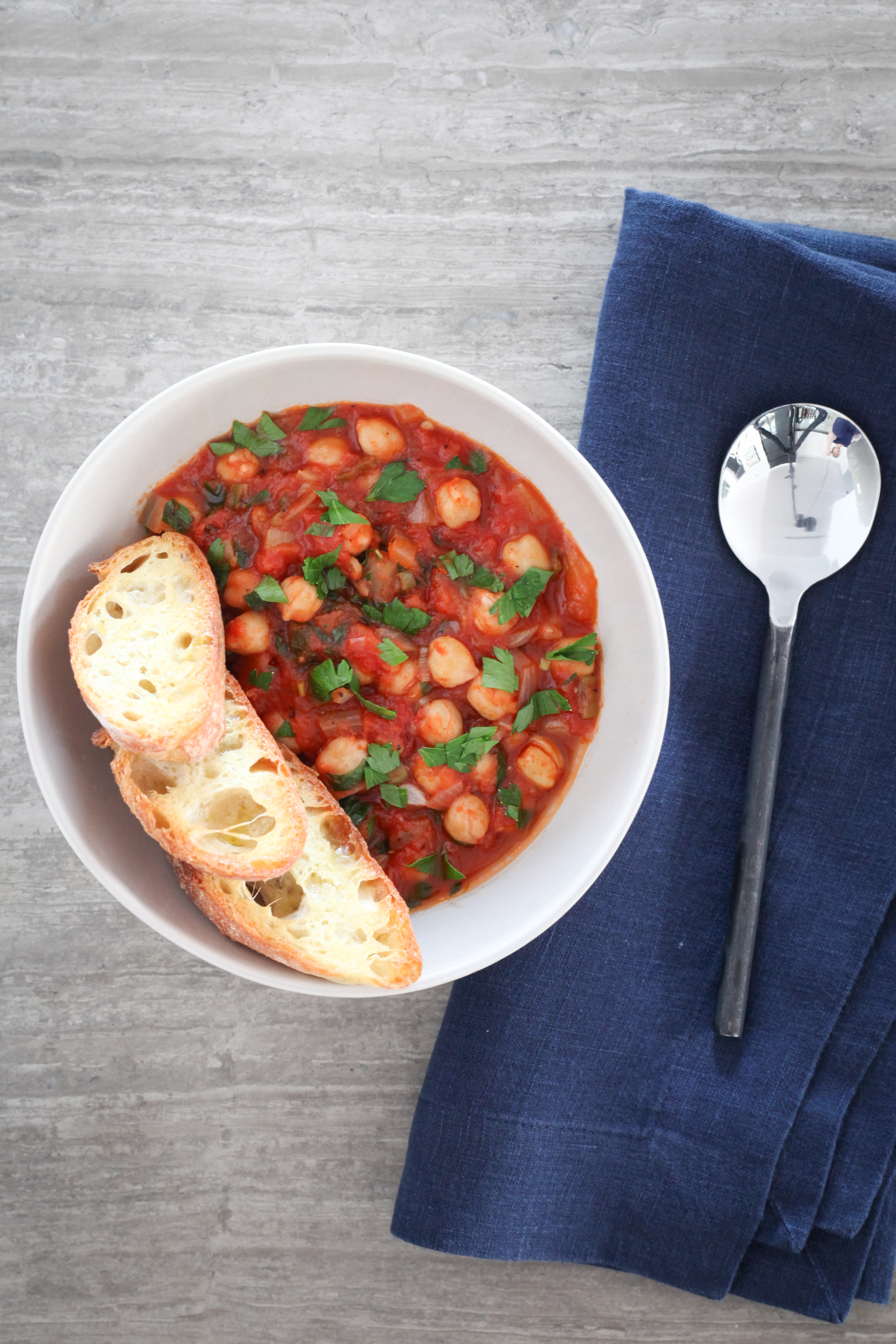 Spicy Chickpea-Tomato Ragout
Ingredients
2 tablespoons extra-virgin olive oil
1/2 cup diced onion
1/2 cup sliced scallion
1 teaspoon kosher salt, plus more to taste
1/2 teaspoon red pepper flakes
1 (14-ounce) can diced tomatoes
1 (15-ounce) can chickpeas
1/2 cup chicken stock
1/2 teaspoon freshly-ground black pepper
1/4 cup chopped parsley
Instructions
Heat the olive oil in a dutch oven or straight-sided skillet over medium heat. Add the onion, scallions, salt, and red pepper flakes, and cook, stirring occasionally, until softened, 4-5 minutes. Add the tomatoes, chickpeas, and chicken stock, and bring to a boil. Reduce the heat to low, cover, and cook for 15 minutes. Remove the lid and cook for a few more minutes, or until saucy and most of the liquid has evaporated. Add the pepper and parsley, and season to taste with additional salt (it may not need it). Serve hot.
Notes
This quick stew is super-versatile: it pairs well with toast, cooked quinoa, or a fried egg on top. If I have it on hand, I'll often add about a few generous handfuls of baby spinach or torn kale leaves to the ragout during the last few minutes of cooking. If you don't have scallions, up the amount of diced onion to 1 cup. To make vegan, swap
vegetable stock
for the chicken stock.