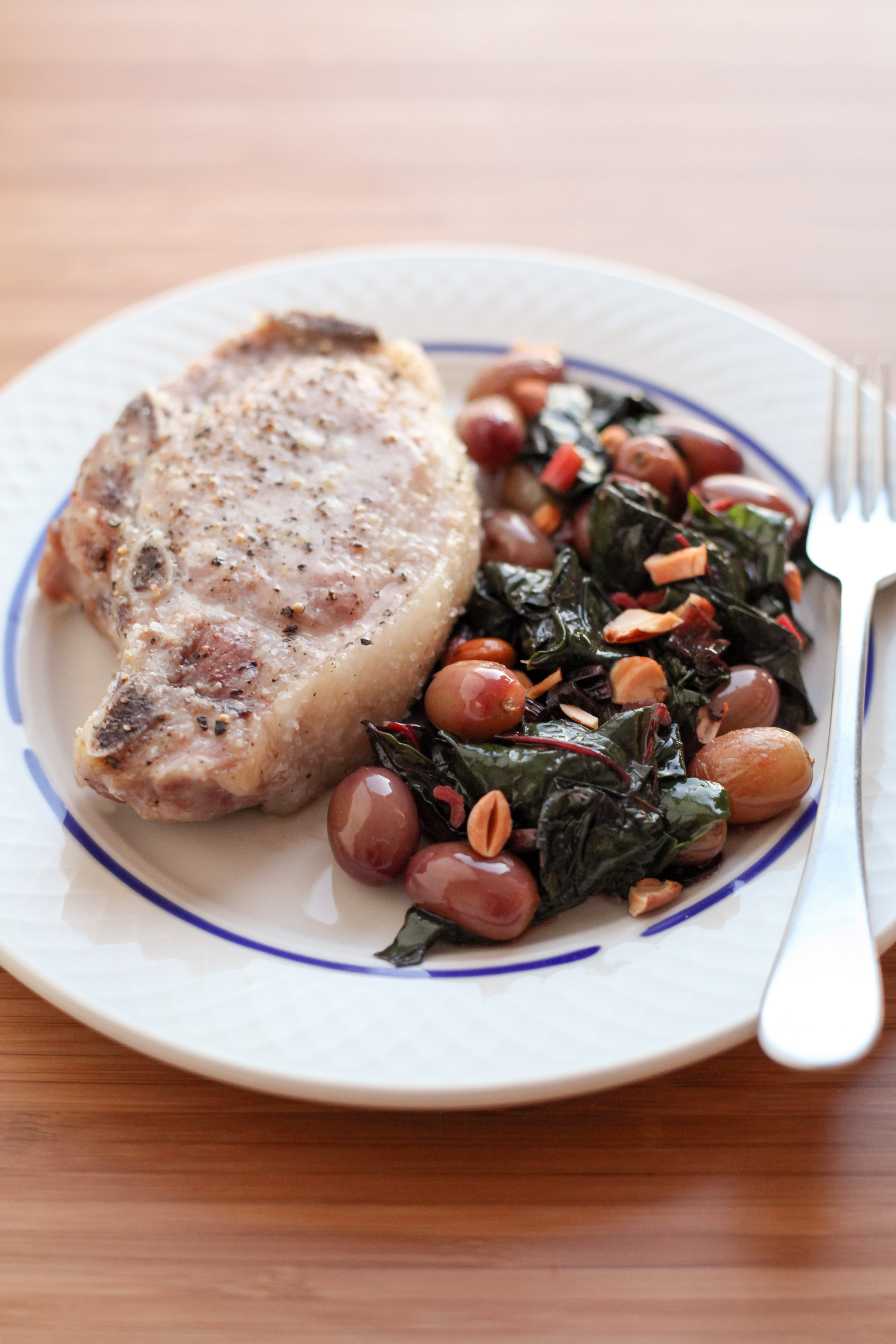 As this blog's archives suggest, I'm a big fan of one-pan meals — see: chicken with potatoes, carrots, and onions; salmon with asparagus and spring onions; and roasted Italian sausages, peppers, and onions. Unfussy but full of flavor, these one-and-done recipes dramatically minimize the post-meal dirty dish count, making cooking dinner during a busy week worlds more appealing.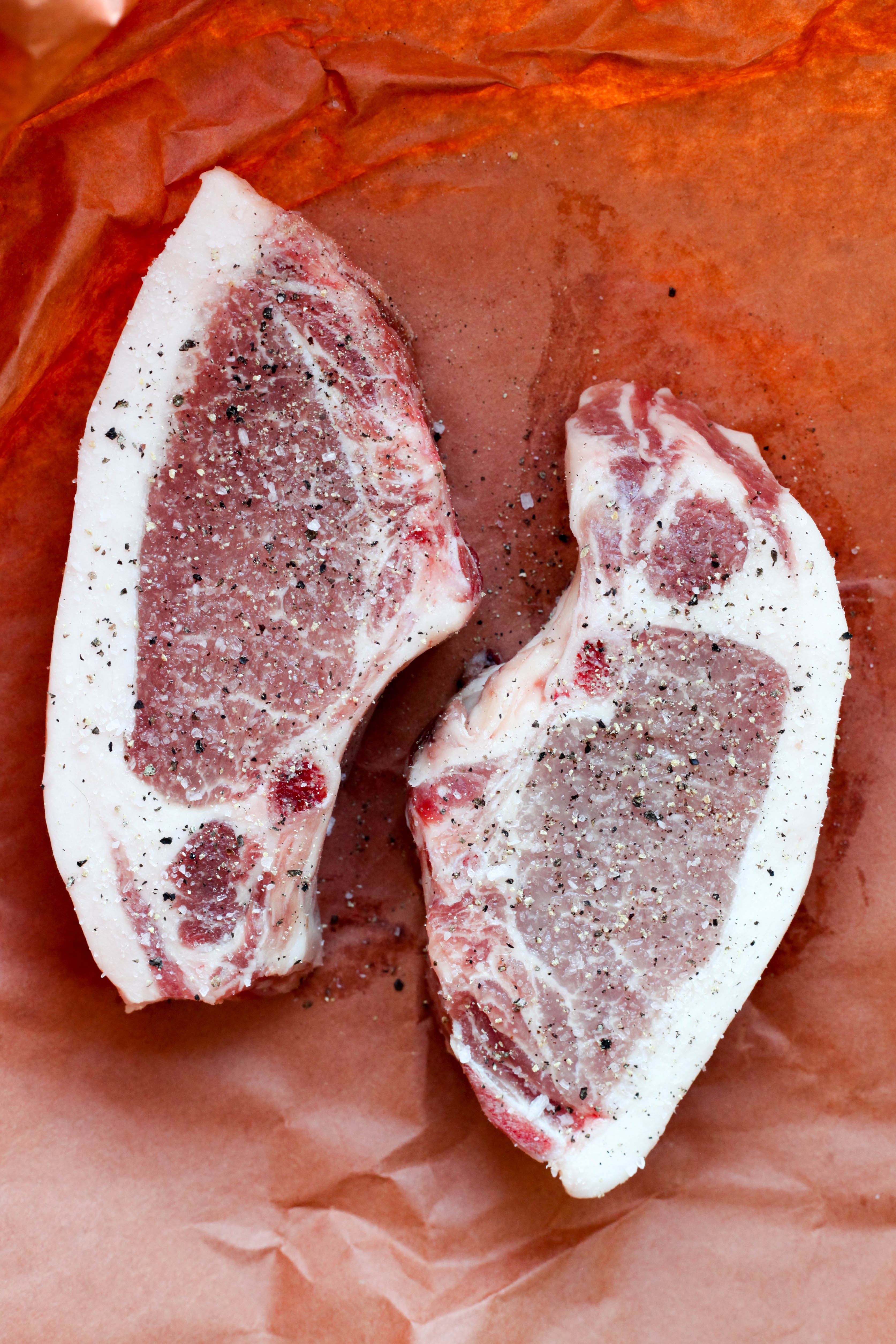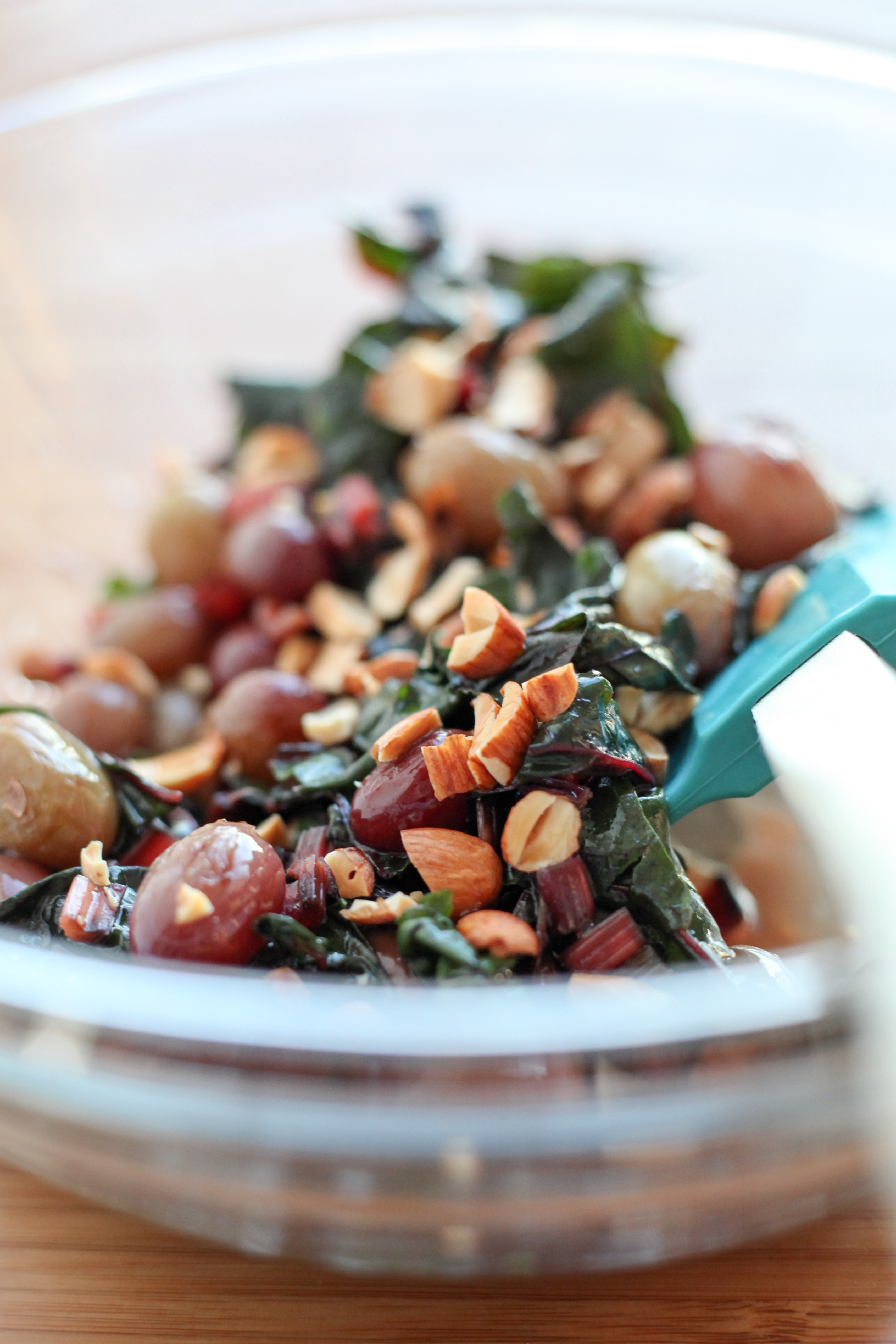 Always looking for inspiration on this front, I've accrued a handful of cookbooks devoted to the subject (#cookbookhoarder); the latest, a title devoted to paleo recipes, Pamela Ellgen's Sheet Pan Paleo. I've bookmarked a handful of recipes in this slim volume, but I was most drawn to this combination of roasted pork chops, grapes, and swiss chard. Mostly because I was eager to cook up some pork chops, a cut I tend to overlook, but also because I like the idea of pairing pork with crinkly-skinned roasted grapes since pork plays so well with fruit (think pork chops and applesauce). Wilted swiss chard leaves and crunchy stems round it all out for a hearty-yet-healthy dinner that I'll be making again soon.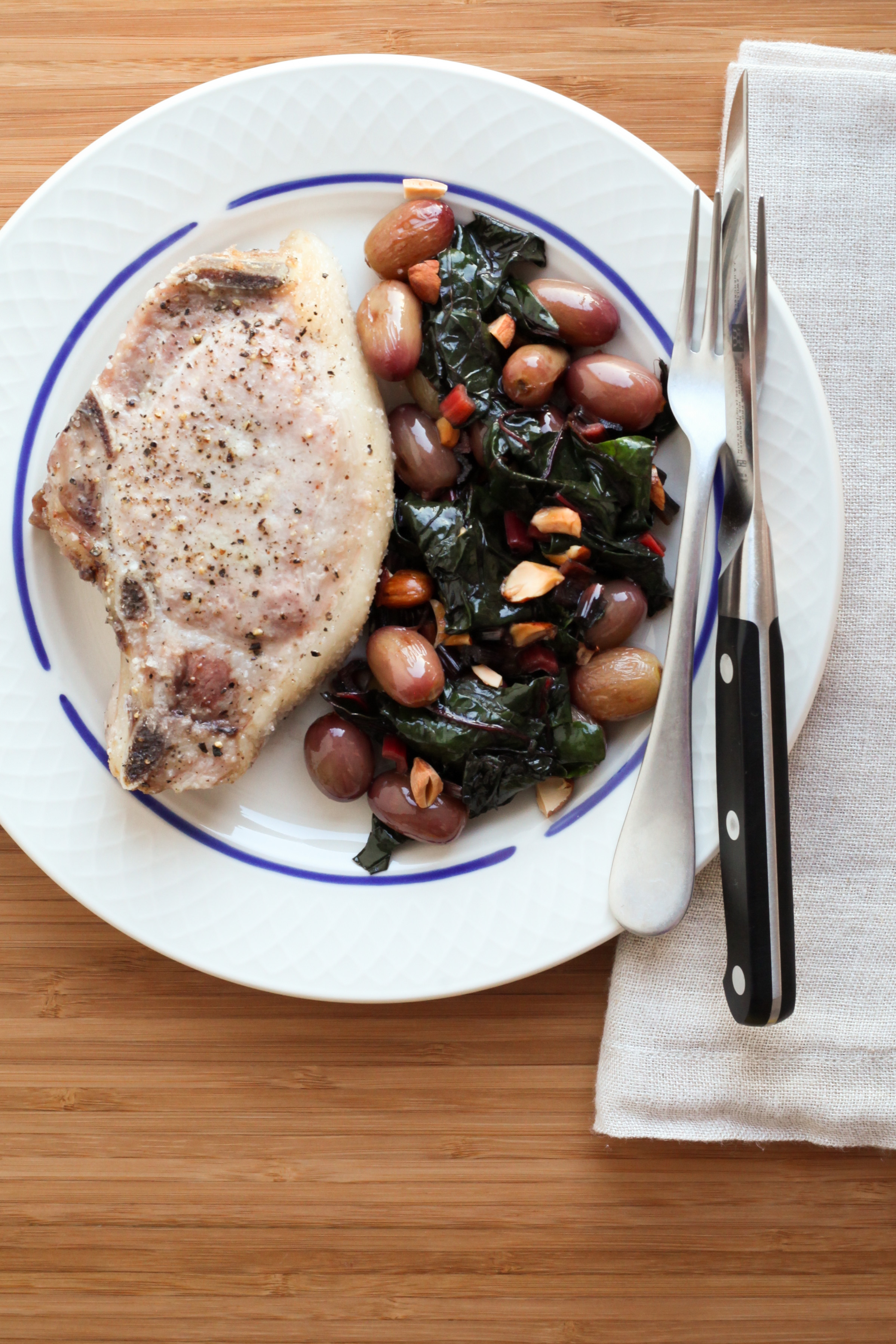 One-Pan Pork Chops With Grapes and Swiss Chard
Ingredients
1 cups red seedless grapes
2 bone-in pork chops, about 8 ounces each
1 tablespoon olive oil, divided
Kosher salt and freshly-ground black pepper
1/2 bunch swiss chard, stems and leaves roughly chopped
2-3 teaspoons sherry vinegar or red wine vinegar
1 tablespoon toasted almonds, roughly chopped
Instructions
Preheat the oven to 400°F. Line a quarter-sheet pan with parchment paper
Spread the grapes out on the sheet pan. Roast uncovered for 15 minutes.
Rub the pork chops with 1/2 tablespoon of the olive oil. Generously season with salt and pepper. Take the sheet pan out of the oven and make space on the pan for the pork chops. Return the pan to the oven for 10 minutes.
Toss the chard stems with the remaining olive oil and a little salt in a small bowl. Add them to the pan and cook for 5 more minutes.
Transfer the pork chops to plates to rest and add the chard leaves to the pan. Cook for about 2 minutes, or until dark green and slightly wilted.
Transfer the roasted swiss chard and grapes to a large mixing bowl. Add the sherry vinegar and almonds and toss to coat. Serve with the pork chops.
Notes
The original recipe yields four servings; here I've halved it, as I'm usually cooking for two. If you'd like to cook four servings double everything and roast it on a half-sheet pan instead of a quarter.