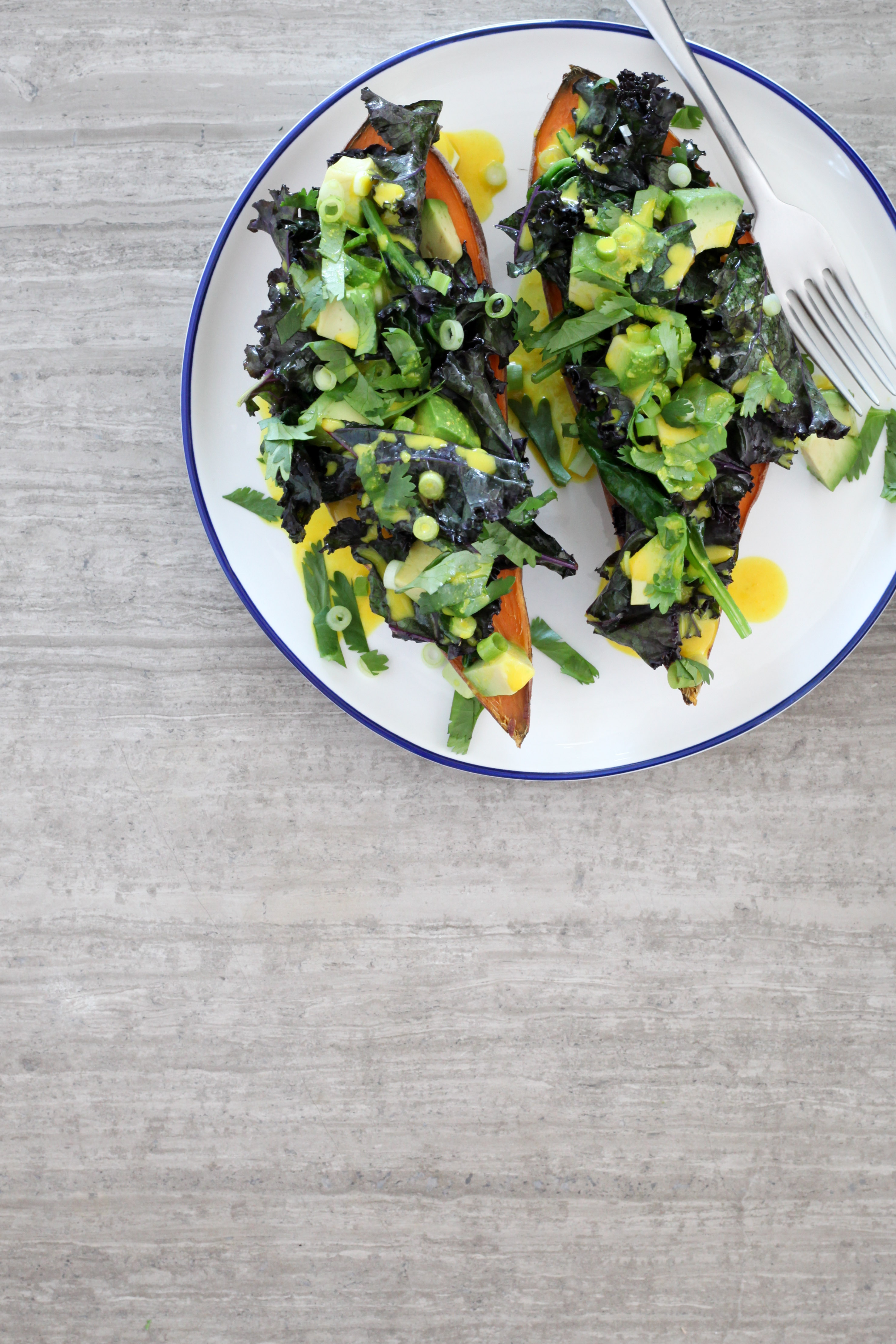 When you start referring to your fridge as "the cheese fridge," it is both a sign that you're living your best life, and that your diet could perhaps use a slight tune up. These past two weeks, Andrew and I have been eating our way through Paris, and as the previous statement suggests, it has been a deliciously hedonistic time thus far. After a whirlwind of baguettes, Bordier butter, squab (or pigeon, as it's called here), wine, chocolates, pâté, macarons, steak tartare, and the aforementioned cheese, my body is practically shouting for a leafy-greens-heavy meal (or two).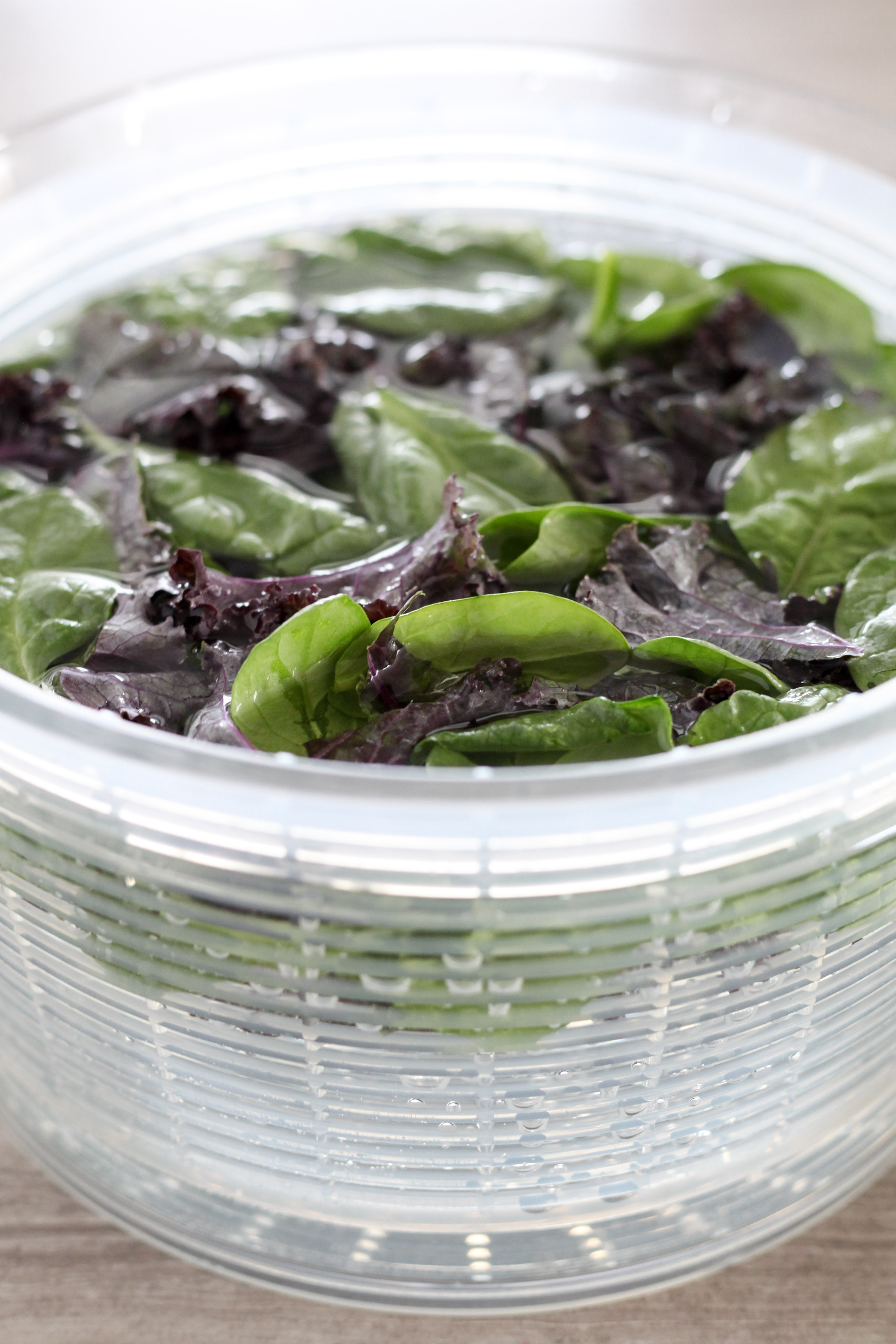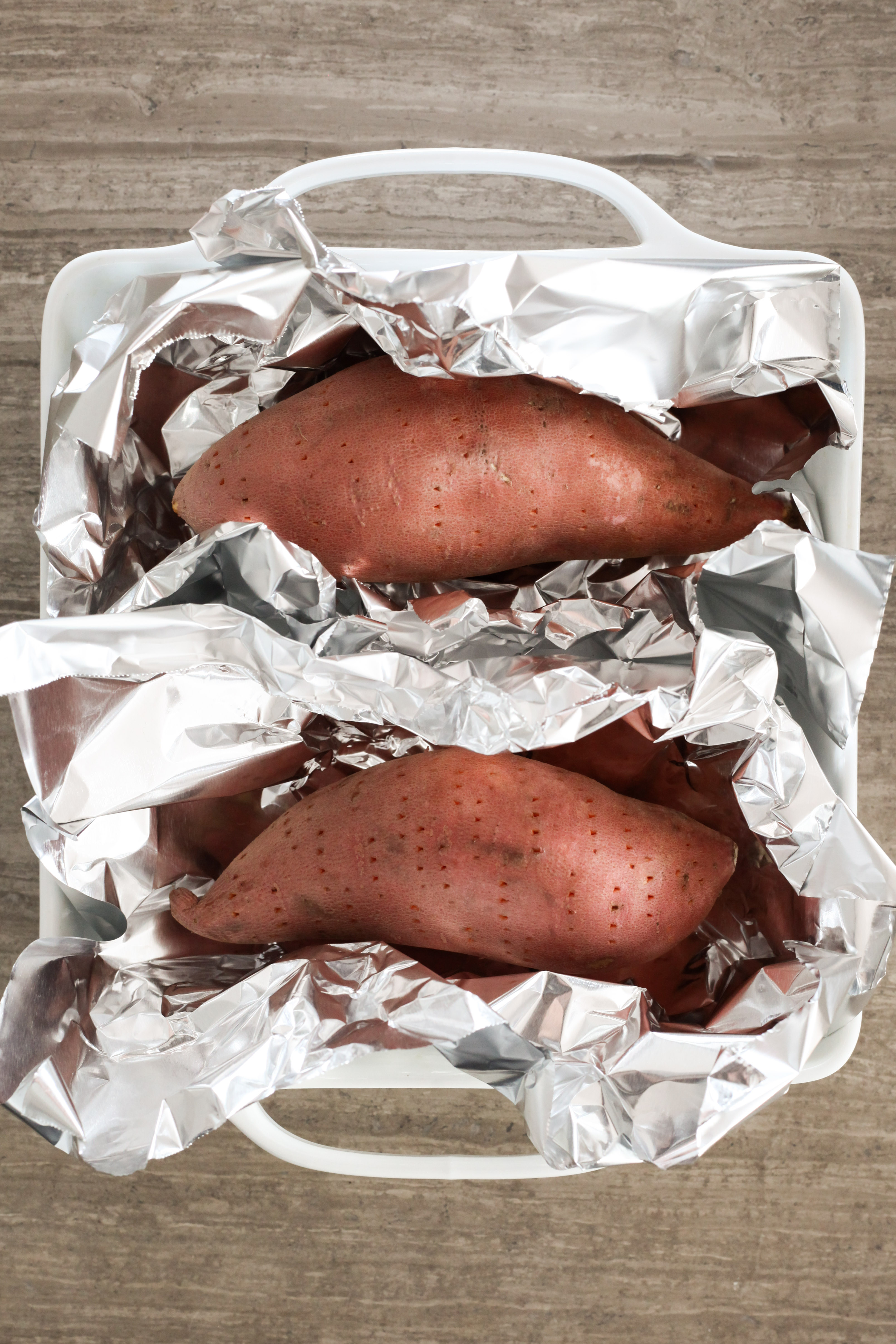 Currently, I can't get this spinach-, kale-, and avocado- topped baked sweet potato out of my head. Looking over these photos as I write, my mouth is watering in the way that it normally would while gazing at a slice of cherry pie, a bloody steak, or a cheesy gratin. And for good reason: our bodies are quite good at telling us what they need; moreover, this recipe delivers in a major way.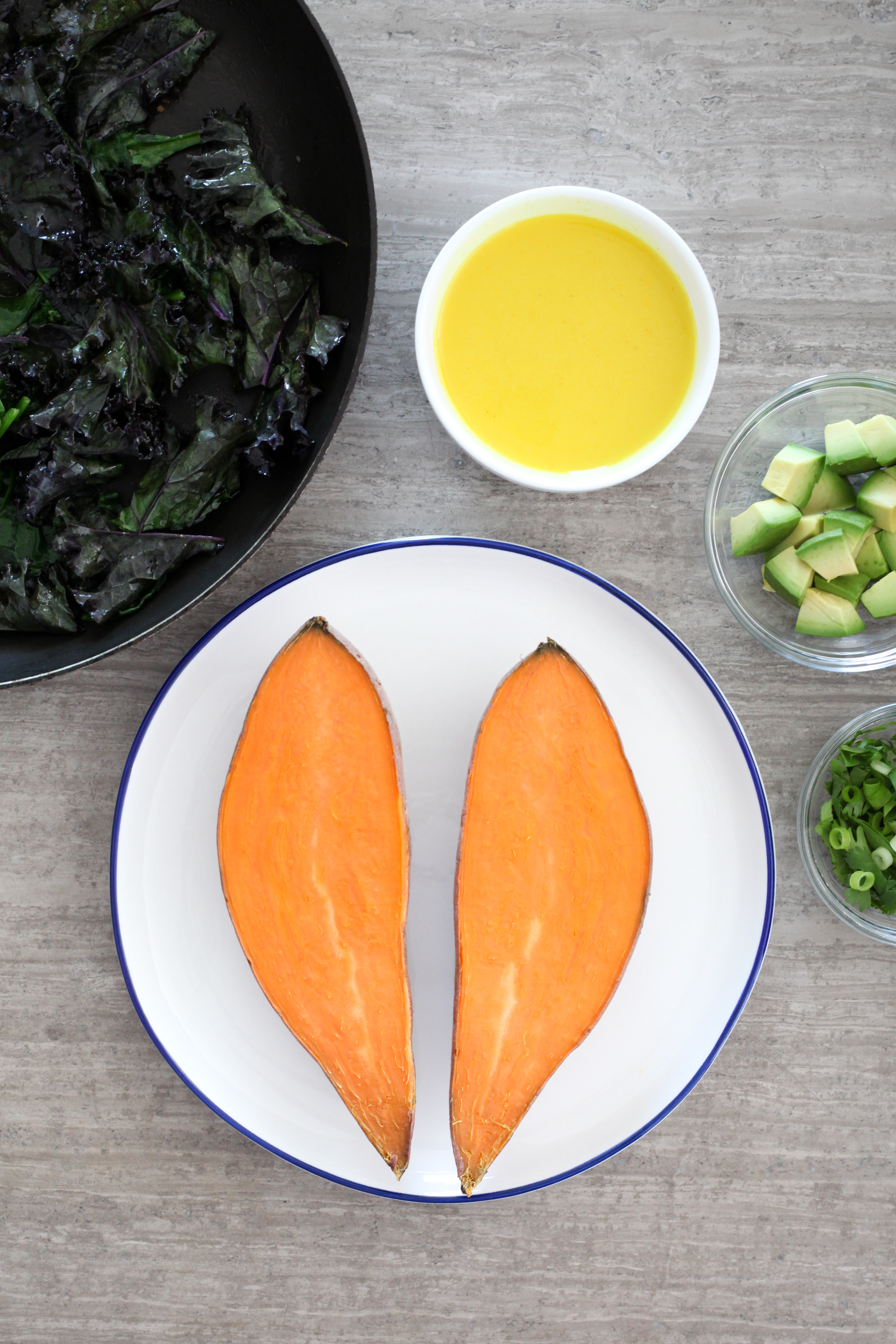 This combo of sautéed greens, sweet potato, avocado, scallions, and super-tangy tahini-turmeric dressing is just the sort of thing to cook up if you, like me, are in the mood for meal that's light, veg-heavy, and satisfying. Sourced from Thrive Market's mini-cookbook, The 5-Day Thrive Detox, it's high-vibes vegetarian cooking at it's best.
P.S. Even if you don't make the recipe in it's entirety, give the zippy bright-yellow dressing a try, it is stupid good.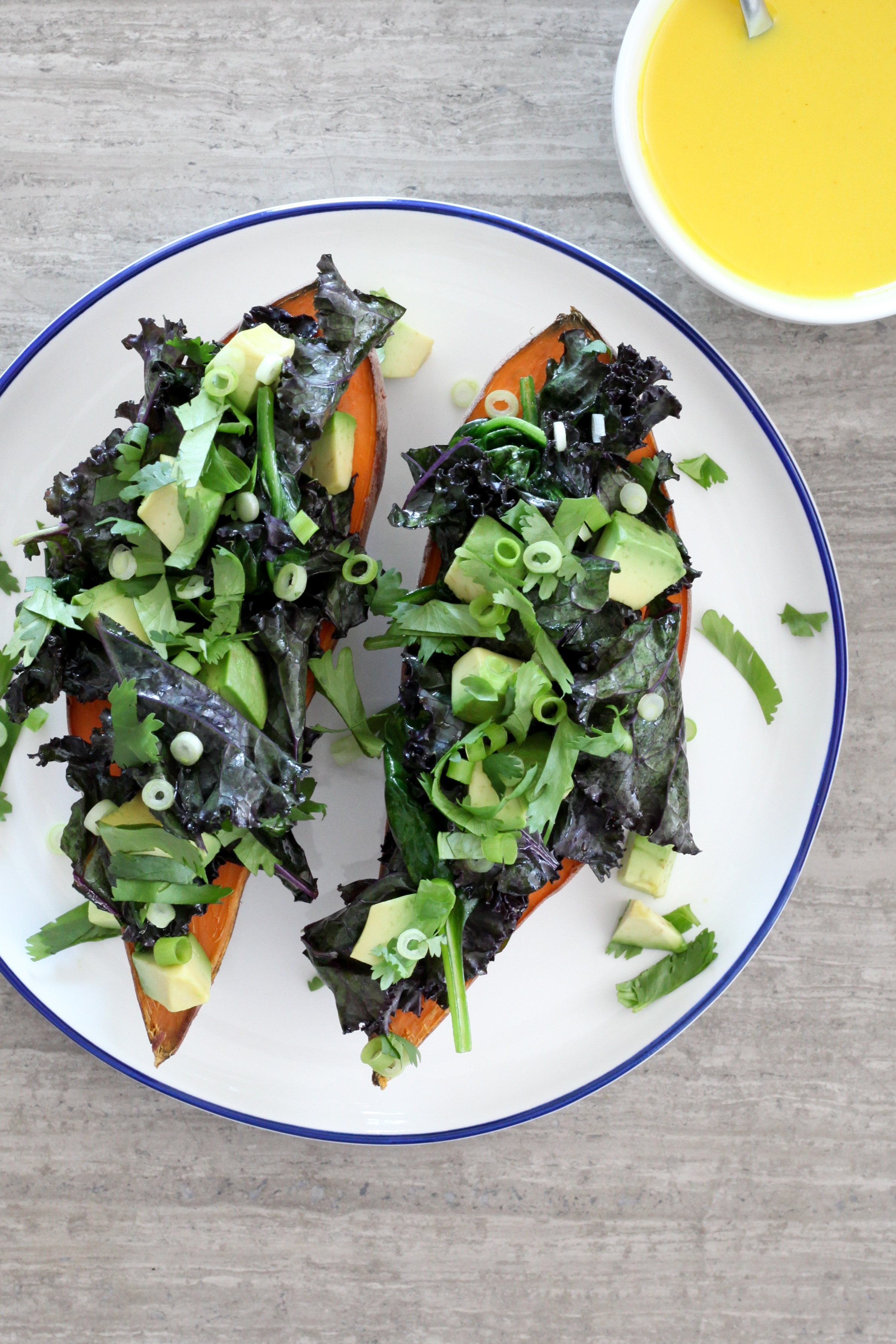 Spinach-Stuffed Sweet Potatoes
Ingredients
For the sweet potato:
1 medium sweet potato
1/2 tablespoon coconut oil
1/2 teaspoon kosher salt
Pinch of cayenne
1 cup baby spinach
1 cup torn (deribbed) kale leaves
1/4 avocado, diced
Thinly-sliced scallions, for garnish
Chopped cilantro, for garnish


For the turmeric dressing:
1 1/2 teaspoons tahini
1/4 teaspoon turmeric
Juice of 1 lemon
1 teaspoon coconut oil, melted
1/2 garlic clove, minced
Kosher salt, to taste
Instructions
Preheat the oven to 350°F.
Wash any dirt off of the sweet potato, then prick all over with a fork. Wrap in tinfoil then roast on a quarter-sheet pan for 45 minutes-1 hour, or until tender.
Meanwhile, make the dressing: whisk together all dressing ingredients until emulsified. Season to taste with salt.
Once the sweet potato is tender, take it out of the oven. Cut the sweet potato in half
Heat the coconut oil in a large skillet over medium-high heat. Add the spinach, kale, salt, and cayenne, tossing to coat in the melted oil. Cook, stirring frequently, until the greens are wilted, but still bright in color.
Top each half of the sweet potato with half of the cooked greens, diced avocado, scallions, and cilantro. Drizzle with dressing and eat immediately.