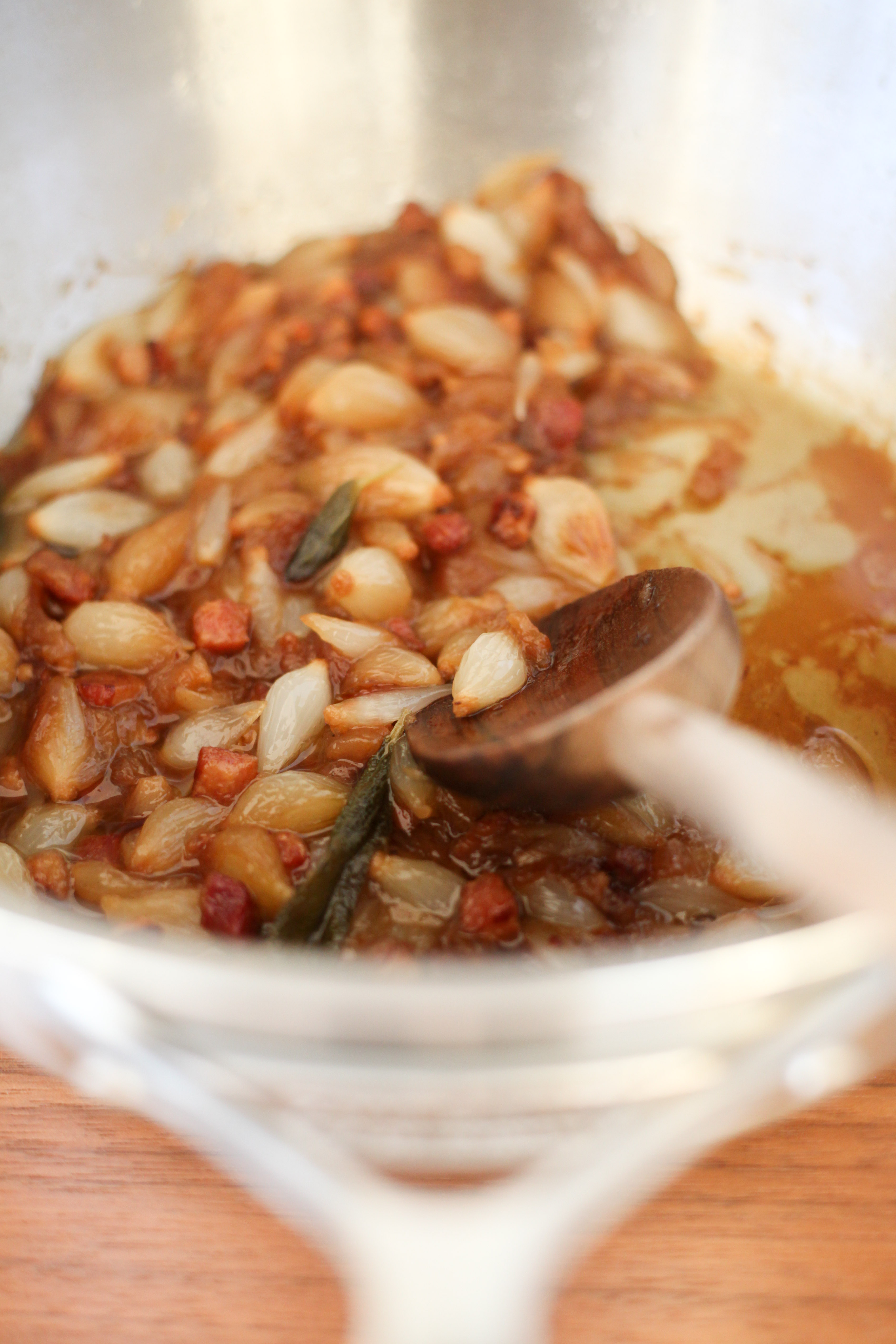 With their papery skins and mini-me size, pearl onions are some of the most darling vegetables at the market. That said, I can pretty much guarantee that I'll never buy them fresh, and wouldn't suggest you do so either. Why? Because I like you, and because I suspect you have far better things to do with your time than to painstakingly peel a pound plus of these teeny-tiny alliums, when a perfectly good substitute is in the freezer aisle. Thawed and drained, frozen pearl onions work like a charm in this and many other cooked applications.

As for the recipe itself, it's a simple one; a recipe that's far more exciting than its short ingredient list might suggest. That, my friends is thanks to the power of pancetta (hello, flavor!) and braising, one of my absolute favorite cold-weather cooking methods.
If you're looking for ideas of what to pair this dish with, this Italian brisket with tomatoes is a particularly-great place to start. These flavor-packed onions could also be a delightful (albeit somewhat untraditional) addition to your Thanksgiving spread. (Want to stick with all-American ingredients? Use diced thick-cut bacon instead of pancetta.)

Braised Pearl Onions With Pancetta
Ingredients
1 tablespoon olive oil
2 ounces diced pancetta
1 pound 2 ounces frozen pearl onions, thawed and drained
5 sage leaves
Kosher salt, to taste
Instructions
Add the olive oil and pancetta to a saucepan and cook over medium heat, stirring occasionally, until the pancetta is nearly cooked through, about 5 minutes. Add the onions, sage, and 1/2 teaspoon salt. Cook over medium-high heat, stirring occasionally, until lightly-browned all over, 5-7 minutes. Reduce the heat to low, add 5 tablespoons water, and cook, covered for 30 minutes. Season to taste with additional salt.