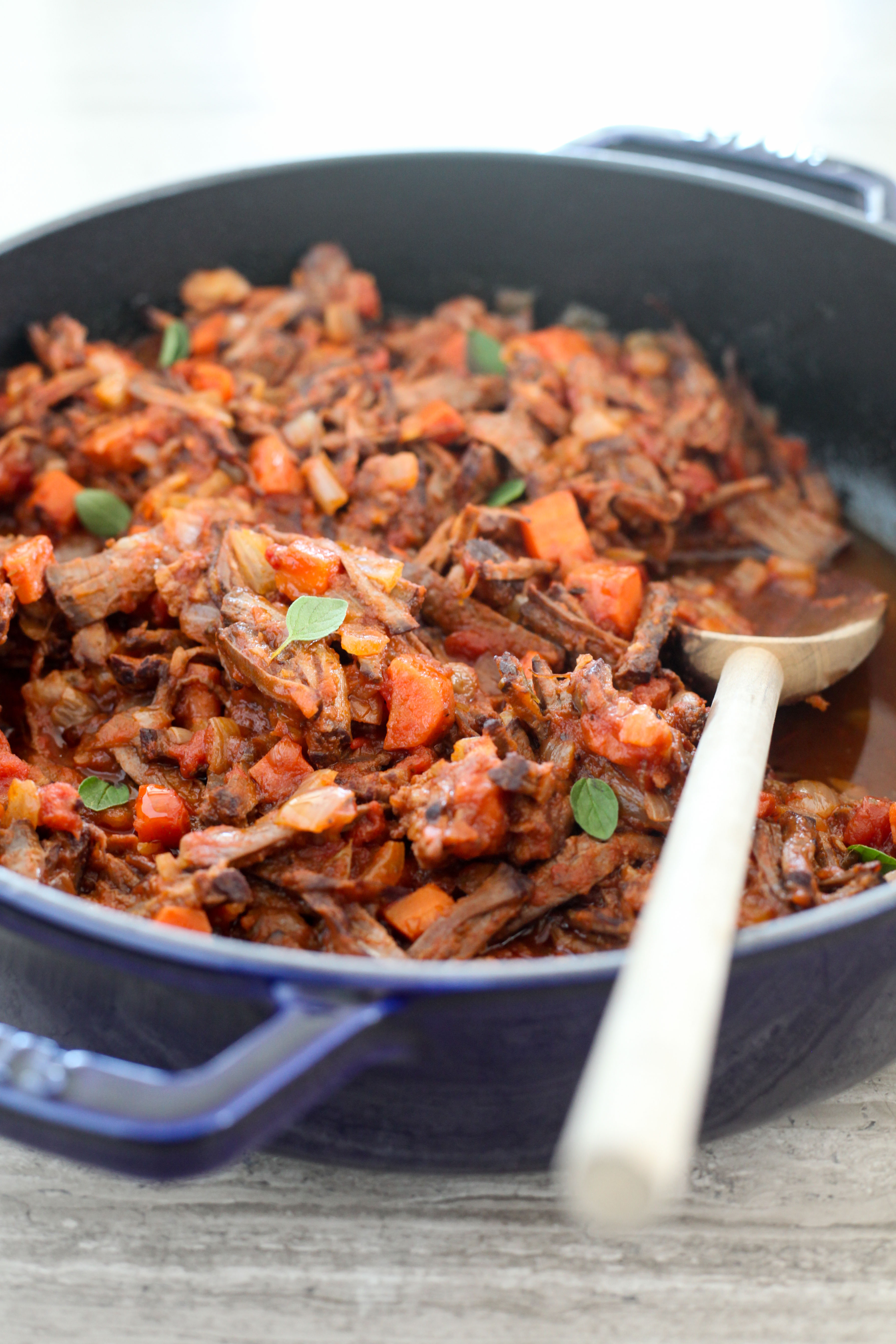 As anyone well-acquainted with their dutch oven or slow-cooker can attest to, braised (or in this case, simmered) meaty things make for ideal weeknight fodder. No, they're not quick-cooking like skirt steak or chicken thighs; instead, they're of the make-ahead variety (another practical weeknight dinner strategy). Long-cooked and tender, this particular recipe is even better on day two or three as leftovers and freezes wonderfully, making it a meal preppers dream.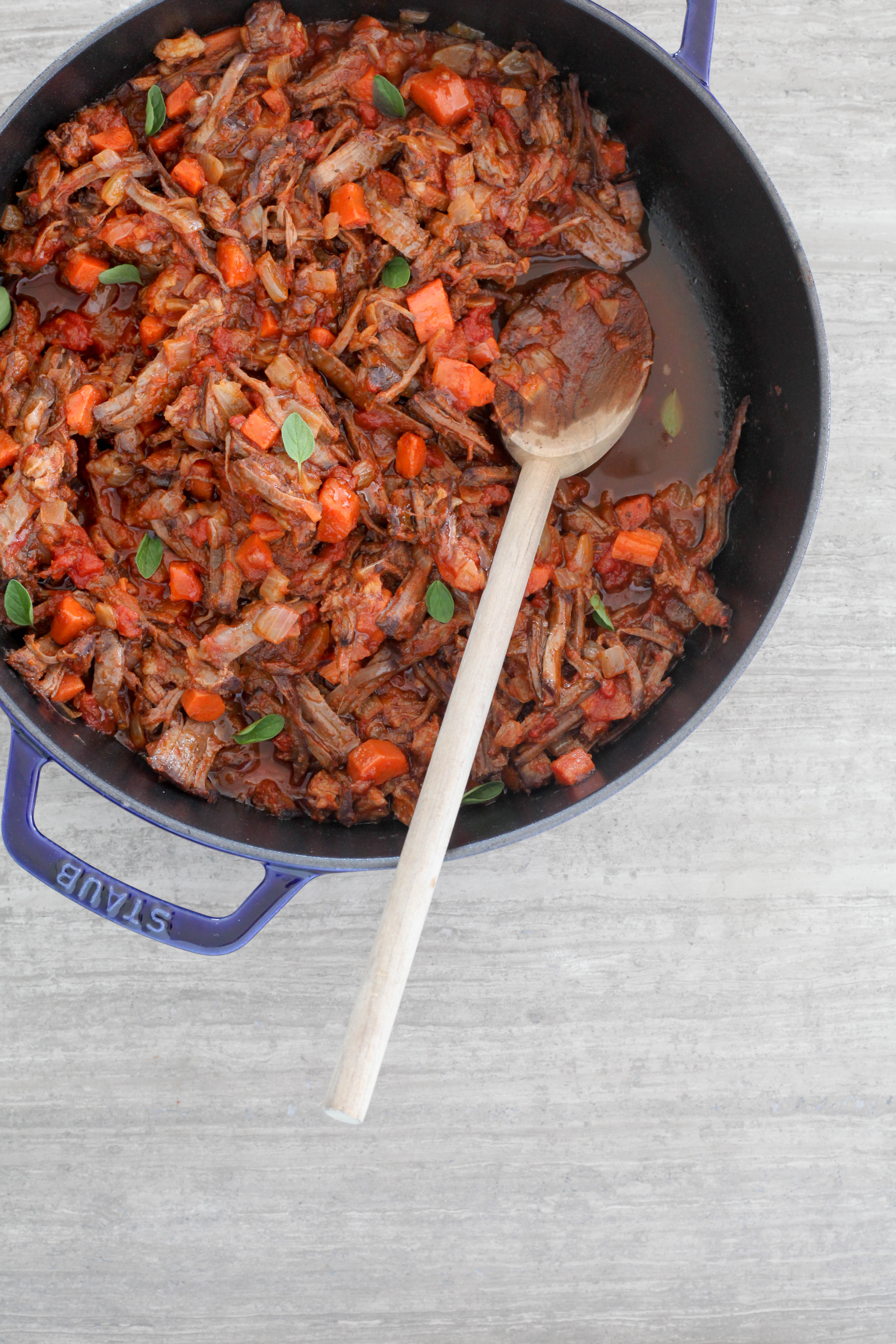 And frankly, even if this cozy Roman dish weren't practical, I'd still be talking about it here; it's simply that savory, succulent, and all-around good. A recipe of Roman origins called picchiapò, it is essentially a rich beef and tomato stew, though it's preparation is a bit unusual. Rather than braising a collagen-rich cut of beef (either brisket or beef shin can be used) before shredding it, here, the beef is first simmered in a potion of red wine and aromatics, then shredded, and finally briefly braised in a simple tomato sauce. The results are nothing short of stunning.
As the recipe's authors explain — this one's sourced from Katie Parla and Kristina Gill's Tasting Rome — it's often eaten as a sandwich filling, but I prefer to serve it with some sort of vegetable dish, like braised pearl onions or a bitter chicory salad. Whichever route you choose to take will make you very happy.

Italian Brisket With Tomatoes and Onions
Author:
Adapted from Tasting Rome. Copyright © 2016 by Katie Parla and Kristina Gill. Published by Clarkson Potter/Publishers, an imprint of Penguin Random House LLC.
Ingredients
2 pounds beef shin or brisket
Kosher salt
2 cups red wine
6 carrots, peeled
6 onions
20 black peppercorns
6 cloves
1/4 cup olive oil
2 tablespoons fresh marjoram or 1 tablespoon dried
1/4 teaspoon red pepper flakes
1 (28-ounce) can crushed tomatoes
Instructions
Generously salt the beef all over and put on a plate. Refrigerate for 1-4 hours.
Add the beef to a large dutch oven or straight-sided skillet; cover with water. Over low heat, slowly bring the water to a gentle simmer, skimming off any foam that rises to the top. Once the water is simmering, add the wine, carrots, 4 of the onions (halve and peel them first), peppercorns and cloves. Cook at a low simmer until the beef is fork tender, 1 1/2-2 hours.
Dice the remaining two onions.
Transfer the meat to a plate and shred with two forks. Coarsely chop the carrots. The cooking liquid can be discarded or used in place of beef stock in another recipe. If saving it, strain the cooking liquid.
Wash the dutch oven and wipe it dry. Add the olive oil, diced onions, and 1/4 teaspoon salt to it and cook over medium-low heat, stirring occasionally, until the onion is softened and translucent. Add the marjoram and red pepper flakes; cook for about 30 seconds, then add the tomatoes. Simmer until the sauce has thickened and reduced slightly, about 15 minutes.
Add the shredded beef and carrots to the sauce and mix well. Cook for another 15 minutes.
Notes
While the original recipe calls for dry white wine, I typically choose to use a wine I'd like to drink alongside the braised beef (some sort of red), since there are a couple glasses leftover. I've doubled the recipe, as it is even better as leftovers than it is the night of, and also because it freezes well.